---

No demon in demonetisation!

---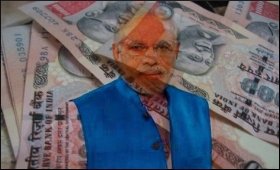 | | |
| --- | --- |
| Top Stories | |
Bikky Khosla | 07 Mar, 2017


And now yet another twist in the demonetisation story. When PM Modi took the whole nation by surprise by announcing the note ban of November 8, initial public perception was widely positive. The move was cheered as an attack on black money and corruption. But as reality soon proved to be harsher than expected mainly due to poor implementation of the scheme, the euphoria took not much time to calm down. With the crisis deepening in the following weeks, the media now nicknamed the move "DeMon'. The opposition also saw a chance to turn the tide. Some economists even started predicting a recession. But the third quarter GDP growth estimate of 7% now paints a starkly different picture.

Controversies have continued, however. After the release of the growth projection, Modi took a dig at the critics of demonetisation, with his "hard work is more powerful than Harvard" barb, which came in the backdrop of Nobel laureate Amartya Sen's dubbing the act as a 'despotic' action. The Congress and the Left, in contrast, viewed the data as 'questionable' and even 'fake'. According to two top ex-ministers in the former government, the higher-than-expected numbers are a result of bending of methodology and based on increase in revenue from indirect taxes, which is not a true reflection of growth. The robust growth data is met with scepticism also by some rating agencies.

So what's 'questionable' with the data? Private consumption, which denotes demand, rose at a double digit rate of 10% in third quarter, against 5% in the previous quarter. Sceptics question how such a high growth rate is possible when demonetisation had drained out 86% of the currency in circulation. Investments, which had seen contraction for previous three quarters in a row, grew by 3.5%, despite capital goods segment of the IIP contracting 7.7%. Some others question the 8.3% GVA growth in manufacturing sector on the same ground. Also, 2.7% growth in construction sector, which was expected to be hit the worst by the note ban, is higher than general expectations.

The third quarter growth projection, beyond question, comes as a surprise, but the extreme reaction it has provoked in the political arena is unwelcome. Most of the data on which the estimates are based belonged to the period preceding November 8, and so we can expect a clearer picture only after release of the fourth quarter GDP figures. There shouldn't be a rush to question the credibility of the CSO. There's no sense either in indulging in chest-thumping as it will hardly change the fact that demonetisation -- despite the long-term benefits it promises -- caused some major, though temporary, disruptions, mainly due to poor planning. Instead, it's better to admit and rectify and also move away from the obsession with GDP as the only measure of progress.

I invite your opinions.
Please comment on this story:
Subject :
Message:

(Maximum 1500 characters) Characters left 1500
Your name:

Demonetisation


Sajjan Bagaria | Thu Mar 9 00:51:41 2017


This is a move which should not be seen in the immediate conveniences/inconveniences. It signals a long term, fundamental change in the way we operate, to what we are used to-a move towards more above-board dealings. Yes, some regulations, it seems , may be a bit impractical. But ,overall, a Big Thumbs-up



CEO's Note.


Harishkumar Trivedi. | Wed Mar 8 20:06:11 2017


I believed that after demonetisation Mr. PM is totally failed into his act and he is not fulfill expectation of common men as well as corporate worlds of our country . Let we watch next step of Mr. PM after receiving Rajya Shabha Election's result . Thanking you. With best regards from Harishkumar Trivedi



Organised loot


Achut | Wed Mar 8 14:44:59 2017


The govt in the disguise of eliminating corruption has in fact looted people digitally. Many small time businesses which contribute to the economy have been hit hard. Banks now have started looting in various forms of transactions. The govt said banks will be better placed after demo but why this loot then? The GDP etc etc does not matter to more than 90% of the people. The govt is just playing around with figures and misleading people.



No demon in demonetisation!


CAT | Wed Mar 8 07:25:42 2017


For every hammering, impact takes some time to shape up. Intention is very important then political views of oppositions. We need to wait for final result of mess up cleaning. If not then who is stopping us to criticize and force govt to apologize, since it is already done!?



DeMON


Jeetendra | Wed Mar 8 06:12:30 2017


All the national % figures are not important to common man.Our small business suffered huge loss because there are no purchases. sales have been 80% down since November. We have removed all the employees.This is real picture.GDP % does not matter to us. Many lost their ongoing jobs thanks to DeMON.




8th November


Tapansur | Wed Mar 8 05:27:10 2017


If such a big decision has no impact,then why was it done in the 1st place?Being ostrich like does not help economy, a bold acceptance can ease the troubles it may have caused to the economy, in the absence of which we may face teratogenic & cascading effects on the economy in times to come?



Digital LOOT


Niraj Mithani | Wed Mar 8 04:22:24 2017


Hon. PM promotes digital banking, however paying ~Rs14 as transaction charge for buying Rs 300 worth Petrol or commodity is a digital LOOT. How much does government want to squeeze consumer for his each purchase? Its not squeezing but literally BLEEDING! Banks shall charge for everything now onwards whether deposit or withdrawal or transfer or just requesting a statement! All banks shall shortly quit prime locations and shall shift at remote or top floors of buildings where they don't entertain customers to visit. When they reduce all their expenses by non -human intervention transactions then they should plan rebates rather then looting. Let us for once accept all their charges, but let us ask them if they guarantee safety in digital transactions? Will they take responsibility for any cyber crime with banking system? Are they SAFE? I don't advocate cash transactions, but government in hurry to implement digitization is indirectly promoting cash transactions without SERVICE CHARGES & TAXES! People may prefer BARTER over BANKING shortly!


Re: Digital LOOT


Jeetendra | Wed Mar 8 06:18:23 2017


This is very true. our cards gets swiped incorrectly and then 2 times debit for one purchase then fight with bank for remitting back this is all digitization. Business down since November 8 and people talking GDP and national figures are all humbug. Country gone back 10 years


No demon in demonetisation!


Mahesh P Rathod | Wed Mar 8 04:09:20 2017


What known economist learn knowledge is limited to their book knowledge, they can't go beyond -History proves that knowledgeable person unable to accept their ignorance in knowledge in their field where they are known as MASTERS. After 4-5 years this chapter will be added in their books, as new envoy to knowledge in economics. Always thanks.



No Demon In Demonetization


Shyamal Chakraborty | Wed Mar 8 04:05:03 2017


We have to wait for the result of fourth quarter of GDP. Then only we will be able to understand the effect of Demonetization in Indian economy.



Demonetisation


Vijay Kumar Dadoo | Wed Mar 8 03:39:07 2017


I fail to understand, why you all are after the GDP in 3rd quarter only. For a citizen of India, the next day restoration of KASHMIR, and large scale impact on Naxalite activities are very great achievements of demonetisation. Now, come to the other benefits 1. The money which was hitherto holed up in the trunks, almirahs of females, has been deposited in the banks, and shall be used, the money is in circulation. 2. The money which was stashed by the businessmen, officers, politicians, has also been deposited in the banks, may be through the PM Jan Dhan Yojna accounts, but has surfaced, and has reached the banks or Government. 3. In very large no. Of cases, the old pendency of Govt. dues have been cleared by the people. 4. In large no. Of cases, the debtors were not paying the dues to the creditors, which in most cases have been amicably settled. 5. There has been very high sale of the Electronics items, vehicles , jewellery etc., in the period, leading to fairly large inflow of taxes to Govt. 6. People have started to work in transactions through banks. I do not know, why those who criticise do not look into the positive aspects. I do agree, people have faced difficulty, marriages ran into difficulty, but this was mainly on account of the communication problems, and in some cases incorrect handling by those in power including RBI.


Re: Demonetisation


Mafujar Molla | Wed Mar 8 05:53:36 2017


I do agree with all the points mentioned by Mr. V.K. Dadoo. Against all these income why Govt. is not able to reduce direct and indirect taxes which is the biggest burden on the general public of India. Contrary to that the Govt. is increasing the taxes. It is really beyond we general people's understanding.


Big Demon


Dr. Dinesh | Wed Mar 8 03:31:08 2017


Math and English is poor of person whose has calculated the GDP. Hard work and Harvard any body can compare if he does not know what is Harvard? everyday a labor do more hard, he get nothing? a former works extremely hard work get nothing? Elementary school junior school high school do hard work every day it can be compared to Harvard. Now it is increasing curiosity to see the input figure in GDP calculation compared to 2014 or before. This is just average if put less input it will increase. I think there is no new employment or growth resource with in last year. so you are talking about profit and loss not GDP.



Demon


Ganesan | Wed Mar 8 03:15:31 2017


True and balanced views.




DEMONETISATION


BSBHAT | Wed Mar 8 00:29:13 2017


The hue and cry on merits & demerits on demonetization is stretched beyond limit. Any where discipline, is involved , there will be difficulties. We have been relaxing and now time to wake up. Nothing much to worry. All over the world corruption exists but our politicians know better how to store money? Why don't you speak out? Instead of hoarding, it will be spent wisely now. People want change and truth has to prevail.




Demonetization


Satinder Singh | Tue Mar 7 23:00:05 2017


Demonetization was a very bold step by the government but very poorly implemented. All the databases is really good and by heart I want to expect it but mind does not allow me to do so because the ground reality is not good at all . But still I want to be positive and work hard for myself and my country and sport my prime minister to achieve the target which he might be looking for by implementing demonetized. Thanks.



Customs Exchange Rates
Currency
Import
Export
US Dollar

66.20

64.50
UK Pound

87.50

84.65
Euro

78.25

75.65
Japanese Yen
58.85
56.85
As on 13 Aug, 2022
Daily Poll
COVID-19 has directly affected your business
| | |
| --- | --- |
| Commented Stories | |