---

NPA menace: It's time for all-out war

---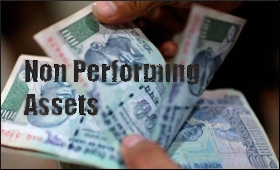 | | |
| --- | --- |
| Top Stories | |
Bikky Khosla | 28 Feb, 2017


The scourge of loan losses has a tendency to increase, get too big to ignore, too late to manage, and push the system into crisis -- what the former RBI governor Raghuram Rajan once said now seems to coming true. Bad loans have now shot up by 135% from Rs 261,843 crore in the last two years, with total NPAs of public and private banks mounting to Rs 697,409 crore as of December 2016. When Rajan initiated a host of restructuring schemes a few years ago, it was expected that the situation would improve substantially by the fourth quarter of 2016-17, but the latest data paints a grim picture.

With the NPA crisis rearing its head again and even likely to deepen further over the next two quarters as many firms, especially MSMEs are struggling to repay the loans in the aftermath of note ban, there is a widespread demand for strong government intervention. For now, the Centre appears to believe that growth will automatically take care of much of this crisis. In the last Budget also we have not seen any concrete announcement to tackle the crisis. In January, the Finance Ministry had proposed setting up of a bad bank to buy soured loans from lenders, a proposal raised again recently by a top RBI official, but many bankers feel that this will not provide a durable solution.

Besides posing as one of the toughest macroeconomic challenges to the government, a huge pile of stressed loans is also standing in the way of reducing interest rates. While the RBI has made a strong case for making loans cheaper, bankers see little room for doing that due to heavy credit costs and low loan growth. Poor loan offtake -- which decelerated from an annual rate of 11% in January 2016 to 5% in January 2017 -- has, in turn, continued to affect industry growth, with MSMEs suffering the worst of it. In such a situation, the Centre must show a pragmatic approach and strong political will to tackle the situation.

In the meantime, while the IMF last week said that the cost of bailing out India's struggling banks would be manageable, a World Bank official in a recent event suggested a somewhat novel idea on how to tackle our MSME credit crisis. He viewed that India can increase the credit flow to the sector by another $180 billion by raising its share of movable assets financing from 14% to 25%. Currently 14% of the total asset base of MSMEs comprises immovable assets while movable assets amount to nearly 85% and if at least 25% of total movable assets could be targeted for finance, there will be a big difference.

I invite your opinions.
SEE ALSO
Please comment on this story:
Subject :
Message:

(Maximum 1500 characters) Characters left 1500
Your name:

NPA


Mahendra Mohta | Tue Mar 7 10:28:27 2017


It is the bank's who are to be blamed for the malaise. They have been in cahoots with the borrowers and have financed and over financed units indiscriminately. Hence, they should now take strict action against defaulters, take a hair cut and give the acquired units to people of proven competence and capable entrepreneurs.



NPA Menace


NP Desai | Sun Mar 5 10:05:20 2017


I have read your article with great interest my views are. 1- Everybody is talking about size of problem, reasons of problem but very few are talking about solutions. 2- Also govt. & RBI policy are not solutions as problems in MSME are diverse so no uniform solution may be possible. 3- Govt alone can not solve the problem 4- Revival of sick MSME by put enterprise is possible and last 15 months I have put smile on 12 units with my effort and timely financial help. 5- Revival of sick MSME unit is a gold mine and investors can be given 15% return very easily. 6-Govt can consider to give concessions in incompetency so self sustainable revival company's can come up. I am ready to discuss with all concerned without any benefits.



Bad loans


M.P.hariprasad | Thu Mar 2 06:30:20 2017


Mandatory audits recommended prior to sanction of loans, including feasibility study and recommendations from higher authorities interference by both internal&external forces history as most of loan seekers do not want to pay back deliberately.



NPA-WAR


Raju Pathak | Thu Mar 2 05:14:35 2017


Banks start crying of their increase in NPA but it is true that the NPA is only due to the banks fault and wherein the concerned officers sit, relax and watch only with no deduction in their salary. Although some of the officers having less control are being axed. I can challenge that 100% of the accounts in NPA is only due to banks fault with 90% due to negligence and 10% due to their personal favour to the account holders. Blaming to account holders does not make sense and by this the bank only help themselves in crouching their back. Account holders are forced slaves of the bank and its officers. Many of the bank have completed their centenary but this issue has been never been exercised. Bank themselves can only minimise or negate NPA but they relax when really their intervention is required as TRUE PARTNER and then start crying when the account becomes NPA and then use this as a tool to attract the attention of ministry. I do not know why the banks are comfortable in crying before ministry rather than to exercise their power and knowledge. I am also confident that the ministry is well aware of this drama and have been deaf over the years. Still the banks are ready to beg rather than to act. I am hopeful that the ministry and the apex bank will force to bring out measures so as to minimise the NPA's and that too not with bail out plans but restoration. Their is an acute emergency as the present tools is no way different from an Terrorist organisation.


Re: NPA-WAR


Hariharan Ramalingam | Sun Mar 5 05:05:37 2017


I fully agree with your views it is banks who invite krijgen bad loans from sovereign loans in one case two banks fought for one MSME take over finally MSME became NPA


Government has failed the people through monetary policies


Ramadas | Wed Mar 1 08:43:46 2017


The principle of the government seems to be to rob Peter to pay Paul. To recapitalize the struggling banks the government has taken the hard earned interest of the ordinary people to keep defaulters from sinking. Also RBI will only insure deposits to an extend of Rs1 lakh. This sort of robbery is possible because 90% of Indians do not read English papers and only listen to government's propaganda until a total economic collapse takes place. If the people of UP knows about the economic status then BJP will get a big zero in the elections. People want to know what happened to the gains when petroleum price collapsed. To whose pocket it is going. Banks should be capitalized with excess money from cheap petroleum not from lower interest paid on deposits. All in all rich business people who in cohorts with the government will gain most from the present RBI policies.



NPA


GOPAL DESAI | Wed Mar 1 08:21:40 2017


Very good....National level issues must be discussed openly and it is swdharm of intellectual people to try to find solutions as much as possible for national interest. It is hard earned money of common people which should not be wasted.




God save the these banks


K S Narayan | Wed Mar 1 06:00:01 2017


With the top businesses and business draining the banks by not paying back the loans, it is worry time for the account holders in the banks that their money is not safe and even some of the nationalised banks are likely to shut store in the near future, the government will not come forward to rescue the poor bvanl account holders. God save the these banks and economy from the brink of economic and financial disaster lurking in the corner.



NPA


A V Chandran | Wed Mar 1 04:17:39 2017


About NPA on macro terms with reference to the great Nation like India must activate the macro figure in line with equitable distribution by one and all banks by virtue of crediting the same to reserves and surplus and it could not be written off in any case. This is the best choice to safeguard such wealth of the great Nation for corresponding economic safeguards and it is strongly make it a practice in all future NPAs. Once it is resolved like this macro figures in Depreciation could also be credited to Reserves and Surplus head of one and all banks. This process could also be made applicable to all other private sector companies and public sector companies in order to maintain sound economic status to the respective areas. In all these cases Central Govt must take initiative to pass such reforms to safeguard no leakage of the sound economy.



Great Idea


Natarajan | Wed Mar 1 02:00:41 2017


Indeed I have been following a couple of your articles and I am now a follower. Yes I think MSME should have its own recourse or strategy as they cannot be treated like any other loans. It is the pulse of India and it is what going to make India greater. Largely lending to MSME due to bad credit periods extended to clients have extended to 120 days.



NPA handling by banks


Anandd Aggarwal | Wed Mar 1 01:39:22 2017


Once an account becomes NPA all out efforts are to recover maximum money and NOT revival of the account.Bank interest is compounded, panel charges are imposed,holder can not keep money in NPA account as all cheques issues will be returned(account being NPA). So the holders looks to other bank for day to day working which is bad for the bank.Holder is paying agreed cut back still to demoralize them notices,threat are issued as notices. In nutshell a NPA account is treated as criminal thing and all past good records and future confirmed good business opportunities are deliberately ignorned.At times honest holder start running away or start avoiding the banker and may be few become Mallaya. At branches quotes are we will loose job,it is not norms,we do not have staff to send your proposal. If every case is studied by the empowered committee I am sure many NPAs can revive and contribute to the growth of the country.



NPA MENACE


SAMIR BANERJEE | Tue Feb 28 23:01:45 2017


You have rightly said that the NPA menace is one single factor that is going to bring our country to the brink. But NPA is a creation of the banks itself. They simply don't take any positive steps to solve the problems of borrowers. For example, in our specific case, in September 2015, we were neither NPA nor sick, when the bank turned down a small loan of Rs 25 lakh for urgent plant repairs even after positive report from the branch manager. Consequently we were unable to meet our business commitments and we became sick. Had they given us the Rs 25 lakh in September 2015, we would not have been sick today. And this is not one example. Anyway we tried to approach several banks but to no avail.Banks want to take action against wilful defaulters? Good idea. But banks must also take action against their staff & managers, if it is proven that they were responsible for rendering an account as NPA. Today we simply don't know what to do. No solution in sight. Any suggestions? Private funding is very contra productive. Rates of interest is very high and harassment very common. Your solution is most welcome.



MSME NPA


RAM BANERJEE | Tue Feb 28 20:17:02 2017


Every company is managed by the individuals and as such proper adoption of policy is required. Like companies the Central Govt finance ministry instead of neglecting the NPA account should instruct all the banks to support them. Further the Cibil low score should be considered in providing the loan as a person may make a mistake in his college life does not mean he has not changed after 20 years. Present and future we should consider not the past like the same way more companies can contribute the growth in our economy.


Re: MSME NPA


Dr Bharat KPatel | Fri Mar 3 11:37:19 2017


Yes sir, as every company and businessmen are not cheater or want to cheat but some mistake or adverse time may disturb some business so always NPA account must recheck and reassess for fraud or genuine case and must be handle individually as all money in banks is national property and all business also impotent part of development. I think for genuine cases one more chance needed for to redevelop business for development of India.

Customs Exchange Rates
Currency
Import
Export
US Dollar

66.20

64.50
UK Pound

87.50

84.65
Euro

78.25

75.65
Japanese Yen
58.85
56.85
As on 27 Apr, 2022
Daily Poll
COVID-19 has directly affected your business
| | |
| --- | --- |
| Commented Stories | |