---

Temptation of protectionism

---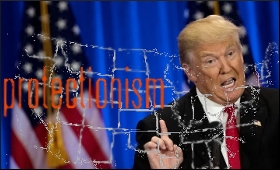 | | |
| --- | --- |
| Top Stories | |
Bikky Khosla | 14 Feb, 2017


Last week, an urgent meeting was convened by the Commerce Minster on the proposed tightening of the US visa regime. The development came amid grave global concerns over US protectionism under President Trump. The country, which once championed the cause of globalization, has suddenly turned into a threat to the global trading system, with the newly elected President vowing to 'put America first'. He wants to restrict immigration to US, stop American companies from global relocation and job outsourcing, and trash trade treaties like NAFTA and TTIP, so as to prevent other countries from hollowing out the US economy. All these sound absurd.

Globalization has long since proven its worth, opening up markets, pushing global trade, creating jobs, fostering global integration and leading to overall well-being of the world population, but unfortunately, time and again, protectionism has managed to rear its ugly head. It happened in the aftermath of the Great Depression, when protectionism and the retaliations it provoked eroded about one-quarter of world trade in just three years, and now it is happening all over again in the aftermath of the Great Recession, with protectionism measures mounting worldwide since 2008 and now the US, the largest economy in the world, coming out to take the lead.

It may look patriotic, it may be popular as well, but I think cutting the US economy off from global competition will damage its growth terribly instead of protecting it. Consumers will have to pay more for tariff-protected goods and services; domestic companies are likely to turn less productive over time; and firms selling and operating outside the country will face retaliatory measures. Also, protectionism will actually put at risk a substantial number of good-paying jobs while in contrast smartly negotiated trade deals can create more jobs and support for US manufacturing. Overall, the costs of protectionism are bound to far exceed the benefits in the long run.

Coming back to our domestic concerns, I think time has come for our policy makers to evolve an action plan. We need to aggressively look for alternative partnerships and markets, along with making the best of the regional trade agreements, such as BRICS, ASEAN and RECP. At the same time, all possible measures -- including reduction of border transaction costs, logistics reforms and transport infrastructure development, custom modernisation, e-business promotion, friendly taxation system -- need to be taken for better integration into global supply chains, which will help us defuse protectionist pressure from the US and other advanced economies.

I invite your opinions.
Please comment on this story:
Subject :
Message:

(Maximum 1500 characters) Characters left 1500
Your name:

Opinion


Flavio Faria | Wed Feb 15 17:52:19 2017


The BRICS is the important step.




Changing Global Policy & America first by Trump


Lali Raj Meena | Wed Feb 15 11:44:01 2017


USA the global leader on globalization if suddenly take total U turn will be total setback to the Changing business environment. since last 2-3 decades we all were talking about free Global market. trade barriers were being taken away by most of the countries. US who led the world economy and by change of guard if business environment and policy take total U turn will be disaster to the economically growing business environment . All world leaders and forums like WTO, UNO, ASSOCHEM, CII, GATT, ITC world wide should join hand together and strongly. Lot of Indian companies established their units in USA and US companies in India. By adopting the specific approach for some of the Indian Companies the Changing business environment in USA will be a great set back, same time some of the US companies will also suffer . The Asian leaders must together and make some alternate better trade agreement and force the Us government to modify the the terms of business beneficial to all



Proctationism


TARUNENDRA NATH BANERJEE | Wed Feb 15 06:34:30 2017


The very word is against the international trade.The very root for international trade is the cost of production depending on the cost of labor with skill and know how,Raw material availability and buyer of the product assuring payment.Now to protect the cost of labor if the international trade is protected by restrictions imposing import duty would jeopardize the very cost of the product and hamper the international trade.It will be better to invite the supplier nation to set up manufacturing facilities in the buyer country and engage local labors with skill and facility to train them to get skilled instead of restriction of international trade.




Protection of USA


Gautam Kumar Das | Wed Feb 15 06:09:08 2017


The country should protect her people first.It has been proved that open economy and Globalisation have damaged the work culture of a large segment of the American Industry. Without the drastic step as taken by the new leader in the country the economy could not be revived. China had got the major benefit for such openness of the country.



Temptation of Protectionism


Arjun | Wed Feb 15 04:54:15 2017


While agree with the above, we would look at other windows of opportunities in emerging markets, i.e. apart from China - India, Indonesia, Vietnam, Cambodia and there is always a way out



Endorse your candid views


Prakash N Iyengar | Wed Feb 15 03:35:15 2017


Your comments and observations are apt and pertinent. If considered in the right perspective and as suggested adequate measures if adopted,Indian economy will not feel burdened by US disassociation in partnership. I endorse your candid views.



India has nothing to give to USA


Engr Rastogi | Tue Feb 14 21:55:21 2017


America needs Russia and China to support its demand for products and services and to maintain its military supremacy. Soon Trump will realise that India cannot be a counterforce to contain China. We Indians should prepare for a situation in which America, China and Russia will stand aligned together with NATO countries.



Temptation of protectionism


Marcos Bittencourt | Tue Feb 14 18:28:55 2017


I totally agree with your opinion. We will face new challenges in this situation. I still hope that good sense can prevail.



It was same here in Argentina


Walter Montalbano | Tue Feb 14 17:08:14 2017


I do totally agree with your opinion. I live in Argentina, and our previous government (which ruled the country for about 12 years) was tempted by this magical solutions, applying these policies and mixing them with populism... which ended in an explosive cocktail. Nowadays, although our new government has changed political orientation to the opposite way, the damages were so extreme that we are still suffering the effects. Our economy is expensive, unproductive, products' prices are ridiculous compared not only with USA market prices, but also with other nearby countries such Chile. So, at the end the consumer pay the cost! Hope all the world would apply an intelligent approach to deal with this situation in order to avoid conflicts (which strengthen protectionism) and simple pass over these bad times.


Customs Exchange Rates
Currency
Import
Export
US Dollar

66.20

64.50
UK Pound

87.50

84.65
Euro

78.25

75.65
Japanese Yen
58.85
56.85
As on 27 Apr, 2022
Daily Poll
COVID-19 has directly affected your business
| | |
| --- | --- |
| Commented Stories | |