---

Election results: Good for economy or bad!

---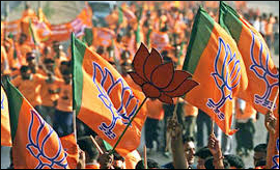 | | |
| --- | --- |
| Top Stories | |
Bikky Khosla | 26 Dec, 2017


In the first state Assembly elections since India's slow economic growth has been apparent, the Bharatiya Janata Party (BJP) recently came out victorious. In Himachal Pradesh, the party won by a large margin, securing 44 out of 68 seats, but its chief ministerial candidate lost. In Gujarat, the PM's home turf, it won 99 out of 182 seats, but again, on a negative note, it was the party's lowest tally in the last six elections in the state. Experts have termed this performance as 'win without the shine' and economy watchers are now busy analyzing the results.

No doubt, overall the result may turn good for political stability and reforms. With BJP now ruling in 19 states, the results may also have some impact on its seat tally in the Rajya Sabha in the coming months, making it easier for the government to pass legislative reforms in the House. But the negative aspects of the result, particularly in Gujarat, have also promoted concerns that the Centre might now be tempted to go populist. With eight state elections ahead in 2018, it may now find it difficult to resist the temptation.

Additionally, the Budget is likely to be presented on February 1 and it will be interesting to see whether it will reflect a non-populist stand as well as the Centre's commitment to improve quality of expenditure. Recently, the Finance Minister indicated that his ministry would meet the fiscal deficit target. Well, it is welcome, if it happens, but at the same time it is equally important not to cut spending on investment only to prevent fiscal slippage, which, if any, is likely to be mainly due to the disruption caused by GST implementation and not reckless spending.

Most agree on the fact that the forthcoming Budget should focus on the infrastructure and rural sectors. Job creation has remained one of the toughest challenge facing the government and to address it, efforts must also be directed to manufacturing and exports. Also, farmers in the country are reeling under pressure for some time now, and the Budget must not turn a blind eye to these concerns. So the government, besides resisting any kind of temptation to populism, must also find the right balance between fiscal prudence and spending.

I invite your opinions.
Please comment on this story:
Subject :
Message:

(Maximum 1500 characters) Characters left 1500
Your name:

Observation


Dilip Dalal | Sat Dec 30 04:07:07 2017


For developing economies, expenditure is higher than revenue.Developed nations have passed thru this stage earlier. My view is fiscal deficit, inflation can be looked at liberally and if goes above predicted criteria, country would not worry. This is for short term and one needs to Look at effectiveness of the economic measures taken by Govt. Capital account convertAbility needs to be reconsidered. After 25 years of Economic reforms, And determinants of economy like GDP growth,forex reserves,inflation, CAD and others are in reasonable status for India to take to Indian rupee fully convertible. Risk bearing capacity India has, now.Further, demographic dividend needs to be encashed and economy is in good shape. We are in great shape and country led by our grand PM can look at aggressive steps to Integrate our economy with world economies. This is initial Observation. Cannot write a lot, so I end.


Customs Exchange Rates
Currency
Import
Export
US Dollar

66.20

64.50
UK Pound

87.50

84.65
Euro

78.25

75.65
Japanese Yen
58.85
56.85
As on 27 Apr, 2022
Daily Poll
COVID-19 has directly affected your business
| | |
| --- | --- |
| Commented Stories | |