---

NITI Aayog's Action Agenda

---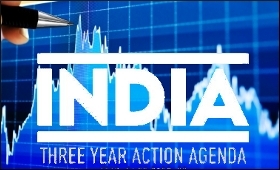 | | |
| --- | --- |
| Top Stories | |
Bikky Khosla | 29 Aug, 2017


The NITI Aayog released its 'Three-Year Action Agenda 2017-20' last week. The report, which has come on the heels of the second volume of the Economic Survey, views that our prospects of reaching the 8 percent-plus growth trajectory in the next few years are very bright. A host of policy measures are prescribed, several cautions are mentioned as well, but overall the think-tank sounds positive about the prospects of the Indian economy. In one of its total seven parts, the report exclusively covers issues pertaining to the agriculture sector and the Indian industry, which deserve special mention.

On agricultural sector, the Action Agenda stresses on reform of the current agricultural produce marketing policies and market interventions, adding that current MSP implementation has limited reach and under the existing marketing system farmers get only a fraction of the price paid by the final consumer. Second, for most of the crops, productivity of both land and water is very low and the challenge requires sustained action for many years to come. Third, the tenancy laws in most states require reform as they hardly serve the interests of either landowners or tenants. Fourth, the report pitches for at least a minimal amount of relief for small farmers at a rapid pace at times of distress.

On industrial transformation, with particular emphasis on job creation, the report recommends specific proposals for jump-starting some of the key manufacturing and services sectors, including a number of labour-intensive sectors, such as apparel, gem & jewellery and food processing. Additionally, it pitches for setting up of two Coastal Employment Zones.The report also calls for labour reforms, interestingly adding that while such reforms should ideally be done at the Central government level, considering the political difficulties involved, the alternative route of Presidential assent to reforms passed in the State Assemblies should be vigorously pursued. It also adds that greater flexibility in labour laws is a must to incentivize entrepreneurs.

Recognizing the critical role exports can play in job creation, the report views that Indian exporters are lagging behind their global peers when it comes to product competitiveness and productivity level, and calls for a focused strategy for creating an exporter-friendly environment, especially for the labour intensive sectors. It also adds that instead of focusing on the domestic market through an import-substitution strategy, which is likely to lead to rise to a group of relatively small firms behind a high wall of protection, the focus should be on the global market, a strategy which in contrast can potentially result in output worth hundreds of billions of dollars and hence many well-paid jobs.

I invite your opinions.
Please comment on this story:
Subject :
Message:

(Maximum 1500 characters) Characters left 1500
Your name:

Suggestions regarding micro level farming


Ujjawal Kumar | Wed Aug 30 18:36:12 2017


Really appreciate the measures planned for 3 years down the line, but still feeling that it won't help farmers cultivating their crops at micro level, I feel that it there should be a government body at district or Mandal level to buy their corps as per some fixed price it could be more or less compared to market and then it all depends on individual's decision where he wants to sell his output this will give assurance to farmers that what they are sowing will definitely reap. And later on government can also give them an option to raise some crop of governing body interest.



NITI Aayog's Action Agenda 2017-2020


AV CHANDRAN | Wed Aug 30 05:41:46 2017


NITI Aayog's Action Agenda 2017-2020 is not at all maintaining good health of the Great Nation in the absence of - 1. food safety by virtue of Statutory Rationing at least up to Middle Income Group, 2. treating Farming Force at par with Jawan and beyond, 3. safeguarding children up to the age group of 5 years and Senior Citizens till death 4. flood control by virtue of Ganga Kavery Canal project subject to bye- pass with heavy water logging States 5. befitting review mechanism towards internal, external peace process 6. up keeping Secularism in all respects. 7. Sharing Revenue between Central and States based on population of precise State It may be noted that post crude imports at continuous reducing cost for the last two years and corresponding petroleum products at high cost by the Great Nation could achieve macro revenue. Further ensuing increasing revenue of GST will receive best results to the Great Nation subject to growth rate beyond 10% even after implementing all the above areas.



Report has no meaning


Dr A M Siddiqui | Wed Aug 30 05:07:13 2017


This story is just on paper, no ground work has been done in last three year whether it is agriculture, job creation, you only talk about 8% growth but it has come down drastically with no hope of revival. So this report only a paper tiger nothing else and false promise of the present government. No action is being taken except political bankruptcy.


Customs Exchange Rates
Currency
Import
Export
US Dollar

66.20

64.50
UK Pound

87.50

84.65
Euro

78.25

75.65
Japanese Yen
58.85
56.85
As on 07 Jun, 2020
Daily Poll
COVID-19 has directly affected your business
| | |
| --- | --- |
| Commented Stories | |