---

Economic Survey: Volume-2

---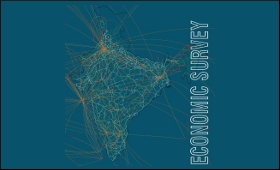 | | |
| --- | --- |
| Top Stories | |
Bikky Khosla | 16 Aug, 2017


The Economic Survey 2016-17: Volume-2, released by the Department of Economic Affairs last week, came out with some valuable insights for economy watchers. On the bright side, it mentions about a 'rekindled optimism' on structural reforms, driven by launch of GST, positive impacts of demonetisation, rationalization of energy subsidies and actions to address the twin balance sheet challenge. However it has raised red flag over 'deflationary impulses' weighing on the economy, rising from factors like stressed farm revenues, farm loan waivers and fiscal tightening they will entail and power and telecommunication sector worries.

Overall, the growth outlook presented by the second version of the survey is more subdued than the first one, but it sounds less worrying and more normal. Initially GDP growth was pegged at 6.75 percent to 7.5 percent for 2017-18, on the expectations of global recovery, a post- demonetisation catch-up in consumption and monetary easing after demonetization, but since then a number of new factors -- real exchange rate appreciation, agricultural stress, farm loan waivers, increased balance sheet stress in power and telecommunications sectors, implementation of GST -- have appeared, and the survey rightly takes them into account.

Elaborating the 'deflationary impulses', the survey sounds specifically concerned about the adverse effects of farm loan waivers -- an issue we have raised time and again over the last few weeks. It pegs the likely magnitude of the already announced waivers at Rs 1.25 lakh crore. Similarly, the survey also points to a 'agriculture puzzle' -- reduced farm revenues in non-cereal crops despite good monsoon and the transitional challenges from implementing the GST. These issues too have no less been discussed recently, but now with the flagship document of the finance ministry itself raising concern, I hope our policy makers will strain their nerves to tackle these challenges.

But the survey is -- despite its warning bells on growth and fiscal slippage -- by no way all about negatives. Instead, it sounds highly optimistic on ongoing reforms, including GST leading to expansion of the tax base, effective handling of the twin balance sheet challenge by the Centre and the RBI, further rationalization of energy subsidies and decision to privatize Air India, etc. Additionally, it views that factors like demonetisation, exuberance in financial market, scope for monetary easing, exports recovery and robust capital flows should augur well for the economy. So, there is light ahead though at the end of the tunnel.

I invite your opinions.

Please comment on this story:
Subject :
Message:

(Maximum 1500 characters) Characters left 1500
Your name:

Economic Survey Vol 2


A V Chandran | Fri Aug 18 07:19:55 2017


Economic impacts must cover NPAs worth more than Rs.5 lakh crore. Continuous reducing cost of Crudes and no corresponding benefits to consumers in macro terms for the last more than three years. Macroeconomic encouragement extended to big business houses enjoying with heavy depreciation, increasing gross profit, increasing net profits etc whereas farming sector discouraged on macro terms. Demonetization discouraged all the sectors for want of reasonable currency circulation in view of review mechanism gap between budget and actual. GST is till incomplete in view of non-inclusion of Income Tax whereas claiming one tax one Nation hence it stands not materialized. With this partial implementation of GST too generation of Revenue could be envisaged continuous macro increasing return in view of covering Insurance Premium and Market Exchange. If we put all these together wide gap between Revenue and Expenditure could be maintained for the Great Nation to serve the Farming Force at par with Jawans and beyond, Food safety of great population by virtue of implementing Statutory Rationing at least up to Middle Income Group. Similarly encouragement to Children up to the age group of 5 years and Senior Citizens through out the life could be taken care of by Central Govt with reference to their full medical attention with befitting review mechanism so that to that extent they are being safeguarded from the existing means of negative care and safeguard measures.



GST Impacting small businesses


Sridhar | Thu Aug 17 12:01:11 2017


Imposing penalty for filing the returns by specified dates i.e mandatory entry of business data every month has become very cumbersome. CA's are minting money. Small timer cannot afford to have softwares and 24 hrs. network at rural areas. GST not compulsory below 20L is too low. Many SME's are not able to procure material due to GST impact. Production is suffering. Also, variable GST % is also another blunder what government has implemented.



Economic Survey- Volume 2


SJS RAVI | Thu Aug 17 06:39:20 2017


The Economic situation is really bad for farmers as well as small manufactures and traders, especially GST creating huge compliance issues (who bears the cost of compliance?) The Survey is only a cosmetic shield created to cover the behinds of the perpetrators of the economic disasters one after another. With every reform(?) the government puts more and more onus of compliance on small people with hardly any means to comply. What is the use of broadening the tax base? It will put more money in the pockets of an undeserving government and burden more small people such that more such people will be driven in to suicide zones.



Survey is totally fabricated


K K Shukla JSR.JHARKHAND | Thu Aug 17 01:24:01 2017


Survey is totally fabricated and govt is trying to be fooled the people. Demonitization is effecting the economic growth of India.It is alarming. Govt. is trying to project that farmers lone can not be waived but govt.is not hesitating on waiving corporate sector loan. Farmers are backbone of country. Export deficit are increasing day by day.Govt.is only optimistic on on going reform like SGT leading to tax base .so govt. should rethink regarding economic policy. Govt itself weakening the govt owned institution like BSNL, LIC, ONGC, SBI, etc.The capital are accumulating among few capitalists. It is highly alarming and not good for the people of India.


Re: Survey is totally fabricated


Sudhir Bhandare | Thu Aug 17 08:27:42 2017


It seems the writer is not aware of how survey is compiled. Further he is waiving the loans to farmers but do not understand ramifications of such waiver. It is important to note that farmer loans were earlier channalised through co-operative societies and were controlled by politicians in power who were siphoning of the money and small farmers were not beneficiaries. As regarding corporate loans so far no loan is waived and whatever loans were sanctioned were because of clearances issued by earlier government. One must note reforms can not take place overnight and it takes time and patience to achieve something. Steps taken will bear fruits over a period of time.

Customs Exchange Rates
Currency
Import
Export
US Dollar

66.20

64.50
UK Pound

87.50

84.65
Euro

78.25

75.65
Japanese Yen
58.85
56.85
As on 27 Apr, 2022
Daily Poll
COVID-19 has directly affected your business
| | |
| --- | --- |
| Commented Stories | |