---

Monsoon delight

---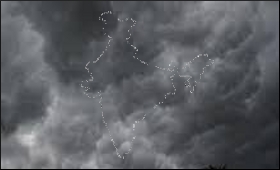 | | |
| --- | --- |
| Top Stories | |
Bikky Khosla | 25 Apr, 2017


The India Meteorological Department last week came out with its projection of a 'near-normal' South-West monsoon this year. In its first long-range projection for 2017, the weather office said that total rainfall during the June-September period would be around 96 percent of the long-term average. What carries greater weight is the projection that the rainfall will be evenly spread across the country. Although a clear picture of the season would be available only in June, the forecasts have come as a big relief, in the backdrop of fears that El-Nino may strike yet again this year.

So, why are the monsoons so important? With an estimated 70 percent of our population depending on agriculture, but nearly 40 percent of our cropped area still not having any form of irrigation other than the rains, the question sounds a no-brainer. After hitting the southern Kerala coast normally around June 1, the South-West monsoon first covers the coffee, tea and rubber growing areas of south India in a week, then spreads to the rice areas of eastern India, and later reaches the oilseed-producing areas of central India in the third week of June, and according to an estimate, crops planted during the first two months of this season contribute half of India's farm output.

The forecast is crucial not just for farmers. GDP growth, food prices, consumer spending and interest rates — all areas are usually influenced by rain. Increase in farm production can lead to fall in food inflation, resulting in lower level of imports of food items. Similarly, rising farm and non-farm wages usually lead to higher rural consumption, which in turn can boost demand of fertilizers, seeds, tractors and FMGC. It can also ease pressure on the RBI to raise interest rates, thus pushing demand in sectors like housing and automobiles and assisting industrial growth. So, a good monsoon will not only help our drought-hit farmers to build on last year's recovery but also to accelerate the country's overall economic growth.

But can these forecasts be relied upon? It is true that the weather department made some great mistakes in the past, but the margin of errors have reduced between 2003 and 2015 as compared with between 1990 and 2002. Also, the latest forecasts are computed with a dynamic rather than statistical model. It is pointed out that similar models are being used by many other countries with good results, and so the forecasts this time carry greater conviction. However, it is always better to be prepared to cope with unpredictability of the monsoon. There must be an all out efforts at the policy level to address our farmers' concerns, no matter whether the rain-god showers his blessings or not.

I invite your opinions.
Please comment on this story:
Subject :
Message:

(Maximum 1500 characters) Characters left 1500
Your name:

CEO's note.


Harishkumar Trivedi. | Wed Apr 26 19:06:13 2017


Good rain flow is depend upon high heat and wind received from south west side in the month of May. Yet , as per my calculation this year rain flow between 92% to 96% .



Pertinent issue


Col Amanpreet Singh Legha | Wed Apr 26 05:58:19 2017


You have brought out a very pertinent issue which is the plight of the poor farmers of the country. They work probably the hardest than all other professions however, they still live hand to mouth and I being a soldier-farmer totally vouch for the fact if anybody in this country needs aid it is these troubled souls who provide us food. There is some foolish news that some think tank of the Government is proposing to tax agricultural income also. They less realize that tax will be the last nail in the farmers who are already surviving in a pitiable state.



Monsoon delight


S. Chakraborty | Wed Apr 26 04:13:00 2017


Though now, rain forecast is being computed on the basis of dynamic model, it is always better to be prepared to cope with unpredictability of the monsoon. There must be an all out firm and planned efforts at the GOV. policy level to address our farmers' concerns, no matter whether the rain-god showers his blessings or not.



Water conservation


Herb Kaiser | Tue Apr 25 18:19:31 2017


With Assam getting an average of 45 feet of rain a year (most anywhere) why is it not conserving water. They also will have droughts.



Customs Exchange Rates
Currency
Import
Export
US Dollar

66.20

64.50
UK Pound

87.50

84.65
Euro

78.25

75.65
Japanese Yen
58.85
56.85
As on 18 Jan, 2018
Daily Poll
Is counterfeiting a major threat to SMEs?
| | |
| --- | --- |
| Commented Stories | |