---

Exports recovery gathers steam

---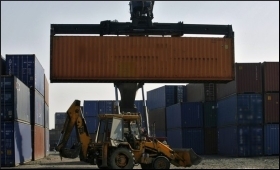 | | |
| --- | --- |
| Top Stories | |
Bikky Khosla | 18 Apr, 2017


The Indian export sector started the last financial year on a dismal note, with exports falling by 6 percent in the very first month, continuing a seventeenth consecutive month of decline, and now by the end of the year the sector has distinctly reversed the trend, growing for seven months in a row since September last year. Foreign trade figures released last week came as a pleasant surprise. They show increase in our overseas shipments by a whopping 27.6 percent, year-on-year, to $29.23 billion in March 2017. Cumulatively, for the April-March 2016-17 period, exports rose 4.71 percent to $274.64 billion compared to the previous fiscal.

The latest export figures reflect several positives. First, the growth is quite satisfactory when seen in the context of sharp Rupee appreciation and demonetisation. Second, it is encouraging to see 25.5 percent growth in exports of non-petroleum and non gems and jewellery. Also, the pace of export growth in March is the fastest monthly growth in almost six years, and more importantly all major sectors in 25 out of 30 major product groups, including highly SME populated sectors like gems and jewellery, garments and handicrafts contributed in a major way to this growth. It is also interesting that exports of meat, poultry and dairy products registered 17 percent growth, despite recent crackdown on illegal abattoirs in UP.

Imports, however, rose sharply by 45.25 percent to $39.66 billion in March, resulting in a trade deficit of 10.43 billion, from 4.39 billion in the same month previous fiscal, but again analysts point out some positive trends. The sharp increase in March imports was driven by gold, pearls, precious and semi-precious stones, and according to some, this augurs well for gems and jewellery exports in coming months. Similarly, high imports of petroleum products is reflected in higher exports of petrochemical products in March. It is also encouraging to see a robust 19.8 percent growth in non-oil, non-gold imports, which indicates strengthening of our domestic demand.

Meanwhile, in another positive development last week, the Union Cabinet approved implementation of the Supreme Court's judgement on eligibility under the Target Plus scheme for exporters. The scheme was launched to accelerate quantum growth in exports, but the scope of benefits was narrowed after its implementation. Later, in a judgement delivered in 2015, the Supreme Court ruled that the DGFT's notifications making certain products ineligible under the scheme could not be applied retrospectively. Now, the claims denied as a result of these notifications will be settled, as per direction of the apex court in the civil suit.

I invite your opinions.

Please comment on this story:
Subject :
Message:

(Maximum 1500 characters) Characters left 1500
Your name:

Export enhencement


To be continued | Wed Apr 19 15:40:05 2017


its encouraging information that in spite of appreciated rupee we are able to compete for export of our produce it is necessary confidence that works rather than price we shall insist for confidence building measures it will help our currency to appreciate at faster space and our economy will continue to be viable inland and abroad and when currency continues to appreciates the exporters will repartiates the funds without parking outside the countryas it will not bbe prudent for them to do the same


Customs Exchange Rates
Currency
Import
Export
US Dollar

66.20

64.50
UK Pound

87.50

84.65
Euro

78.25

75.65
Japanese Yen
58.85
56.85
As on 25 May, 2018
Daily Poll
Is counterfeiting a major threat to SMEs?
| | |
| --- | --- |
| Commented Stories | |