---

Rise of the Rupee

---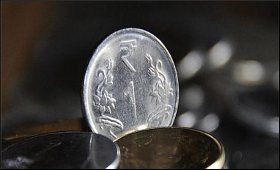 | | |
| --- | --- |
| Top Stories | |
Bikky Khosla | 11 Apr, 2017


The Indian Rupee is on a roller coaster ride. The currency appreciated by 4.5 percent versus the US dollar in the last quarter ending March. This quarterly rise, according to an estimate, is its best first quarter of any calendar year in the past 42 years. High dollar inflows, both into debt and equity, contributed the most to this upward movement during this period, and entering into the new financial year the trend has refused to buck. During the last week, the Rupee rallied to reach a fresh 20-month high of 64.28, despite intense global volatility and nervousness, raising question whether such rapid rise of the currency is really warranted at all.

While currency appreciation is normally seen as good news for an importing country like India with its large import bill in which crude oil contributes the most, our export sector has found itself at the receiving end. Recently, I have had talks with some exporters, mostly from the small and medium enterprise sector, and they unanimously view that although Rupee appreciation is not a big concern in the short-term, the impact may be severe if the trend continues, particularly due to their lower margin profile. Some export associations have already expressed a similar concern, considering which I think our policy makers should keep a constant eye on the currency movements.

This is more so because the factors behind Rupee appreciation are unlikely to change soon. First, most of our macroeconomic indicators, including the third quarter GDP estimates, show that India's growth story is likely to remain intact despite the demonetisation impacts. Second, credibility of the government at the Centre has further been bolstered by the BJP's landslide victory in UP, leading to increased investor optimism. Similarly, progress in the GST front has pushed this positive sentiment further. In this scenario, it seems quite unlikely that foreign inflows will slow down any time soon. In fact, according a new poll, the Rupee could appreciate to 63 levels in the next month or so.

Our exports rose for the sixth straight month in February after a prolonged period of decline, but further strengthening of the Rupee may soon come in the way of this recovery. Some argue that Rupee appreciation will not affect our export competitiveness much as other emerging market currencies are also strengthening more or less. But complacency can be dangerous, and if the Rupee continues to go from strength to strength, leaving the problem unattended for long could lead to an alarming situation. So, RBI should keep a close eye on the exchange rate, while the Centre should come out with some more export-friendly measures to help the sector sustain its growth.

I invite your opinions. Is the strong Rupee affecting your business?
Please comment on this story:
Subject :
Message:

(Maximum 1500 characters) Characters left 1500
Your name:

Strong rupee, cheap land is must for Make in India


Bhagawath Prasad | Fri Apr 14 22:31:43 2017


Strong rupee and cheap land is must for strengthening Modi sir 's "Make in India " program , imports have to be cheaper for time being to set up manufacturing plants in India ,while first few years they strengthen their base with good import price ,they would be able to export from India in a few years from now , strong rupee will make India a major exporter , in return it can produce many jobs for country , it will be a big benefit for country ,strong rupee may hit few exporters for which government look at compensating in different ways with export incentives .In my opinion USD should be at less than 55/- , land leasing at 50% lesser than current price.



CEO


Harishkumar Trivedi | Thu Apr 13 16:03:16 2017


Yes, it is affecting for short term period. Raising of rupee against dollar is a short term effect not for long term period.



Ruppee Appreciation


Rambabu Cheruvu | Thu Apr 13 06:07:45 2017


Despite the strength of the Yen & Deutsch mark people still buy the Japanese & the German products, because they are trust worthy!!! why cannot we see anything good for the country. In the countries economy what is the percentage of exports & for this percentage why do we want to cry foul on the stronger rupee!!! shouldn't we find reasons of why we are costly on the steel index, copper index, coal index as we are self sufficient in the raw materials for these basic metals etc.... As an exporter we may be at best competing with China in terms of exporting equipment from time to time. May be on raw materials with respect to countries like Australia, Brazil etc... so as an industrialist I would be more interested in the input basic costs of the raw material, availability of quality current & willing & skilled labourers. The best the government can do is to make available youth with an attitude to work worthy of their earnings.



Appreciation of rupee is good


8185967686 | Thu Apr 13 03:29:28 2017


Our currency is essentially our strength, the economy should be participative more people participates in economy it gives healthy and strong economy in the past we thought of growth of tatas and birlas as our freedom fighters were indebted to them but the present time is different we have to see basic needs of each citizen is served our planners should put to use the principle (of 'the large number of participation better the for economy should be' employed instead our past mistakes.




Export Oriented SME's


Eston GOMEZ | Wed Apr 12 10:41:09 2017


A strong rupee is surely a cause for concern for SME's especially those which are based on agro commodities. The emergent and aggressive African market offers alternatives to Indian commodities at lesser prices to the traditional markets in Middle East and Asia, which predominantly was looking for produce from India. The export oriented manufacturing sector has already been dented by the Chinese manufacturing which has emerged with quality and timely deliveries. An early intervention would help the exporters who are already seeing their profits lowered by 3-4.5 %



Roller Coaster on the Rupee is a cheating


Vineet Ruia | Wed Apr 12 06:21:44 2017


4 renowned men in this country have been involved in fall of the Rupee in 2013 from almost Rs.50 to Rs.68 No exporter opened his mouth at that time as they had windfall profits. The current account deficit at that time was 3.5 to 4% up from 1.5% Now India is positive on the current account and there is no reason for the Rupee to be at 64 against the dollar. I should have come down to Rs.40 a dollar. But this is all manipulation.






P.Rajesh | Wed Apr 12 06:11:02 2017


I hope in near future 1Rupee will be = 64 USD.


Re:


Harishkumar Trivedi | Thu Apr 13 16:05:29 2017


Yes, it will be reach upto 63 USD.


Manufacturing end user product line up


Tej Narayan Shaw | Wed Apr 12 05:58:17 2017


I believe to become a good export oriented nation and nullify the burden over imports we need to manufacture finished products instead of exporting raw materials, as end user products has high value depending upon uniqueness.. hence the government should concentrate on manufacturing sector, R&D etc to strengthen rupee and that would have a minimum impacts over our exporters ...for short term achievement the Government should avail incentives on export and extra cess on imports



Product quality the difference


Rahul Oturkar | Wed Apr 12 02:02:34 2017


Strong Rupee will surely affect exports. However our guys have to be a bit confident about the quality of our product and firmly say, that's the price. If you are doing something unique, good quality, better than other countries, there is nothing to worry. Price is not everything. Buying "cheap" things is like stopping clock to save time.



We didn't hedge,


Bala | Wed Apr 12 01:07:57 2017


Yes I'm a exporter,our profits are very small and hoping for currency to depreciate from 67-68 levels,on expectations of fed rate hike, we didn't hedge, now all our February March business is loss



Rise of the rupee


SAMEER BANERJEE | Tue Apr 11 23:53:13 2017


You have pointed out the facts very correctly. Rise of the rupee will definitely have an adverse effect on manufactured exports (products made in India as against classical items such as agricultural products (tea, Basmati rice), or handicrafts, leather, etc. Our export loss will be snatched by China who have little or no qualms in the matter. Some protection for local manufacture should be given on priority especially for the SME. An SME friendly policy is urgently called for. Why not export incentive of 10% on all exports? Or raise the import tariff by 10% on all items classified in chapter 27, 28 & 29 of the homogenised system of nomenclature.


Customs Exchange Rates
Currency
Import
Export
US Dollar

66.20

64.50
UK Pound

87.50

84.65
Euro

78.25

75.65
Japanese Yen
58.85
56.85
As on 27 Apr, 2022
Daily Poll
COVID-19 has directly affected your business
| | |
| --- | --- |
| Commented Stories | |