---

No CAD comfort

---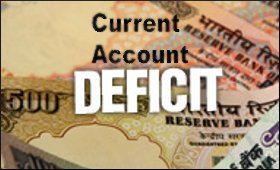 | | |
| --- | --- |
| Top Stories | |
Bikky Khosla | 27 Sep, 2015


India's current account deficit narrowed down to $300 million or 0.1 percent of GDP in April-June quarter, according to RBI data released last week. The deficit is now at its lowest level in 37 quarters and much lower than the $6.1 billion, or 1.2 percent of GDP registered in the same quarter a year ago. Interestingly, however, this rate of decline has failed to cheer up many. After the release of the January-March deficit data it was widely expected that CAD may soon swing to surplus, according to an estimate to the level of $4 billion, but the last quarter figures -- which hardly improved from those in the preceding quarter -- poured cold water on this hope.

What underlying trends are reflected by the latest CAD data? Current account deficit shows the shortfall between inflow and outflow of foreign exchange. However, it does not necessarily mean that a deficit is always bad or a surplus is always good — it all depends on the factors giving rise to that deficit or surplus. In our case, the decline in deficit is on the back of weak imports rather than any growth in exports. Most importantly weakness in non-gold, non-oil imports is worrisome as it points to poor health of the industry, raising concern that our companies are not doing much to add fresh capacity. Also, exports played a little role in bringing down the deficit.

Some other disappointment the data brings include fall in private transfer receipts – mainly representing remittances by Indians employed overseas – and decline in foreign direct investment. During the period, private transfer receipts amounted to $15.2 billion, declining sharply from their level a year ago. Net FDI inflows halved to $4.1 billion from $8.8 billion in the preceding quarter and $10 billion a year ago. Net services receipts also declined on a y-o-y basis, largely due to a fall in net earnings on account of travel, financial services and other business services. These concerns warrant attention of the government.

Meanwhile, there are two important developments lately. First, the Centre has announced additional export incentives worth Rs 1,500 crore. Now, as many as 2901 additional products will come under the Merchandise Exports from India Scheme (MEIS). In addition, rates of 575 product items have been increased. Second, the GST Council, at its first meeting, made some good progress in resolving differences between the Centre and the states on some contentious issues, including the exemption threshold limit, raising hope that the government will be able to meet the April 1, 2017 deadline for roll-out of the path-breaking legislation.

I invite your opinions.
Please comment on this story:
Subject :
Message:

(Maximum 1500 characters) Characters left 1500
Your name:

CAD


Tarun Gupta | Thu Sep 29 04:43:28 2016


If imports are falling more than exports, or in other words, exports are not falling as much as imports, and yet, inflation is tolerable, where is the worry? Exports are a function of world wide growth also, apart from domestic problems. Also, what use is capacity addition, if there is no previous utilisation? Main issue is utilisation of previous capacity, not fresh addition.



Current account deficit


Naveen Krishnan | Wed Sep 28 04:33:17 2016


The government by introducing anti-dumping duties on steel is not helping in making engineering goods cheaper for export.


Customs Exchange Rates
Currency
Import
Export
US Dollar

66.20

64.50
UK Pound

87.50

84.65
Euro

78.25

75.65
Japanese Yen
58.85
56.85
As on 19 Jul, 2019
Daily Poll
Is the Union Budget 2019 MSME-friendly?
| | |
| --- | --- |
| Commented Stories | |