---

Exports growth: Efforts not enough without direction

---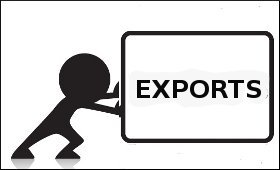 | | |
| --- | --- |
| Top Stories | |
Bikky Khosla | 06 Sep, 2016


The continuous decline in Indian exports has finally been arrested. Exports will rise now, but the growth will likely be slow and steady, and not fast as global demand is yet to pick up.These views came last week from our trade minister. She added that the Centre was looking into more diversification -- both in terms of markets and products -- and signing of FTAs with more countries These measures sound good, but I think the Centre must first work on a clear road-map for growth of the sector so that such efforts can be given a focused direction.

Over the last few years, India has signed FTAs with a number of countries, but by now it has become evident that some of them are not boding well for us while some others are reportedly harming our domestic industry. For example, our FTA with the ASEAN -- which was signed in 2010 -- has hardly benefited us, with imports rising by over 33 percent to $ 40 billion, but exports remaining stagnant at $ 25 billion for the period between 2010-11 and 2015-16. So, just more FTAs will not help our exports. Before entering into any such new pacts, we must ensure that they do not result in efficiency loss.

Now and then, our policymakers blame low global demand for our exports decline. This argument, not an iota of doubt, holds water, but the question is: have we done enough to fight back? A recent media report shows that India's exports declined 17 percent in 2015 over 2014 while Vietnam's exports grew by 24 percent during the period. This extent of Vietnam's export success -- even during the gloomy days of global demand slowdown -- has become possible largely due to the country's success in negotiating effective FTAs, improving ease of doing business and attracting export oriented FDI. We are still lagging in these areas.

Diversification is pretty critical if we have to grow our exports. While a recent report says that concentration of our top ten export products reduced to 58 percent in 2015 from 60 percent in 2010, there is little doubt that our export basket is still dominated by resource-based products. When it comes to manufacturing exports, the share of medium and high-tech products is very low. Over the years, our market diversification has also improved, but again we are still over-dependent on a few traditional markets, such as the US and EU. Here again, the Centre must act if it wants to give exports a real push.

I invite your opinions.
Please comment on this story:
Subject :
Message:

(Maximum 1500 characters) Characters left 1500
Your name:

Income Tax Incentives for Exports


Milan Mehta | Mon Sep 12 14:46:33 2016


Hi Bikky ! I 100% agree with your view that Diversification is the key and our FTAs are not Export growth Oriented. Without racking too much brains, all that Central Govt. has to do is to give Income Tax incentives, with simple proof of BL & BRC. That shall spark the creativity in our entrepreneurs and one can see that wonders happen soon. The Logic is simple behind the suggestion that if one pays same Income Tax on profits made by selling goods in domestic markets, why should the company bother to Export and take larger risk of Payment, Late shipment, Inspection, Reverse Logistics if quality is not approved,etc..?? In fact with Domestic goods diverted to Exports because of less Income Tax on profit, the Gap shall be filled with more Manufacturing activity thereby generating more Tax for State & Central Govt. directly and indirectly besides generating Employment, etc.. B.Regds. Milan Mehta RYM EXPORTS Mumbai, INDIA.



Ease of Exports


R Tandan | Wed Sep 7 06:12:55 2016


1. Need for reduction in Bank charges 2. Need for reduction in spread so that the benefits reach exporters. 3. Need for cheaper and faster inland haulage, the railways are in no way participating in this. 4. Quicker clearance at ports - could be done by increasing the number of ports.



Dependency on Us and Europe


krishna P v | Wed Sep 7 03:18:33 2016


India to focus on FTA conclusion in the existing currency of the current country only or with Rupee term .Not in Euros and Dollars



Export of SECURITY PAPERS like Non Judicial Stamp Paper, Passport Paper from Imdia to Bangladesh.


R S Mani phone 91 9341620703 | Wed Sep 7 01:23:31 2016


Bangladesh does not have any Sedurity Paper Mill and hence, depend on imports of all Security Papers from countries like France, U.K,, Indonesia, and China. We Gemini Graaphics P. Ltd., Bidar, are capable of meeting Bangladesh requirements of security papers and hence, a Trade Pact be entered with Bangladesh for ease of doing business at favourable rate. Many items are being imported by Bangladesh from India at most favourable rates. Further, we help this young country in many ways.



No one is helping to the exporters in any way


M.Ganesan | Tue Sep 6 20:55:46 2016


No export promotion organisation in India is helping for Indian exporters.Even small countries like Malaysia/Australia help through MATRADE and getting lot of enquiries from various countries and passion to their exporters...Trade enquiries are backbone to tune into orders..No export promotion organisation is collecting these data and passion to the exporters..Govt and others says focus into new markets..But no one is providing export enquiries/market reports..Only very few EP organisations having website with business opportunity columns. but, if you click on this, either you will not find any enquiries or fake enquiries or outdated enquiries..No one is helping to the exporters in any way.. except organising some exhibitions in the countries of their choice,without doing market analysis. China, is very aggressive to help their exporters including transportation of goods, implementing express voyages to reduce number of sailing period etc..THIS IS MY PERSONAL VIEW and role of EP Organisations are to be revamped..the Indian Govt. representatives in overseas countries should take all out effort to collect and provide importers list, whenever the exporters in India approach them..What is the use of comparing 2010 exp figure with 2015 exp figure and informing the trade that 15 or 16% growth is there..


Customs Exchange Rates
Currency
Import
Export
US Dollar

66.20

64.50
UK Pound

87.50

84.65
Euro

78.25

75.65
Japanese Yen
58.85
56.85
As on 27 Apr, 2022
Daily Poll
COVID-19 has directly affected your business
| | |
| --- | --- |
| Commented Stories | |