---

Climbing the competitiveness ladder

---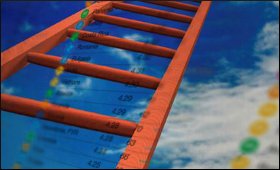 | | |
| --- | --- |
| Top Stories | |
Bikky Khosla | 04 Oct, 2016


It matters how competitive we are as a nation. It reflects our ability to create greater wealth and higher living standards. It shows our economy's stability and resilience. And now the good news is that India has jumped 16 places in the World Economic Forum (WEF)'s Global Competitiveness Index (GCI). Two years ago, we were in 71st position, then the rank improved to 55 in 2015-16, and now the latest report for 2016-2017 places us in 39th position, making us the second most competitive BRICS economy after China. The level of improvement we made within just two years is really encouraging and augurs well for the future.

The index takes account of 12 categories -- including economic environment, infrastructure, institutions, technological readiness, business sophistication, innovation, goods market efficiency, labor market efficiency, financial market development,health & primary education, and higher education & training -- and according to the latest report, India's competitiveness has improved across the board, in particular in goods market efficiency, business sophistication, and innovation. The report also lauds our efforts to improve monetary and fiscal policies, push public institutions, open the economy to foreign investors and increase transparency in the financial system.

Outlining India's progress towards higher competitiveness during the last 10 years, the report makes some very positive comments on the initiatives undertaken by the NDA government. It, for example, points out that improvement in infrastructure -- although overall dull during the decade -- picked up after 2014, due to increased public investment and faster approval procedure. Similarly, the report adds, the institutional environment deteriorated until 2014, due to mounting scandals but the trend was reversed after 2014. It is also pointed out that this two-year period is also marked by success in managing some tough macroeconomic challenges, including inflation, CAD and public deficit.

But some major concerns are pointed out, however. First, the report says that the Indian labour market is segmented between workers protected by rigid regulations and centralized wage determination, especially in the manufacturing sector, and millions of unprotected and informal workers. Second, the bank NPA challenge which is suffocating the country's financial market. Third, the report rightly points out further investment will be necessary to push infrastructure and ICT especially to connect rural areas and make sure they can equally benefit from and contribute to development. We must act on these gaps if we want to climb up the competitiveness ladder higher.

I invite your opinions.
Please comment on this story:
Subject :
Message:

(Maximum 1500 characters) Characters left 1500
Your name:

Industral policies


CS Saxena | Wed Oct 5 04:14:33 2016


To cover the industries policies also. Actually wastage of money and blocked of suppliers investment hence cost increase of goods in after market.



Unemployment


Prakash Nayak | Wed Oct 5 04:12:40 2016


One has to study the unemployment in the country, which is one of the biggest concern if we do not address this lot many unrest, internal issues will crop up and afraid this will halt the development of our country. Government and all concerned ministries have to create large scale employment, promote SMEs, MSMEs, etc. which can deploy more of them and has to be geographically distributed is that we avoid overcrowding of cities. Take the status of engineering and technical passing out close to 1.2 million a year since 2016, how many jobs are offered, it is only about 0.2 to 0.3 Million, what you will do with rest they will be idling around after spending at least 1.5 to 2 Million Rupees. Who made money these technical institutes, who suffered the most is these young boys and girls. Thus need of the hour is address this issue in larger interest country's stability and health.


Customs Exchange Rates
Currency
Import
Export
US Dollar

66.20

64.50
UK Pound

87.50

84.65
Euro

78.25

75.65
Japanese Yen
58.85
56.85
As on 27 Apr, 2022
Daily Poll
COVID-19 has directly affected your business
| | |
| --- | --- |
| Commented Stories | |