---

Demonetization: SMEs to get cheaper loans!

---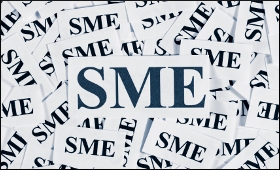 | | |
| --- | --- |
| Top Stories | |
Bikky Khosla | 22 Nov, 2016


Since the demonetization move was announced on November 8, it has been a tough time for our small-scale enterprises, which however, despite facing severe payments challenges, are largely applauding the anti-corruption and anti-counterfeiting effort. But now they can expect some good news. The Prime Minister last week said that banks had already received deposits worth Rs 5 lakh crore and so they would soon give loans at a cheaper cost. Bankers are also of a similar view. They say the massive spike in deposit base will bring down the cost of funds for them and the benefit will be passed to the customers. Sounds encouraging.

The demonetization scheme has taken a toll on the SME sector and I hope things would turn for better in next few months. According to official estimates, the amount of bank deposits may increase to Rs 10 lakh crore by the end of December 30, and I think such a massive amount will help our cash strapped small enterprises get loans at affordable price. At present, a major part of the sector has to approach the informal agents paying high interest rates. Interestingly, a recent report reveals that the demonetization move has caused interest rates to drop to 5 percent from as high as 30 percent even in the grey market.

Some experts are of the view that the cash clampdown will open room for the RBI to cut interest rates in its next monetary policy review in December. In addition, they view, fall in inflation in November on both the consumer price index and the wholesale price index further raises this hope. With shrinkage of cash following the demonetization move, I think inflation may ease further in coming months, and the central bank should take this into consideration when it meets the next month. In addition, the third quarter GDP might face the effect of the demonetization move, and in this situation interest rate cuts may mitigate this effect.

Meanwhile, it is encouraging to see our exports to grow for the second month in a row at $23.51 billion in October. It signals a clear reversal of the earlier continuous decline in our outbound trade. It must also be noted that export growth was witnessed despite poor global demand and across sectors, with 18 out of 30 major product groups performing well. In contrast, in a negative development, the last week saw the rupee falling sharply against the US dollar, but I see not much to worry about as our current account deficit and fiscal deficit are well under control.

I invite your opinions.
Please comment on this story:
Subject :
Message:

(Maximum 1500 characters) Characters left 1500
Your name:

Demonitization has hit SSIs badly


Bhagawath Prasad | Mon Dec 26 02:15:23 2016


80% of small units highly depend on private financers for bridging gap between bank fund and actual expenses,Si borrows for paying slaes tax,TDS,ESI,PF bills,monthly instalments to banks,wages.Post demonatizarion private financers have disappeared,banks are still busy in handling cash, Now the scenario is banks are unwilling and avoiding to take TOD requests while private financers have gone out of market.Due to lack of funds SSIs are bouncing monthly instalments,suppliers chqs,delayed tax payments ,Resulting to bad CIBIL scores( CIBIL scores are guiding book for banks to fund), VAT offices are blocking e-sugam forms,way-bills for goods movement,sending penalty notices and messages ,having not been able to pay for TDS,esi, PF offices are also sending notices with penalties ( it's like wounded further getting knife cuts) net result of demonitization is SSI s are really hard pressed for funds.Ministry must act and inform bankers to fund SSIs liberally for next two years,Banks must not take CIBIL ratings to considerate funding as rating system itself is flawed,I support Demonitization but side effects are plenty that might have slipped many ears in government during it's busy implementation, Sir,I am not saying this to hurt anyone please,but it's true ,Emergency was meant for controlling population but implementation was, even bachelors were denied future family life, Demonitization is no less than that for SSIs, please act and make ways fro accessing money for SSI.



Demonetization


A V Chandran | Fri Nov 25 05:38:59 2016


In terms of both micro and macro economy demonetization is an excellent reform subject to pre and post safeguards of macro population of the Great Nation whereas in this case about 1% of the population is safeguarded subject to misuse of oath of office hence this reform is not at all worth for the Great Nation. That too Hona'€™ble PM of the Great Nation, India is the worst owner of such misuse of oath of office in terms of our constitution hence he must quit the office on war footing and if he is not quitting the office taking into confidence of both the Houses of Parliament, CECI, POI and CJI must get him out without any delay. For instance devalued Cooperative culture in the Great Nation by virtue of this reform. Cooperative Culture has very old history in the Great Nation that too in the pre and post 1947 freedom process and it has prime place in our constitution thereafter. Cooperative Sector must value statutory obligations reviewed from time to time. If we compare with the culture of Nationlised banks and Scheduled banks in India with Cooperative Sector banking and other areas - Macro figures of old debts and NPAs written off by Nationalised and Scheduled Banks whereas Cooperative sectors with micro figures! Shares of Nationalised/Schedules banks are deployed in the Gambling process in all Stock Exchanges in and abroad in view of its Variation culture whereas Shares of Coop sectors are firm in all respects and not in the gambling process.



Side effact of demonetization.


Harishkumar Trivedi | Thu Nov 24 19:58:45 2016


As per your CEO"s note , These are side effect of demonetization . If these are not done side effect, than the step of our PM is fail. And our economy is crust up to 10 years



Demonetisation


Madhukar Patil | Thu Nov 24 11:52:52 2016


Banks never pass their benefit to common people as per earlier experience. This step never reduce corruption and black money. Now 2000 note is beneficiary for easy transaction and increase corruption.



Really Middle Class gets benifits of Interest Rate ??


Kalpesh Patel | Thu Nov 24 08:27:33 2016


Earlier whenever there was a fall on RBI Repo rate the bank have not passed it to the common man. Let's hope that our PM's dream may get true for Middle class People.



SMEs to get cheaper bank loans


JAYMIN SHAH | Thu Nov 24 06:58:19 2016


Why only the SMEs? the big borrowers will benefit more. apart from the hardships faced by the SMEs to get bank limits, whereas they are the in the tiniest bracket of defaulters! Maybe some relief in credit sanction norms will help. the initiative under CGTSME has failed to take off as no banks are willing to sanction under that scheme. wonder how the sme's will benefit?? when they may not be able to sustain for the next few months of lull in business & liquidity. much more needs to be offered to enable the SME entrepreneurs!



They dont have guts to collect money from all rich people and now they are tring to kill normal people


Indian | Thu Nov 24 05:12:29 2016


This is the time to get money from all Indian and give it to rich people like Ambani Adani as a lower interest basics. good. Whose money is this?



Demonetisation


bhupendra domadia @gmail . com | Thu Nov 24 03:47:03 2016


We share the same feeling as banks will have to invest otherwise how it will pay interest on deposits and govt want subsidies to burden economy , our currency is to be strengthened as such no choice.




Demonetisation


Vinay Dube | Thu Nov 24 03:25:50 2016


The interest rates may come down but who is borrowing in a slowdown . Borrowing will be more to stop the unit becoming NPA. And the treatment given to SMEs by the banks will still be akin to a beggar.




Demonitization of Indian currency of denomination 1000 & 500


Jeevandas v k | Thu Nov 24 01:54:33 2016


This will make an overall impact on Indian economy in a positive progressive way






Loganathan | Thu Nov 24 00:09:10 2016


Thanks.very good update.



DEMONETISATION


VIJAYAN NAIR | Wed Nov 23 04:54:07 2016


Irrespective of what PM or anybody else say, the banks will never pass on the benefits to the common people. In previous instances when RBI reduced the interest rates, the banks led by SBI never passed on the benefits to the people. So this time also, the banks will be indifferent to the issue. Surprisingly, these are Nationalised Banks.


Re: DEMONETISATION


Yusuf BC vankanerwala | Thu Nov 24 01:10:33 2016


Rightly said.

Customs Exchange Rates
Currency
Import
Export
US Dollar

66.20

64.50
UK Pound

87.50

84.65
Euro

78.25

75.65
Japanese Yen
58.85
56.85
As on 27 Apr, 2022
Daily Poll
COVID-19 has directly affected your business
| | |
| --- | --- |
| Commented Stories | |