---

Exports slowdown: It's time to act, not to wait

---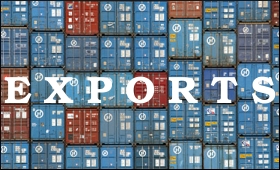 | | |
| --- | --- |
| Top Stories | |
Bikky Khosla | 08 Mar, 2016


Latest exports data makes for dreary reading, again. Overseas shipments in January fell 13.6 percent from a year earlier. This is the 14th consecutive month of fall and it is a no brainer to say that this situation deserves immediate attention. But our policy makers do not seem to be much bothered about this decline. Every time after the release of monthly foreign trade data, the blame is placed, in no time, on the global trade environment. There is not an iota of doubt that the global economy is shaking but this should not be an excuse to believe that there is little that anybody can do about our exports downfall. Our exports may start reviving quickly once the global economy improves, but should we just wait and watch till then?

Exports fetched India foreign exchange worth $21 billion in January 2016, $24.39 billion in January 2015 and $26.75 billion in January 2014. These figures show that monthly exports fall in January 2016 accounts to 21 percent in the last two years. Even if we take non-petroleum product exports, shipments fell nearly 10.5 percent y-o-y to $19.12 billion in January 2016. Also, decline in exports from several manufactured goods industries is a concern. Most importantly, engineering exports plummeted 28 percent, with shipments to 19 out of our top 25 destinations witnessing a sharp dip. Exports from some SME centric industries, including textiles and leather also declined considerably in the month. Something needs to be done about this.

The Budget has come with some positive measures, however. Steps like extension of benefit of Section 10AA to new SEZ units, tax exemptions for small business units with a turnover of up to Rs 2 crore, corporate tax cut for companies with turnover not exceeding Rs 5 crore, etc. will give relief to large segment of exporters. In addition, several other Budget measures aimed at promoting ease of doing business will also benefit the sector in the long term. But as far as immediate concerns are concerned, the Budget is visibly lacking, with the only exception in the form of widening of the duty drawback benefits. Most of our export sectors have been facing severe hardships for quite some time now and they urgently need a helping hand.

No matter how far or close our exports may be from a revival, the Centre must recognize that the sector has been facing severe hardships for a long time. Also, the slowdown in exports must be seen as a potential challenge to economic growth as pointed in the mid-year analysis of the economy last year. For a short period, we might be able to achieve fast GDP growth without export growth, but in the long run sustaining high growth rates will require strong growth in exports. In addition, MSMEs in India contribute 40 percent to exports and 8 percent to GDP. Our growth dream may turn into a nightmare if we fail to support this sector adequately.

I invite your opinions.
Please comment on this story:
Subject :
Message:

(Maximum 1500 characters) Characters left 1500
Your name:

Exports slowdown


Louis Schraader | Sun Mar 13 19:45:16 2016


Like India there are many other countries that need to take action. All we will do is spend a lot of funds trying to get a larger cut of the existing market. Why not increase the market? The masses that have the needs do not have the funds.Those that have capital can afford the robots ( of various descriptions ) to take over and increase margins with the result that the people, with the needs, even have less to work with. The answer seems simple but I know the most difficult to put into practice.Pay the top earners less and give the labourers a bigger portion of the pie so that they can feed their needs by spending the funds ( growing the markets ). What is happening now is that trillions of dollars from the savings funds and capital strong entities are being funelled to all sorts of markets ( shares , forex and various financial instruments ) which in many cases is one big bubble not even closely related to what constitutes real value. I know the quick answer to this question is HOW? and maybe NEVER! - The result however is simple - the problem will only get worse for us all collectively. Is it possible to get real leadership? - or will we always want one of the quick fixers that kicks that can further down the road and leave the problem for tomorrow?



Decline in Manufacturing Competitiveness & Exports


Praveen Narayan Rawle | Sun Mar 13 16:17:34 2016


The SME's are bogged down & predominantly occupied by the corruption at various levels thereby leaving little room for Technology & efficiency enhancement. Govt policies are responsible for corruption. Free trade practices within the country, rather than complex taxation attached with exemptions, concessions, etc which require dealing with highly understaffed and demotivated executive, will help the country get rid of this menace of corruption. Otherwise left on its own we have talented and hardworking individuals and professionally run organisations to make India a world class highly competitive Mfg hub.



exports from India


Greg Amey in Brisbane Australia | Fri Mar 11 14:48:57 2016


I purchase a lot of goods from India & i have noticed that over the past two years many of my suppliers are increasing their cost price to me with quality declining, with the current poor $AU to $US I cannot keep buying big qty of goods when MY costs go up & profits go down, it seems that the exporters are to blame in some major part of this as they keep time & time again sending ME poorer quality goods



Exports Slow Down


Moriyah | Fri Mar 11 13:59:43 2016


As a Canadian, because of the overvaluation of the USD and devaluation of our own dollar, I have stopped all buying outside of Canada. There is not much India can do about this situation at present. Can you afford to discount your products by 35%? Probably not.



Engineering Exports - Concern


Debopam Datta - Head of International Business with Fowler Westrup (India) Pvt. Ltd. | Thu Mar 10 23:10:41 2016


Hello, Congratulations for bringing out this insightful perspective on Exports from India. Specifically for Agricultural Engineering Industry to which FWL caters to, decisive and positive steps are being taken to enhance reach and policy framework support from the Government will go a long way in getting mechanization solutions, that are needed and appreciated in various markets, to create a win-win situation. I look forward to be able to discuss this in a proper form with the editorial team.



export promotion


Srivathsan.R. Mysore | Thu Mar 10 15:46:42 2016


As regards export of products there is very great scope if Pro active initiation is taken by various bankers to discuss among their clients. Let the Banker not just closed approach for discplining the loan and recovery . let him take part in increasing the production and create National Productivy Assets than just concentgrating on NPA .Non performing assets and use the securitsation act and sleep. They are not just money loenders. They are the basic tenets of progress of manufacturing un its.


Customs Exchange Rates
Currency
Import
Export
US Dollar

66.20

64.50
UK Pound

87.50

84.65
Euro

78.25

75.65
Japanese Yen
58.85
56.85
As on 27 Apr, 2022
Daily Poll
COVID-19 has directly affected your business
| | |
| --- | --- |
| Commented Stories | |