---

GDP growth: Recovery not far off

---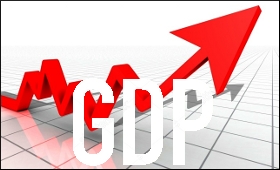 | | |
| --- | --- |
| Top Stories | |
Bikky Khosla | 07 Jun, 2016


India's GDP grew 7.9 percent in the fourth quarter. Overall, the growth rate stands at 7.6 percent for the last fiscal, the highest in the last five years. Going by these numbers, the Indian economy continues to be the fastest growing large economy in the world, beating China again. Such a high growth rate clearly suggests that a recovery is not far off. The meteorological department has predicted an above-normal South-West monsoon in 2016. This, in addition to impending pay hikes for government employees, may spur a consumption boom in the coming months, which in turn can push economic growth further.

One thing that stands out in the latest GDP numbers is that the Centre has successfully achieved the fiscal deficit target of 3.9 percent or Rs 5.32 lakh crore in 2015-16. It deserves mention that fiscal deficit in the first month of 2015-16 stood at 23 percent of budget estimates for the whole financial year, but still the 3.9 percent target has been met. Although I don't want the government to be obsessed with a fiscal deficit target and feel that it should be replaced by a range instead of a fixed number (as suggested by the Finance Ministry recently) so that it gives some flexibility in difficult times, I think the success in meeting the target will reinforce the Centre's credibility.

It is also a big relief to see that these high growth numbers have been backed mainly by good performance of agriculture, forestry and fishing, mining and quarrying, and manufacturing, which grew at 2.3 percent, 8.6 percent and 9.3 percent, respectively. The farm sector has gone through a rough phase on account of drought for two successive years and with better monsoon rains this year (as forecast), I hope the growth rate will improve this year. Again, as far as manufacturing is concerned, the strong growth rate is a pleasant surprise, and I expect better days ahead for the sector on the background of comprehensive reform measures undertaken by the government.

Some concerns are still there, however. First, the data shows that private consumption, especially urban consumption, and public investment — not private investment — have remained the key drivers of the economy during the last fiscal. While the immediate economic growth prospects look good, the Centre must rev up public expenditure, rural spending and infrastructure investment — which in turn is likely to push private investment and demand — to keep the economic momentum going. In addition, bank credit growth, which is not at all encouraging, must be pushed. Steps must also be taken to prop up agricultural growth, instead of taking the positive effects of an above-normal monsoon as a given.

I invite your opinions.
Please comment on this story:
Subject :
Message:

(Maximum 1500 characters) Characters left 1500
Your name:

why currency value is falling year after year


ayzaz | Wed Jun 8 23:23:41 2016


If GDP is increasing then the Indiana currency should get stronger but its falling year after year. What we say we earn is only on papers not hot cash



GDP growth: Recovery not far off


Krishna Salian | Wed Jun 8 08:12:28 2016


Excellent review on Indian economy. Useful for industry observers.



Growth in manufacturing industries


ABHYUDAYA DUTTA | Wed Jun 8 04:30:09 2016


It is interesting to note that how manufacturing industries have grown by 9.3% when there are no big investments in Public & Private Sectors. When no new projects are expected in the near future specially in the Power & steel sectors & as also there are no new Industries in any of the sectors like Petrochemicals, Chemicals, Fertilizers, Automobiles, Textiles, Heavy machineries, how can the growth in manufacturing be 9.3%. Government should bring out the detail break up of this growth rate considering all the industries so that we can get a true picture of the actual figures.



Unemployment


Abhyudaya Dutta | Wed Jun 8 04:13:16 2016


The high GDP growth is not being translated into creation of jobs. There is no investment in big industries like Textiles, Machineries, Petrochemicals, Fertilizers, Chemicals, Automobiles etc.etc as a result of which there is no creation of jobs & new opportunities. Even Power & Steel Industries are experiencing a down slide. There is no new Project worth the name which is again resulting into huge scale retrenchment of employees in Project companies. Only IT, Infrastructure & specially the Service sectors are booming. The Government should understand that the growth of IT & service sectors no doubt increase the GDP but only the big investments in Industries & their ancillaries can create the jobs which are so essential for the Indian unemployed youth today. Unemployment creates social imbalances, frustration & increases the crime rate, syndicate raj, jungle raj as are happening in Bengal, Bihar & gradually spreading to other states. If this type of situation continues,it is feared that the time is not far off when even for small items we have to entirely depend on either China or some other countries.Due to dearth of Projects & lack of big investment the manufacturing industries are gradually shrinking.With the huge workforce that are being created every year,it is absolutely essential that along with IT & service sectors the gov should seriously think of big investment in Public & Private Sectors or PM's Make in India will remain as a dream only & never become a reality.


Customs Exchange Rates
Currency
Import
Export
US Dollar

66.20

64.50
UK Pound

87.50

84.65
Euro

78.25

75.65
Japanese Yen
58.85
56.85
As on 13 Aug, 2022
Daily Poll
COVID-19 has directly affected your business
| | |
| --- | --- |
| Commented Stories | |