---

MSE procurement policy hits bump

---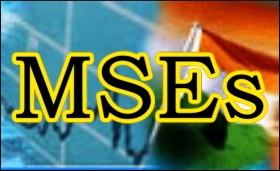 | | |
| --- | --- |
| Top Stories | |
Bikky Khosla | 09 Feb, 2016


Most of the public sector units and government departments are not abiding by the MSE procurement norms. Under the Public Procurement Policy, it is mandatory for them to make at least 20 percent of their total purchases from micro and small enterprises, but a recent review by the MSME minister has found that the current procurement level is less than 10 percent. Of this, procurement from SC/ST owned enterprises is less than 0.2 percent against a mandatory 4 percent. This data is concerning -- what good are policies and guidelines when they are not followed?

When the Public Procurement Policy for Micro and Small Enterprises came into force in April 2012, it was eagerly expected that the move would facilitate the sector exclusive access to public procurement worth Rs.35,000 crore annually. For the first three years, the minimum 20 percent quota was not made mandatory, and as a result, the sector had to wait this long period without expecting much. Then the 'preparatory period' came to an end in March, 2015, raising some hopes again, on which the latest data now seems to throw cold water -- only 100 central PSUs, out of a total of 220 units, procured from MSEs till now this financial year, and procurement even by these units did not amount to 10 percent of their total purchases.

The procurement policy says that PSUs have to give valid reasons if the mandatory 20 percent quota is not met by them, but despite this clear directive they have continued to show a callous attitude towards the policy. In the past, complaints were raised against them many a time by industry associations. Time and again, stern warnings were also issued by the MSME ministry, but with little result. This forced the Prime Minister's Office to take a review meeting to deal with this problem, which was later followed by the aforesaid review by the MSME minister. Now, with the findings clearly showing deviations, it will be interesting to see how the Centre tightens the noose around the defaulters.

Meanwhile, the Union budget is to be presented this month and I think this could be taken as an opportunity to boost small business participation in public procurement. Without adequate trade financing, MSMEs find it extremely difficult to take part in the competitive bidding process. So, there is an urgent need for some innovative solutions to help them overcome this challenge. In addition, I think serious thoughts should be given to measures for making the bidding process transparent and corruption-free, helping MSMEs easily access information on bidding opportunities, training them to bid successfully for tenders, and encouraging supplier innovation.

I invite your opinions.
Please comment on this story:
Subject :
Message:

(Maximum 1500 characters) Characters left 1500
Your name:

MSE procurement policy hits bump


Rajesh. Digitronics Design | Thu Feb 11 08:05:04 2016


It is an interesting subject to discuss. Despite various circulars issued to PSU's from time to time, it is not just MSMEs but also those MSME's registered with NSIC who are not entertained. Further to keep the interests safeguarded these organisations take shelter of PWD / CPWD guidelines and invite requirements under works contract rules where these price preferences do not apply. Mockery is made of these guidelines to keep MSME's at bay. Interesting to find how many MANUFACTURER's are directly supplying to government / PSUs. How much loss is incurred in middlemen making profits when the actual costs are much lower. Greatest example : Airports / Railways / Infrastructural projects costs get escalated.



MSME procurement


XYZ | Thu Feb 11 04:02:26 2016


What if there is no MSME around? Even with a transparent E-procurement policy, and vigorous pursual, if MSMEs don't quote, how PSUs are accountable?


Re: MSME procurement


Mit Morabia | Thu Feb 11 08:58:15 2016


Our country has innumerable MSMEs. Probably you have not noticed or your organisation has horse blinkers on.


MSE Policy


Sendil Kumaran, Royal Tyres Pvt. Ltd., Chennai | Thu Feb 11 01:39:50 2016


Very little attention on this issue by the Government, which stops with Policy formulation without having a taskforce to implement the Policy Guidelines at the Procurement centres. Unless a Taskforce Team is constituted to probe the Tenders finalised by PSUs, Govt Policy has no meaning.. There is also the issue of PSEUDO-MSEs who rob the real MSE opportunities: misuse of NSIC registrations as well as under-declaring the asset value entitles some Medium scale companies to compete on MSE platforms. On Railways, there is maximum arbitrariness, as each Railway Division has its own set of vendors and procurement policies: some go for e-tendering, some others Reverse-auctions and some other Direct Physical Tendering. A Vendor registered with one Railway division should be entitled to quote for Pan-India Railway establishments. It is practically not possible to get listed separately for every division. The procurement methodology should also be simplified for MSEs, and there should be exclusive tenders for MSEs.



PSU's are not taking this Act seriously


Arun Kumar Tiwary | Wed Feb 10 14:16:23 2016


Yes, It is absolutely right that PSU's are not taking this Act seriously. I along with other entrepreneurs having our MSEs in the State of Jharkhand and were established to cater the needs of SAIL/ Bokaro Steel Plant are facing the same problem. We are not getting benefits of this act although being at the doorstep of one of the major PSU of India. The basic of this act is to develop the MSE and ancillaries of the PSU but here in Bokaro Steel Plant they have scrapped the ancillary cell which was working prior to this act. Hundreds of MSEs which were established in Bokaro to cater the needs of Bokaro Steel Plant are on the verge of extinction. To attain the mandatory 20 percent , PSUs should encourage the rate contract system on scientific norms for the regular items. This will help the MSEs to develop the items at lower cost. In our case and the type procurement made by Bokaro Steel Plant, the rate contract system will certainly boost the MSEs.



How to achieve???


Varma TKS | Wed Feb 10 09:30:09 2016


The PSUs that has to compete with private players would need to be both quality wise and price wise competitive. In addition if PSUs have to ensure these quotas, they will not be getting the project at all! To promote the engagement of BIG PSUs with MSMEs, to a level of 20% and support the MSME sector, the PSUs need to be supported with 10% price preference as in vouge some time back. Or can the govt say all industries of above certain size (say above 500Cr turnover) need to procure minimum 10% from the MSME sectors and that is to be certified by CAs as a part of their financial returns! Indeed it is big challenge for the PSUs, Govt and MSMEs as well.



MSE procurement policy


Aashish Ahluwalia | Wed Feb 10 08:44:53 2016


In above reference this is being observed that majority of Tender/ s are coming with the Products Brand Name or Specified with the Name of MNC's, this shows the obsession of PSU's policy maker / implementors, untill exceptence and view of PSU's not going to change towards SME the change is far, similarly SME's also have to prove them selves towards supplies and by maintaining consistent quality.




MSME PROCUREMENT POLICY REG.


K.PRABHAKAR MURTHY | Wed Feb 10 06:02:41 2016


Sir now a day public sector undertaking found a new route to avoid procurement by way of calling works contract tenders by which the MSME act will not applicable as a manufacture may not qualify by clubbing few more items which MSME units has nothing to do. It is a clever method devised by the PSUs by calling as works contract MSME units has to pay EMD and other charges which normally exempted by the govt. when represented PSUs are not even replying . May be some thing has to be done to protect the SME units to get the benefit. Even NSIC also wondered weather they can participate in tenders since they can only represent as facilitator for manufacturers. Works contraction does not come under their scope. Even though govt wants to promote SME units PSU and govt org find loophole to avoid SME units.




MSE procurement policy hits bump


Sanjay Singh, Wood Technologist | Wed Feb 10 05:35:15 2016


Make in India! Bright thought need self consumption; in house support. Government need to hammer this growth booster dose. This is very basic and need pure push; not governmental bureaucratic procedural and got stuck there in files... I fully support this; can create hundreds of job from my Epitome Bamboowood facility itself!!



PSU PROCUREMENT POLICY.


Abhayanand Srivastava | Wed Feb 10 05:18:42 2016


I my self operating MSME, but I upset with the existing scenario. The basic reason is corruption. Large companies offers corrupt as much as they wish. But MSME can not afford this. The whole system of PSU is full of corrupt people. Policy prepared responsibility finished, this is the theme of present govt. MSME was suffered in past, is suffering in present and will suffer in future if strong policy for corrupt people elimination (not suspension)with a detailed protocol to apply the policy will be placed in practice.



MSME policy implementation


Alapati Prasad | Wed Feb 10 05:02:45 2016


It is unfortunate to know the facts about implementation of MSME policies by PSUs. In spite of court orders in Andhra Pradesh, State government undertakings are not following the MSME policy. nobody questions. No support to MSME but the Andhra Pradesh government is looking for industrial growth.



MSE procurement policy hits bump


A V Chandran | Wed Feb 10 04:38:31 2016


If we deeply examine the policy it needs reasonable support from the Govt enabling to achieve the target as the result so far is very poor in comparison to the budgeted figure. I have a suggestion to achieve the target in terms of the policy. The Policy could be reviewed wherein out of 20% target 5% could be reimbursed to the purchaser if the purchaser achieves the target only. For instance if the 20% target is Rs.500 lakhs, the purchaser could be compensated to the tune of Rs.125 lakhs by virtue of reimbursement against material evidence of 20% target completion in 5 quarterly installments. This type of encouragement will definitely make the policy a grand success.



Re :MSE procurement policy hits bump


Anshul Gehlot | Wed Feb 10 04:02:45 2016


Failure to comply to MSE Procurement policy means serious overhauling of vendor database is required. Department should identify all procurement categories and fund outflow accordingly. Further they should allocate categories specific to MSME,with reference to total percentage of outflow. MSME is unpredictably there to move cycle around.Rolling out business to Non-MSME also means we are spending a substantial "Margin" unnecessarily



A single window facility


P. K. SINGH | Wed Feb 10 03:55:37 2016


A single window facility to know the list of MSEs registered in particular category of registration, whether registered MSEs owned by Gen. Category or Sc/St owned entrepreneurs, monetary value up to which registered and items for which they are registered will help CPSUs to succeed in achieving the target of procurement.


Customs Exchange Rates
Currency
Import
Export
US Dollar

66.20

64.50
UK Pound

87.50

84.65
Euro

78.25

75.65
Japanese Yen
58.85
56.85
As on 27 Apr, 2022
Daily Poll
COVID-19 has directly affected your business
| | |
| --- | --- |
| Commented Stories | |