---

MUDRA: Will it solve MSME credit crunch

---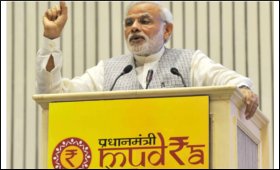 | | |
| --- | --- |
| Top Stories | |
Bikky Khosla | 29 Sep, 2015


Public sector banks have organized a mega campaign from September 25 to October 2 to give a push to the Pradhan Mantri MUDRA Yojana. The scheme was launched in April and as of September 22, a total of 35.60 lakh borrowers have availed credit totaling Rs.24,123 crore. All PSBs, Regional Rural Banks and Private sector banks have a small business loan disbursal target of Rs 1.22 lakh crore this year, and I hope the benefits of the scheme will reach more and more cash starved micro and small businesses and struggling entrepreneurs with the ongoing efforts.

Ever since its launch, the MUDRA scheme has been touted as a potential game changer. The objective is to fund and promote microfinance institutions, which would in turn provide loans to micro and small businesses. It is expected that 5.77 crore small business units in the country will benefit from this scheme, which in turn will bring a sea change into the economy and the business ecosystem in the country. All this sounds great, but I think there is an urgent need for publicity of the scheme. Otherwise, the scheme, like many other MSME schemes, could be lost in lack of awareness and half-hearted implementation.

Recently, I have had talks with some small entrepreneurs and I found that most of them have heard about the MUDRA scheme but they don't really know how and whom to approach for it. Some media reports view that even many bankers are clueless about details of this ambitious scheme. The government has set up a dedicated website http://www.mudra.org.in, which gives details about who can take loan, what are the loan categories, how to apply, etc. but I think it is imperative to launch a massive awareness drive, involving the state governments, to make such a comprehensive scheme successful.

Meanwhile, the RBI today cut repo rate by 50 basis points. This monetary easing will provide a much-needed relief to the economy and I hope the commercial banks will transfer the benefits to end users in the form of cheaper personal and commercial loans. In addition, I still feel the need for a constant special focus on MSME lending. Availability of credit, lower interest rates, faster disposal of loan applications, collateral free loans, strict implementation of existing schemes - the Centre should address all these issues with utmost urgency.

I invite your opinions.
Please comment on this story:
Subject :
Message:

(Maximum 1500 characters) Characters left 1500
Your name:

MUDRA: Will it solve MSME credit crunch


GEETHA MANONEETA | Mon Oct 26 08:24:40 2015


Thanks and hearty congratulations for your write up on this ambitious scheme. The main problem in India is that everyone..whether RBI or Govt (Central or State)Agencies or the bureaucracy ...each one tends to point the finger at the other to say "It is Your Job....not My Job". Somewhere...Someone should DARE to take the initiative to implement at least ONE start up initiative involving RBI,Bank, State and Central Govt. and local Corporator or municipality/corporation etc. and should make it a grand success. If I tell you that I AM ONE such person... and that I CAN TEACH the Govt and RBI and the BANKS How to go about making such schemes successful......WILL You ...come forward to support MY INITIATIVE ?....I am an experienced person with 25 plus years' table/field experience (20 of them in RBI) with original ideas, great initiative and drive..a person with a clear vision...Will you come forward and join me to set an example for the entire country to learn from ? Geetha Manoneeta, Bangalore



loan application pending in Canara bank , Bardoli Surat Gujarat


Sopan Ghodekar | Mon Oct 12 02:14:30 2015


Our loan in subject bank not passed yet even after giving all documents to the bank . We are running a SME unit ( spg minerals & alloys , Palsana Surat ) .pl help us to pass the loan .The intention of the bank be checked in this regards to pass loan . Our remarks are bad about loan sanctioning by the banks



mudra loan


sandeep vs | Wed Oct 7 03:19:42 2015


it should be available to non account holders too and the jurisdiction of the loan availing bank should be anywhere within the state and not pin point o the locality of the loaner/address.as people had migrated to different part of the state/country for the sake of living and the preamble/mission "ANY BANK ANYWHERE" to be applicable for this loan to REACH the UN REACHED.



WHICH PERSON TAKE THIS LOAN PLESE GUIDE


VINEET GOYAL | Mon Oct 5 07:38:56 2015


I am a proprietor , I want that in this scheme which person take this loan and what is term and condition. May i take this loan for purchase the items and after purchase i will resale it . Please guide this scheme and mention term and condition and what is the present of loan interest.




MSME Working Capital Issues


Kiran Kakatkar | Mon Oct 5 07:24:20 2015


The main problem of MSME, as far as Working Capital (WC) is concerned is lack of Trade Credit. The MSMEs do not receive payments from its customers on time. As a result MSMEs cannot pay their subvendors on time. This results in complete lack of trade credit which constitutes 45% to 50% of WC. The MSME D Act 2006 offers partial solution to this problem which MSME are not aware of or do not use. Those who are aware also have genuine problems. However there are possible way out too. It is not possible to elaborate it here. Suffice is to say, running to banks for solving WC problem is not the solution. The solution is kick starting the TC cycle by using MSME D Act 2006 intelligently,



Mudra


Krishnamurarie Shah | Sun Oct 4 10:18:48 2015


No bank is willing to give Tarun yojana. You can avail the lending list from the bank They fear that all loans will turn NPA. And entrepreneurs are getting frustrated.




MSMEs


.Chachra Sunil H | Fri Oct 2 13:27:46 2015


Much kudos to PM Modi for his vision, but what about the existing schemes' implementation by banks, the bank officers are totally unaware of the schemes already formed for the existing MSMEs and bank officers are not bothered to even go through the schemes of RBI, a knowledge assessment analysis must be carried out to ascertain the awareness of the bank officers to avoid any policy paralysis on implementation on bank's part as is now in almost all cases of MSMEs NPA acts. and as big business houses avail these benefits of RBI policies as they are able to have interaction with top executives through their own team of experts hired by these big business houses who show the norms of the RBI to the top executives of the lender bank that are suitable to be implemented for their needs and easily get benefits without even informing the officers at Regional or Zonal and branch level and the sops are granted keeping aside all the criteria of eligibility that is asked to be fulfilled by MSMEs and usually these MSMEs are informed that they do not fit in the schemes or norms and that too very late after passing of a great time and the MSME does not have any choice but to succumb to the ill treatment by the highly paid but incapable officers of the banks. Therefore there should be a SIT formed by the RBI to look into the problems and suggest solutions in their reports as per the norms of RBI schemes for MSMEs at the earliest and punitive action on the person responsible for delays.



Govt. help how many lacks crorers in stock exchange loss?


Mir Inayath Ali | Fri Oct 2 12:45:18 2015


govt. announced govt. participating in stock exchange loss more than 7 lack corer, stock exchange not help (they are not poor peoples and not more than 2% of the countries population)but more than 60% poor people,govt. announces only 28,000crore for mudra loan scheme is it justification with poor people, govt. want to allocate 25000 crore on mudra scheme for every state



Failiure


Vaibhav | Fri Oct 2 07:29:25 2015


Till the time we will divide these schemes on the basis of caste and religion, it would be difficult to take everybody together. This scheme is available only for sc/st/obc/minorities. What about those from general category who have some ideas but are devoid of implementing it because of MUDRA.



MUDRA: Will it solve MSME credit crunch


A V Chandran | Fri Oct 2 04:58:45 2015


This is a good scheme on micro terms subject to perfect awareness on macro terms. Once it is reached with success at actual it could be reviewed towards macro terms in order to establish sound economic inputs, outputs and yields. Along with this scheme secured Recurring Deposit on reducing subscription terms could be offered to all beneficiaries so that continuous strong economic development could be achieved with proper balancing mechanism.



Non-responding Nodal office


Sanjeevi | Thu Oct 1 22:38:27 2015


Under the the Tarun Scheme of Financing I wrote to the Chennai Nodal officer for details of application. There is no response. This is the current state of efficiency.



Another Hawa Mahal


Shailesh Arora | Wed Sep 30 05:41:00 2015


Good idea but devoid of implementation blueprint. Availability or extending business credit to entrepreneurs/start-ups had never been an issue. The core of issue was and still remains is; Intent, Implementation and Governance. All 3 elements are completely missing. This Yojana is another Hawa Mahal Yojna by a baseless visionary government. But some sections/people would enjoy this joyride.


Customs Exchange Rates
Currency
Import
Export
US Dollar

66.20

64.50
UK Pound

87.50

84.65
Euro

78.25

75.65
Japanese Yen
58.85
56.85
As on 13 Aug, 2022
Daily Poll
COVID-19 has directly affected your business
| | |
| --- | --- |
| Commented Stories | |