---

Manufacturing on revival path

---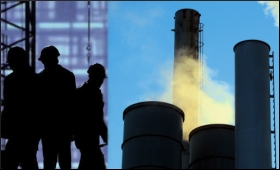 | | |
| --- | --- |
| Top Stories | |
Bikky Khosla | 15 Sep, 2015


Industrial output grew 4.2 percent in July against a marginal rise of 0.9 percent in the corresponding month of last year. This is the second successive month of over 4 percent growth during the current financial year. The manufacturing sector, which grew 4.7 percent y-o-y from a contraction of 0.3 percent in July 2014, played a key role in this upswing. This data set reveals some strong green shoots for the economy, and I hope that the coming months would bring more reasons to cheer about for the Indian industry.

First of all, it is encouraging to see that the manufacturing sector, which constitutes over 75 percent of the IIP index, is slowly emerging as a leader of industrial growth. The sector, after posting 5.38 percent growth in June, grew 4.7 percent in July, with 12 out of the 22 of its sub-sectors showing positive growth. For the April-July period growth stood at 4 percent as compared to 2.8 percent in 2014-15. Compared to this, overall industrial output growth for this four-month period was slower at 3.5 percent. These figures give us a healthy picture of the sector, and we can expect this momentum to continue on the back of the upcoming festive season.

Another encouraging indicator in the IIP data is robustness of the capital goods sector, which is a key indicator of domestic demand. In June, this sector had witnessed the first contraction after seven months, but it bounced back in July, registering a 10.6 percent growth. A low base effect played its part in this outcome, but the figures definitely reflect the positive effects of government spending push. On the other hand, consumer durables, like last month, recorded a double-digit growth of 11.4 percent, suggesting strong consumer sentiment and likelihood of job growth.

Meanwhile, in another positive development WPI inflation plunged to a historic low of (-)4.95 percent and CPI inflation fell marginally to 3.66 percent in August, and I think this deflationary trend, along with the aforesaid positive economic indicators, offers a potential opportunity to the government to take growth to a higher level. At the same time, while the domestic economy seems to be recovering, I see little chances of recovery in our external demand in the near future. Our exports are struggling for a long time and the government should make no further delay in lending a helping hand to the sector.

I invite your opinions.
Please comment on this story:
Subject :
Message:

(Maximum 1500 characters) Characters left 1500
Your name:

Manufacturing on revival path


CK Murali | Thu Sep 17 08:37:08 2015


Tap the expertise of retired Senior industry Managers in all relevant profession, to guide and mentor young, new entrepreneurs, on a nominal consultancy fee. If we could set up such manufacturing start up incubators across the country in all villages, SME growth could be accelerated



Profit & Loss Against Growth


Prasad Nair | Wed Sep 16 18:56:53 2015


Once upon a time we belief that, our Company's growth is our growth. Now the time has been changed by the situations. The economist says; it is just like a climate predict. In short it is clear that every thing is a business. Otherwise we lost lot of our valuable past because of lack of systems. Like a country India all kind of manpower available, educated employ available, naturally favourable, active and brilliant ideas are available, even every thing is fulfilled with, only nonsense are in majority. Those who are getting power in any chair they are waiting for the chance of corruption and simply doing it just something has stolen from our own home. Indian public's hard earned money is mostly spent on developing India through corrupted authorities. The result PWD,Electricity Deptt., Highway authorities,Water division, Purchase Deptt.,Warehousing Deptt.,Health Deptt., Transport Deptt.etc. Now the time is over to control OR reduce the tax system, bank interest system, govt.deptt.payment system and following pension system.It is necessary to form a highly educated, brilliant & experienced planning team who can study,who can hear,who can think,who can see and sincerely understand for the nation.Since last few years,we understand from the society that,75% of the public is Bank debtors.No difference in cities OR villages,there is no difference in vehicle loan,education loan,agriculture loan,business loan and personal loan.Only we can see Bank Growth since last 5 yrs.



quality of growth


Bala Mahadevan | Wed Sep 16 05:11:28 2015


While growth by volume is necessary and good, we will have to increasingly look for qualitative growth. Innovation in areas like electronics, automation and integration of HW and SW to achieve this end will be critical. In sum, we need a culture of innovation and for that we need to lose fear of failure for it is failure that is the best guide to eventual success. Once we lose fear of failure we will step off the well trodden path and get a chance to see new roads that were hidden to our sights, even when they have always been there all around us.


Customs Exchange Rates
Currency
Import
Export
US Dollar

66.20

64.50
UK Pound

87.50

84.65
Euro

78.25

75.65
Japanese Yen
58.85
56.85
As on 13 Aug, 2022
Daily Poll
COVID-19 has directly affected your business
| | |
| --- | --- |
| Commented Stories | |