---

Exports sops welcome, but not enough

---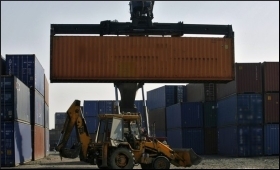 | | |
| --- | --- |
| Top Stories | |
Bikky Khosla | 24 Nov, 2015


India's exports fell for the eleventh consecutive month in October, and it finally prompted the government to announce some incentives for the sector. Last week, duty refund rates were increased on a host of items, including iron, steel, garments and marine products. In addition, the Cabinet also approved the Interest Equalisation Scheme on pre and post shipment rupee export credit for five years. These steps are encouraging. The export sector, which has long been reeling under dampened global demand, will get a much-needed relief with the latest measures.

Under the duty drawback scheme exporters are given refunds of duties on imported inputs for export items. Now, the rates have been enhanced on a range of items. In addition, several new items have been included. Also, for the first time wheat exporters are allowed to function under the Brand Rate mechanism. Another positive step is the raise in rates for certain engineering items. This will help the sector mitigate the impact of import duty hike in steel. It is also good to see a hike in composite rates for several items, including ready-made garments, select leather goods, frozen shrimps/prawns, etc.

The Interest Equalisation Scheme, earlier called Interest Subvention Scheme, has been approved the for five years, starting April 1, 2015. The scheme expired on March 31 last year and its non-availability, combined with high costs of credit and policy uncertainty over the scheme's renewal, was a demotivating factor for the SME exporters. Now, the relaunch of the scheme, which covers as many as 416 tariff lines by small and medium-sized enterprises, will certainly give a boost to SME exports from the country, bringing down costs of credit for the sector.

The pace at which the Centre has moved over recently to arrest the decline in exports is praiseworthy, although I think the measures could have been taken much earlier. In addition, I don't think that only policy interventions -- which are a must to address the immediate issues -- are enough. We require structural reforms. Increase in the share of manufacturing in the export basket, export diversification to new markets, such as Latin America, Africa, East and South Asia, ASEAN, China and Eastern Europe, and trade infrastructure development -- I think these are some major areas where we need to work upon.

I invite your opinions. What further steps do you think the Centre needs to take to boost exports?
Please comment on this story:
Subject :
Message:

(Maximum 1500 characters) Characters left 1500
Your name:

boost exports


john hopcroft | Mon Nov 30 20:14:01 2015


China now having many direct flights to Australia. India has NONE. Buyers waiting 3-5 weeks for postal parcel deliveries. Not good enough for the 21st century,



Steps for centre to boost exports


Amol S Yele | Thu Nov 26 06:35:32 2015


Resp Concerned , Would like to express my opinions regarding your editorial letter. We working as SMEs would like to opine that the centre should take care of SMEs like us and help us to grow by providing us ways to increase our exports which in turn will help the centre accordingly. Since market saturation we are unable to serve the industry as such we are into manufacturing of sugar and chemical equipments but we are not given a fair chance to serve this industry. Hope we are also striving to the betterment of India's economy via us. Please excuse us for any hurting comment. (On behalf of Ganesh Centrifuge Machines P Ltd)



Re: Exports sops welcome, but not enough


Sachin Jain | Thu Nov 26 04:57:32 2015


Dear Sir, I read your article on export incentives and other benefits. I would like to inform you that I have started trading and export sole ownership company in the month of sept. this year. I am getting regular orders and inquires for export shipment but all under LC. Being trader I was intending to procure goods from India and adding my margin I was thinking to export. But for procurement from domestic companies I will be requiring advance payment. I approached to my Bank for financial assistance which is commonly known as Bill (LC) Discounting or Export Packing Credit. Bank informed me that they can only discount LC post shipment and confirmation of shipping documents from buyers bank. I even approached to EXIM Bank and SIDBI (they dont finance to traders) for loan, but its negative response from all of them. Since I recently started this company I cannot produce balance sheet of last three years practically and subsequently according to bank guidelines I am not eligible for any type of commercial loan. Even private financiers refused stating that your mode of payment of EMI is not certain. Can you please advise is there any institutions/bank in terms of loan, who helps struggling exporters willing to follow the path of Make in India and Boosting Exports. FYI, I am qualified MBA in International Business and have 14 years of working experience in this filed.


Customs Exchange Rates
Currency
Import
Export
US Dollar

66.20

64.50
UK Pound

87.50

84.65
Euro

78.25

75.65
Japanese Yen
58.85
56.85
As on 13 Aug, 2022
Daily Poll
COVID-19 has directly affected your business
| | |
| --- | --- |
| Commented Stories | |