---

Reforms on track

---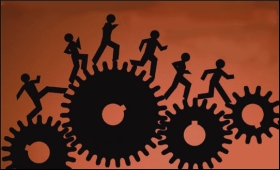 | | |
| --- | --- |
| Top Stories | |
Bikky Khosla | 17 Nov, 2015


In a big reforms push, the Centre last week eased FDI norms for 15 sectors, including construction, banking, defence, broadcasting and retail. The decision came on the heels of the Bihar election results, raising question from some quarters about the timing of the announcement, but there is not an iota of doubt that the move is a welcome one. It gives a clear and strong message, allying concerns over reforms slowing down after NDA's Bihar defeat. I think this new series of reforms, together with an earlier announced plan to restore the financial viability of the discoms, will give a big boost to the economy.

It has also been reported that some more reform measures are on the cards. These measures may include a new bankruptcy law, a new monetary policy framework, single-window clearance for multi-storey buildings and LPG subsidy reforms. However, it is very unlikely that the Winter Session, which is set to commence from November 26 and end on December 23, will be a smooth sailing for the government. Major reforms like the GST and the bankruptcy law are crucial for the country's growth going further, and I hope the government would do its best to engage with the Opposition and ensure passage of these bills. On the other hand, the Opposition should, on its part, stop being obstructionist.

Meanwhile, a top minister has said that the government is looking to set up a special fund to tackle the issue of banks' stressed assets. Recently, Moody's Investors Service had upgraded its outlook for India's banking system to 'stable' from 'negative' on expectation of a better operating environment for lenders. It is also expected that the RBI' accommodative monetary policy stance since January 2015 will help the recovery. But concerns still abound. According to an estimate, Indian banks' stressed assets ratio will improve to around 10.9 percent in FY16, after reaching a high of 11.1 percent in FY15. In other words, only a gradual recovery is expected, and in this scenario, the Centre's decision sounds reasonable.

Amid these efforts to prop up the sagging economy, latest data sets on wholesale inflation and exports are disheartening, however. According to official data released on Monday, annual rate of inflation rose, even while remaining in negative, to (-)3.81 percent for October mainly on account of costlier pulses and vegetables. Export figures present even a grimmer picture, showing a fall for the eleventh straight month in October. Merchandise exports fell by 17.53 percent y-o-y, falling to $21.35 billion from $25.89 billion. This prolonged period of decline, which is much worse than the decline for 9 months in a row during 2008-09, is a big worry.

I Invite your opinions.
Please comment on this story:
Subject :
Message:

(Maximum 1500 characters) Characters left 1500
Your name:

BIHAR RESULTS


Mrs. ASHA TALREJA | Mon Nov 23 10:02:43 2015


I really feel sad that NDA is in too much of hurry to do things for changing "CERTAIN THINGS." I am too happy about the power of NDA in the LOK SABHA. Not having introduced compulsory education, some corrupt political parties, not meaning good for our country, take advantage of the ignorant masses and walk away royally with majority seats in the Legistive assemblies!! What has happened in Bihar - Lalu's sons and the swearing in of Tej Pratap is disgraceful; most important Ministries/Portfolios is too demoralising!! I am a post-graduate in Public Administration of 1965, with Political Science, Economics, English Literature for my Graduation in 1963. How can I be ruled by these two if I was a Bihari- My age is 73 years and I was a ranker in my matriculation. Being upset, I did not watch TV after Bihar results for atleast two days; swearing the swearing-in which I could bear to see just a little,really got on my nerves. MODI, MODI, MODI! Good will win over Evil, I have faith in GOD AS OUR COUNTRY HAS NOT DONE ANYTHING WRONG TO ANY OTHER COUNTRY IN THE WORLD. hONESTLY, I CANNOT GIVE MUCH OPINION ABOUT FINANCE BUT I AM SURE THE RIGHT THINKING FINANCE MINISTER WILL MANAGE THINGS INSPITE OF SEVERAL OBSTACLES. OPPOSITION IS PLAYING A VILLAIN'S ROLE WHICH IS DETRIMENTAL TO OUR COUNTRY'S ECONOMY. NOW MODI HAS TO WORK VERY HARD TO BRING BACK THAT ORIGINAL CHARM WHICH IS AFFECTED DUE TO UNEXPECTED REASONS.



Banking Reforms


N S Kharangate | Thu Nov 19 04:15:34 2015


The NPAs which are there in the banks need control substantially. Even today the system is so cumbersome that sometimes you wonder how the NPAs get generated. What we require is a more robust system & transparent system which will lead to reduction in these thereby having more liquidity in the market. It is more to do on Corporate levels rather than on the individual level which lead to belief that the modus of consortium forming does not even help. What more intrigues is that the percentage of interest charged being so high than in most of the other countries also does not help. The Government while synchronising the outlay for the various projects also seems to ignore the returns and the benefits which can also get accrued to the bottom line of the banks. Lands get wasted & yet you see a high rate being charged for the balance available pieces. Poor synchronisation in terms of setting of Industrial corridors lead to disarray in the investments. Banks now a days charge for everything for the customers which makes you wonder whether you are customer or supplier. Isn't it your money which they use and make profit for them? Why so many banking institutes are there where there are chances of individuals loosing their hard earned money? Why Chit funds are permitted? Needless to say some correction needs to be done setting the system right


Customs Exchange Rates
Currency
Import
Export
US Dollar

66.20

64.50
UK Pound

87.50

84.65
Euro

78.25

75.65
Japanese Yen
58.85
56.85
As on 13 Aug, 2022
Daily Poll
COVID-19 has directly affected your business
| | |
| --- | --- |
| Commented Stories | |