---

Is policy paralysis back?

---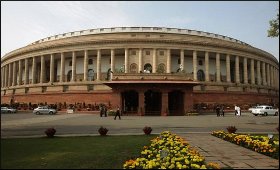 | | |
| --- | --- |
| Top Stories | |
Bikky Khosla | 05 May, 2015


Nothing is happening on the ground to boost the economy - that's what more and more people are saying these days. A year ago, when the BJP government stormed to power with a clear majority in the lower house, there was widespread expectation that the new government would bring an end to the so-called policy paralysis that had throttled the Manmohan Singh government. But now with every passing day expectations are rapidly subsiding due to policy logjam, especially in the Rajya Sabha. The economy is suffering and people are getting impatient.

One of the major factors that ebbed popularity of the new government is promulgation of the land acquisition ordinance. There is no doubt that some of the newly introduced norms deserve praise, but I think overall the decision was a hasty one. The government could have waited for some time to study the experience of implementation of the act; it could have introduced the new version of the act as a bill in the Parliament and referred it to a committee for appraisal. But it didn't do so.

In addition, we cannot ignore the ground reality. Land acquisition has always remained a highly sensitive issue, which in turn demands high level of transparency, particularly at least about aspects like compensation, rehabilitation and resettlement of farmers. So, the Centre has to lay its cards on the table and make its stand clear on interests of the farmers. It has to first make the land acquisition process acceptable, if not attractive, to farmers, to make it industry-friendly. Otherwise, Act or no Act, it will always remain politically difficult to take land from farmers, which may potentially lead to more Singur-like situations.

Labour laws present a similar dilemma. Any effort to reform labour laws, good or bad, immediately attracts opposition from the opposition parties and the labour unions. I'm not asserting that the government cannot err, but at the same time opposition should not be for opposition's sake only. Recently, the Labour ministry has sent three key proposals - involving child labour, EPF and employment at small factories - to the Cabinet and I'm wondering what will be the fate of these proposals and other key bills. Will the Cabinet, the PM, the floor managers in the Parliament be able to eke out some solutions, or the contradiction will kill the bills?

I invite your opinions.
Please comment on this story:
Subject :
Message:

(Maximum 1500 characters) Characters left 1500
Your name:

Cosmetic changes


kewal singh paneser | Thu May 7 06:03:41 2015


i have read in the newspaper today that the Sensex has fallen further to 26 thousand odd. While giving Mr. Modi their votes, people had great expectation. Whatever changes, the government makes look only insignificant. Someone has to take bold steps particularly in implementation of law. No improvements have been noticed on two key issues namely delay in courts and corruption at every level. The frustration by the honest people is outcome of policy paralysis. The promise of Mr. Modi to bring India to level of 50 in ease of doing business can never be met.



coating industry/manufacturere


Jagmal Singh | Wed May 6 06:45:04 2015


Dear sir, we are observing the position of coating industry for the last one year.But no improvement at any angle,no orders,no new jobs .Situation is worst than 1998.I have 29 years working experience in coating industry but no job for the last one year.



Policy Paralysis


PK Jayswal | Wed May 6 06:21:47 2015


Land is a finite resource of and is required for firstly Agriculture, secondly for development of public utility infrastructure like irrigation ,road, rail, power infra, and housing in the order of given priority and finally industrial infra for employment and revenue generation. Therefore the law of the land need to address the core issues first, followed by development issues therefore proposed law must have inbuilt flexibility of acquisition norms with varying degree of compensation and also clearance norms. For example land required for irrigation must have a priority acquisition and compensation norms over a car industry being set up and never both in the same list of exemptions/ acquisition norms. If the government can think what country needs after 20 years and priorities are laid, decision making will become easier and acceptable. Sorry to say we are still running the country like a Shop. Vision must have sound system in place for logical implementation and popular acceptance.



Is policy paralysis back?


Ravinder Singh Jakhar | Wed May 6 04:15:13 2015


I agree with you that economy is not boosting as Modi Govt. claimed but land acquisition is not the only cause for all this. other factors are also responsible. Till now Modi govt. did nothing to boost the economy excepting acting like trying to do.



Land Acquistion Bill


MV CHANDRASEKHAR | Wed May 6 03:25:29 2015


Rather than force implementing in states where Congress or other opposition parties are in rule; let the center include an option for its implementation in the state's purview. Let some states where BJP is in rule like MP implement the same; let the public realize its benefits. When they feel; that the bill is advantageous; they them selves vote for change in Govt in state also. Force implementing in democratic states always creates negative effect and since every state goes to polls; the bill shall be amended keeping concerned state's consent. For example; if TMC / SP / Congress doesn't support the bill; let them not implement in states ruled by them. The implementation of bill shall be made optional in the state's priorities.



Involve the people in decision making


Sanjay Math | Wed May 6 03:14:08 2015


Blocking bills in parliament without discussion and raising different emotive issues is practiced by present governing party as well as the present opposition. Legislative performance was poor in last Lok Sabha. We need to develop a mechanism to bypass the parliament for critical and important bills. May be a referendum type of system be developed. Here the Parliament, assemblies and panchayats should be involved if not all the people. Five hundred MPs may not be truly representing the interest of the people. Allegational arguments shall be punished if there are no evidences. Individuals and the media shall be taken to task if they have no evidence in the story. Parliament rules be modified to suspend the MPs immediately, at least for the period of six months for stopping the business of the parliament. Parliament regulatory system be developed. Our constitution has never considered this scenario that parliament will not function.



GST


Tom | Wed May 6 00:22:45 2015


Yes,GST bill needs to be passed earliest.But then,it should have been implemented in 2010 itself,only if BJP led states have not blocked it !Any justification for that blocking except to spite the then govt. !


Customs Exchange Rates
Currency
Import
Export
US Dollar

66.20

64.50
UK Pound

87.50

84.65
Euro

78.25

75.65
Japanese Yen
58.85
56.85
As on 13 Aug, 2022
Daily Poll
PM Modi's recent US visit to redefine India-US bilateral relations
| | |
| --- | --- |
| Commented Stories | |