---

Exports documentation gets easier

---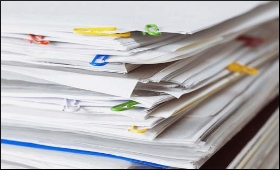 | | |
| --- | --- |
| Top Stories | |
Bikky Khosla | 17 Mar, 2015


Documentation is one of the most nettlesome issues for exporters. It is no less than a nightmare for starters. Additionally, long hours of waiting, high costs, irritating haggling with unresponsive officials and anxiety involved with documentation can make your life much more difficult. From days of yore it has been thus, but now it seems things may change in the coming days. In a breather to the exporter community, the DGFT has recently reduced the number of mandatory documents required for import and export of goods to three in each case.

In the World Bank's 2015 'Doing Business' report, India ranked 126 in 'Trading Across Borders" component of 'Ease of Doing Business'. It points out that Indian exporters need to collect 7 types of document, including Bill of Lading, Commercial invoice, Foreign currency exchange form, Packing list, Shipping Bill, Technical standard certificate and Terminal handling receipts. The document preparation takes 7 to 8 days on average and costs around US $365. Similarly, import documentation involves 10 types of document, an 8-day waiting period, and costs around US $400.

However, with the changes notified last week, the number of mandatory documents required for export and import has been cut to three in each case: (i) Bill of Lading/Airway Bill, (ii) Commercial Invoice cum Packing List and (iii) Shipping Bill/Bill of Export for exports, and (i) Bill of Lading/Airway Bill, (ii) Commercial Invoice cum Packing List and (iii) Bill of Entry for imports. Exporters and importers, however, have the option of filing separate 'Commercial Invoice' and 'Packing List' also, if they so desire.

The move will help the exim community in a great way by reducing time as well as transaction costs. The effort of the Inter Ministerial Committee in this regard is praiseworthy. I think this initiative could have been taken much earlier and hope other such measures will follow soon. In his Budget speech, the finance minister proposed several measures including setting up of an expert committee to prepare a draft legislation for obtaining regulatory clearances expeditiously. I'm eagerly looking forward to some more concrete steps to improve the ease of doing business.

Meanwhile, our exports in February plunged 15% y-o-y, following an 11.2% decrease in January. So, the Centre should make no further delay in detailing a foolproof strategy for foreign trade. In the Union Budget, there was no mention of specific sops for the sector and I hope the forthcoming FTP will address the woes of the community. In addition, I think the export diversification strategy needs to be pushed further and sector specific measures should be introduced to lift exports from sectors like agri, jewellery and textiles which have been witnessing decline for some time now.

I invite your opinions.
Please comment on this story:
Subject :
Message:

(Maximum 1500 characters) Characters left 1500
Your name:

Export documentation gets easier


SB Saluja | Mon Apr 6 03:30:21 2015


Hi, approves your article, it is not clear how export documentation has become easier? What were the documents filed earlier and now what are the documents to be filed. What I know, there is no change in procedure. Secondly y-o-y basis is February and monthly decrease is being shown for January. Thirdly, what are the major sectors or services which have affected the exports and negative trends are being reflected. At least 2-3 major products and services should have been mentioned.



Bribe is the biggest hurdle of all


Dilip Jhaver | Sat Mar 21 20:40:33 2015


Customs officials have paid a lot of money to get their jobs. Now they must earn it back and more. Unless the business pays up what documents you submit is not relevant. Your shipment will sit and you pay warehouse charges. Cough up or yore items will rust away. I know this first hand.



Incorrect information


Moses | Thu Mar 19 08:57:18 2015


India is ranked 142.


Re: Incorrect information


Rehman | Fri Mar 20 07:18:37 2015


Overall Ranking 142, but "Trading Across Borders" ranking 126. No incorrect information is provided here.


SHIPPING BILL AMENDMENT- EXPORTS


Shankar | Wed Mar 18 08:47:26 2015


I would like to point out the hassle involved in getting amendment of shipping bills after printing, completing the container stuffing. Specially weighment amendment takes about min 7 working days which is way too long and most of the shipments end up in demurrage. previously the doc master used to authorize amendments on dock yard on behalf of JC/AC/DC now the formalities has changed all the amendment request must be routed via jc office which takes min 7 days to 15 days. During my last shipment to hochimin i only got the weighment amendment 3 days before arrival of vessel at disport, luckily we had 14 days free time at disport. hope govt will change the rules of shipping bill amendment and make it easy for exporters,


Re: SHIPPING BILL AMENDMENT- EXPORTS


Dilip | Sat Mar 21 20:46:46 2015


Pay up bribes and you will have no problem smooth sailing. Remember the officials paid crores to get their jobs and they have have hungry families to feed and get their daughters married in fat weddings.


Duty Draback


Ganesan | Wed Mar 18 05:42:08 2015


Sir. All is ok. The problem facing In India, we are not getting any Duty Drawback for the Past 3-4 Months from Chennai Port and Tuticorine Port. The Garments Exporter's one and only margin is DBK. Cause of Euro fluctuation. Govt should take action to release DBK. Otherwise the Future export will decline another 10-15%. The Balance of Trade??????????



Exports/Imports documentation gets easier


Prasad KS | Wed Mar 18 04:27:57 2015


Sir, I am a regular reader of your editorials. I am a professional logistics and supply chain manager and working in Medium size pharma industry. With respect to your editorial which appears very positive in outlook but in reality the customs and other regulatory bodies involved in the imports and exports only increase the burden of documentation without considering the importers/exporters limitations. There is no fixed documentation except for the three documentation mentioned by you which are very basic, there are many more documentation specific to each industry, the mindset of the customs and regulatory official is very different, and they presume that every importer or exporter is a potential smuggler, they perhaps are trained like that. What the government is doing now is nothing new it's only an eyewash. We suggest there should be an information online or other print on documentations specific for each industry, this will help remove lot of confusion and frustration and in turn will save us lot of time. Your editorial useful but not complete but never the less your affords are very much appreciated. regards



Export/Import Documentation


G.C.Gupta | Wed Mar 18 04:02:59 2015


What you are suggesting is obvious. How long we should endure the legacy of idiotic socialism of Jawaharlal Nehru. We (Indians) are instrumental in developing software for cutting down red tape and delays everywhere in the world, why cant we do it in our own Country. The way Passport procedures have been streamlined and simplified by outsourcing the preliminary work to a competent Agency same way it should be done for Import/Export Documentation.



Documentation


George Fernandes | Tue Mar 17 18:40:38 2015


We have an export co in Spain since 10 years and we do a lot of exports from USA, Europe & China to M/east and Africa. Documentation always consisits of BL / CO/ Pl & INV and we don't face any problems original documents is prepared by us at the office except CO which take a days at chamber of commerce, BL is sent to us by our forwarders when the ship sails. Its so simple no hassle at all. Why it took so long for Indian to improve their systems on documents for exports?, if life is made easy for exporters than only you will find more exporting companies interested in exporting their products which will help the economy to grow more and decline in exports will surely drop .


Customs Exchange Rates
Currency
Import
Export
US Dollar

66.20

64.50
UK Pound

87.50

84.65
Euro

78.25

75.65
Japanese Yen
58.85
56.85
As on 13 Aug, 2022
Daily Poll
PM Modi's recent US visit to redefine India-US bilateral relations
| | |
| --- | --- |
| Commented Stories | |