---

Greek crisis: How safe are we

---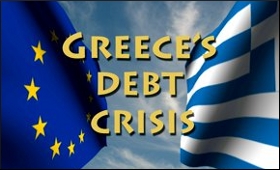 | | |
| --- | --- |
| Top Stories | |
Bikky Khosla | 07 Jul, 2015


The Greek voters have overwhelmingly rejected the EU bailout offer. In a crucial referendum on a debt deal of billions of euros in exchange for more austerity measures, 61 percent of voters voted "no" while 39 percent voted "yes", raising fear of a chaotic departure of the country from the common European currency. Now events could play out in a number of ways , but what I think most important is that the creditors should respect the result. They must realize that Greeks have said no to austerity rather than to euro membership. Greece must not be left in the lurch. Failure to keep the country in the eurozone could set a dangerous precedent for other EU members.

Are we safe from the Greece crisis? Most pundits agree that the Indian economy cannot be directly affected, but a possible Grexit is likely to impact all major global economies, which, in turn, may impact the Indian economy as well. On Monday, Indian stock markets and the rupee shrugged off the Greece concerns, but if the two sides fail to reach a more favourable bailout deal and Greece exits the euro, the situation may worsen, affecting India's capital inflows and the currency movement. So, the Centre should not lower our guard though "the direct exposure is very limited" as stated by RBI governor Raghuram Rajan.

Additionally, in the backdrop of continuous fall in our exports, the Greek crisis brings no good news for our exporters. India's overseas shipments fell for a sixth straight month in May, ramping up pressure on the economy and if the crisis in the eurozone, which comprises of 18-19 percent of our exports, deepens any more this could impact our exports further. In this situation, I think it would be wiser for the exporting community to diversify and shift their focus to other global markets. On the other hand, the Centre must do its part -- it should make no delay in straining every nerve to rescue the sector from further downfall.

Meanwhile, recent data released by the Centre for Monitoring Indian Economy shows that there was an 8.4 percent increase in projects under implementation in the quarter ended June 30. This is the fastest growth since the September 2012 quarter. There was also a decline in the number of stalled projects, with unstalling being faster for government projects. Since March last year, projects worth about 2 percent of GDP have been unstalled, according to an estimate. This development is encouraging, and I think government spending at this stage will act as a big catalyst to private investment, which is yet to take off.

I invite your opinions.
Please comment on this story:
Subject :
Message:

(Maximum 1500 characters) Characters left 1500
Your name:

greece fall out.


R W sahare | Mon Jul 13 06:08:37 2015


As per my opinion the EU must help to govern the Greece government by monetary help to come out from this mess and ruin the taxes immediately to the people so that in the long span govt raise the funds. Also the retirement age of Greeks those are in govt sectors to the 52 years.



Greek Debt


Lkampouris | Thu Jul 9 18:23:07 2015


The Greek Prime minister has plainly said that the referendum vote had nothing to do with leaving the EU nor going away from the Euro or Grexit. But the media and the EU keep saying it that way. The people have spoken loud and clear that these austerities are no way to live. But the EU is stuck playing the same song. Germany owed and owes Greece a tremendous debt from WW2 yet they choose to write it off Germany not Greece. For too many years those in power sold out their country to line their own pockets, finally Greece has a Prime Minister that truly cares for his country and the people, and this upsets the EU, IMF and WB cart. The most important issue is does Sovereignty exist or are have we reach a One World Order?



GREEK AND OUR ECONOMY


PRAVINSINGH SOLANKI | Thu Jul 9 06:21:18 2015


GREEK CRISIS CAN AFFECT US BUT NOT FATAL. OUR OWN MOMENTUM IS SIGNIFICANT. LAST CRISIS WE SURVIVED BECAUSE OF THE SAME FACTOR.HOPE FOR BEST.



Gexit - impact


Rod Blakestad | Thu Jul 9 05:32:12 2015


With India's export level at 18-19%, it would appear there is significant exposure to the outcome of Greece debt action. Unfortunately, Greece is not the only fly in the pudding. Other countries are looking too see what happens. They will formulate an action that may not be favorable for the lending institutions. The global financial system will be severely strained by a potential domino effect of monetary failures. The UK and USA are not far above Greece on the list when you compare external debt to percent GDP. If one BIG upset to the "normal" system hits, such as an unusually large earthquake of an electromagnet pulse from the sun occurs, the game may be over for a decade or more. The dominoes are many, and the base on which they stand is neither level nor stable. Prepare for the worst and hope for the best!



Thank you!


Ricky Smith | Thu Jul 9 00:31:19 2015


I enjoy immensely your post. It helps to bring into focus the business community of India and your perspectives from that part of the world are quite enlightening. Just wanted to say thanks.



GREEK CRISIS


A V Chandran | Wed Jul 8 04:24:53 2015


Greek must do their homework in terms of their Sovereign culture whereas they must approach UN for seeking assistance from member countries and like minded countries by virtue of secured and unsecured long term micro to macro funding.



Greek Crisis


A V Chandran | Wed Jul 8 04:12:15 2015


Greek Crisis mean severe economic crisis contributed out of both internal and external factors with World currency domination subject to abnormal variation on higher side. UN must review this serious situation by virtue of long term secured and unsecured funding from member countries and like minded countries on micro to macro terms to safeguard economic health of Greece once for all. If it is through it is taken for granted that UN has done some positive step similar to World peace process. BY A V CHANDRAN CHITHRANJALI, MYLAD, P.O. KANUL, KANNUR KERALA 670562 E-mail: avchandran@gmail.com


Customs Exchange Rates
Currency
Import
Export
US Dollar

66.20

64.50
UK Pound

87.50

84.65
Euro

78.25

75.65
Japanese Yen
58.85
56.85
As on 13 Aug, 2022
Daily Poll
COVID-19 has directly affected your business
| | |
| --- | --- |
| Commented Stories | |