---

Marketing communication: Take an integrated approach

---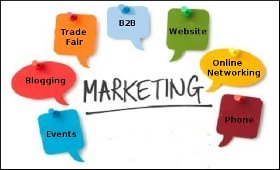 | | |
| --- | --- |
| Top Stories | |
Bikky Khosla | 03 Feb, 2015


Which marketing communication channel brings you the highest engagement, conversion and sales? This may sound like a simple question, but is it? In this age of multichannel marketing, it is very likely that a small business does not pin its hope on a single communication channel for targeting potential customers. Isn't it enough to compare the performance of these channels over a period of time in order to find out which of them has been doing the best? It is not as simple as that.

It is woefully inadequate to look at the different marketing channels as separate from each other in watertight compartments. You may be using all the important channels of marketing - trade fair, email, B2B listing, personalized website, face to face meeting, phone call, post, online networking - and when you compare their individual performances over a particular period of time, it may seem on the surface that one or two channels are doing well while the others are not. So, should you focus less on or do away with those channels which, in your eyes, are not fetching great results?

That's a wrong strategy. A single communication channel hardly makes any real difference, but only a combination of different channels does. It may not be so obvious all the time. Your brand's online presence, for example, may be complementing your store sales - without your being aware of it much - in a big way. Similarly, your trade fair participation may not be immediately converting into sales, but it may be playing a major role in maintaining your brand awareness in the market. So, ignoring any of the key channels of marketing communication could be fatal for your business.

Each channel of marketing works at different times in different ways. Trade fairs, for example, can be used strategically as an excellent way of making initial contacts; B2B listing helps stay close to potential buyers 24X7; a personalized website is referred to by customers again and again at all stages of sales process; email is particularly important as a prelude to a detailed face-to-face discussion, online media can be used effectively for networking, blogging for product promotion, relevant events to develop business relationships, and so on. Marketing is reinforced only when all these channels are made to work as a unified whole rather than in isolation.

I invite your opinions. Please share your insights with our readers.
Please comment on this story:
Subject :
Message:

(Maximum 1500 characters) Characters left 1500
Your name:

marketing


Anil Chopra | Fri Feb 6 08:10:16 2015


Based in the UK - Ebayer seller- Natureswill Buying direct from India as much as I can Something for Indian enterprises to mull on. We hear amozon arriving in India with the big bucks. My simple experience with retail selling on the internet is one of caution , Apart from the regular breakdown with these sites (hackers at large) the IT capacity available (world wide) is a major issue alongside , SECURITY - You are very right to say a mixed marketing approach is essential. In my very early life , at collage , we learned , a basic IT command --WHAT IF. With in mind , I would have a basic , down to earth base of trade always , no matter the size of your enterprise All my love to Mother India



Take step according to your budget


Santosh Kushvaha | Thu Feb 5 07:23:43 2015


Bikky Khosla, your article about integrated marketing approach to promote our self or our brand is indeed need of hour. But using various media of marketing totally depends on what we want to market. If we are marketing a product or service which requires mass of people as customers we need not to go on internet. There is no need of as a lot of targeted customers might not have internet. Hopefully simple SMS would be more penetrative in this case. And it would be more economical. So before deciding using various media or channel of marketing we should first think of promotion cost, its reach and results. If we have sufficient fund to let our brands known in real quick time, integrated approach is best of all. Because it brings customers through different sources of communications for the business. Additionally, apart from just choosing mix of marketing channels it is also crucial to measure and control time of harvesting results of this mix. Needless to say comparison of investment versus result is great one of all.



Makes complete sense


Dr Sumeet Roy | Thu Feb 5 04:47:44 2015


360 Degree marketing approach - makes complete sense. The challenge comes when we have to pick a few from the array of choices in times of resource crunch!


Customs Exchange Rates
Currency
Import
Export
US Dollar

66.20

64.50
UK Pound

87.50

84.65
Euro

78.25

75.65
Japanese Yen
58.85
56.85
As on 13 Aug, 2022
Daily Poll
COVID-19 has directly affected your business
| | |
| --- | --- |
| Commented Stories | |