---

Fed hike, GST woes loom over economy

---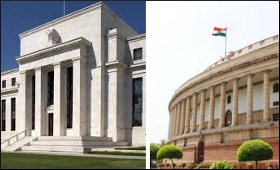 | | |
| --- | --- |
| Top Stories | |
Bikky Khosla | 15 Dec, 2015


Factory output growth for October surprised economic observers with its best showing since October 2010. Industrial production for the month rocketed to 8 percent, much higher than the expectation of around 7.5 percent. Manufacturing grew 10.6 percent and capital goods 16.1 percent, signaling recovery in the investment cycle, albeit slightly. It is true that a favourable base effect along with a festive season-led boom in purchases of consumer goods contributed to this spike, but still the IIP figures, which came on the heels of healthy July-September GDP data, give some relief. If reforms continue, it seems a recovery is not far off.

Reforms are not gaining much strength, however. The fate of the GST - touted as the most comprehensive indirect tax reform since the independence - is hanging in the balance due to continued protests by the opposition in the Rajya Sabha. Till recently, it was widely expected that the Bill could be passed this Winter Session, but now the National Herald row carries the threat of derailing the reform effort. The penultimate week of the winter session began Monday and it seems the GST Bill is fast running out of shelf life for this session. I think failure to pass the Bill this Winter Session will send a horribly wrong signal to the world on the country's ability to push reforms, during an already uncertain period.

A Fed rate hike may further add to these woes. The US central bank is expected to increase rates for the first time since 2006 when it will hold a two-day meeting that ends Wednesday, and such a move could potentially impact emerging economies like India, pulling back massive foreign funds. According to an estimate, during the December 7 - December 11 period, FPIs sold over Rs.3,495 crore in equity and debt markets. In addition, the rupee is likely to be hit and higher cost of borrowing on dollar loans may impact margins of the Indian industry. There is a silver lining however, as it is widely expected that the US Federal Reserve is unlikely to lay out an aggressive schedule of future hikes.

Meanwhile, the sealing of the Paris climate pact last week is a welcome development. In a historic move, nearly 200 countries clinched the deal aimed at keeping global warming "well below 2 degrees C". For decades, the rich nations sought to shift greater onus of battling carbon emission on the developing world, but now the developing countries are exempted from some obligations, taking into account their respective capacities in light of national circumstances. In addition, the developed countries have also agreed to raise more funds over time to help developing countries cut their emissions. The climate deal is only a first step on a difficult road ahead, but surely it is a step in the right direction.

I invite your opinions.
Please comment on this story:
Subject :
Message:

(Maximum 1500 characters) Characters left 1500
Your name:

GST


RAJESH SINHA | Fri Jan 1 11:22:33 2016


Its pathetic that Indian states are waiting for GST bill to be passed. If the CMs are ally need such thing then they can work jointly with their respective state CMs and make their own legislative decisions in consolidating their own indirect taxes to provide relief to businesses and movement of goods across the country. But again one cant expect such proactiveness from CMs who use POLITICS to only pull legs of other parties.The concept of NATION BUILDING is lost somewhere. Scattered industrialization will not help. INDIA SHOULD focus MORE ON AGRO DEVELOPMENT BECAUSE THAT THE BIGGEST THING FOR INDIA AFTER IT BOOM. Manufacturing is hard to pickup because India is surrounded by NINE other manufacturing countries who are fully equipped for manufacturing and their TAX/DUTY structures are already in place. Its therefore not possible for INDIA to become a manufacturing base for the world.I am talking about CHINA, THAILAND, JAPAN, PHILLIPINES, MALAYSIA, SOUTH KOREA, SINGAPORE, INDONESIA, VIETNAM & HK. India does not have proper Q&A codes for providing GOOD QUALITY product. India over the period of several decades and even as of today is a country of RESELLERS. They get the foreign technology, reduce its quality to meet low price demands and then sell them to the domestic market. this mentality need to changed to R&D based business.



gst bill


VIJAYAN NAIR | Thu Dec 17 11:18:58 2015


In Indian politics parties come first and country last. Therefore, in all probability, gst bill will not get passed in the current session also.



GST IMBROGLIO


S. RAGHAVAN - BEST | Thu Dec 17 06:55:55 2015


IF THE GST IS NOT IMPLEMENTED AT THE EARLIEST THE WORST SUFFERERS WILL BE THE MSME COMPANIES. WHAT WITH THE ORDEAL OF COLLECTING OR RATHER UN-COLLECTABLE C-FORMs AND OTHER FORMS. NOT TO MENTION THE LITANY OF FILING RETURNS TO VARIOUS AGENCIES. IF THE GST IS DELAYED FURTHER CONGRESS AND THEIR LEADER ARE ONLY TO BLAME AND THEY SHOULD BE TAUGHT A LESSON OF THEIR LIVES....



Taxing reforms


Subodh Jain | Thu Dec 17 05:06:10 2015


If the Govt.of India is serious in making an offer on tax reforms. If should abolish all taxes totally. The Govt. shall make mandatory for all transactions to be done online above Rs. 9,999/-.This should be the threshold for cash payments. The RBI shall remove currency notes of 500 and 1000 denominations altogether. Just a Transaction tax shall be levied on every Rs10000/- and multiples thereof @10%. Also govt. shall make Education, Insurance, medical totally free. After basic education, children shall pursue according to their interests. No School shall be allowed to admit children residing away by more than 2km. radius from the school and admissions shall be strictly on first come first basis and no Adm. tests allowed. The Govt. shall make compulsory for all to work in social sector, defense sector, farm sector for a min. of 2 years before taking up any job. The man power shall from all tax deptts. shall be deputed for cleanliness, garbage management, forest development projects, warehousing chains. India needs afforestation of our soil very heavily to reverse the climate change.



GST


P.S.Biradar | Wed Dec 16 04:06:33 2015


In the interest of the nation, all have to come together and think. Much talked about GST, all have to agree and pass the GST irrespective of other personal things.


Customs Exchange Rates
Currency
Import
Export
US Dollar

66.20

64.50
UK Pound

87.50

84.65
Euro

78.25

75.65
Japanese Yen
58.85
56.85
As on 13 Aug, 2022
Daily Poll
PM Modi's recent US visit to redefine India-US bilateral relations
| | |
| --- | --- |
| Commented Stories | |