---

Exports must for economic growth

---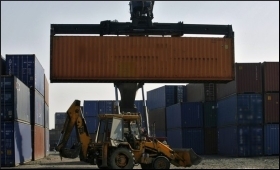 | | |
| --- | --- |
| Top Stories | |
Bikky Khosla | 21 Apr, 2015


We missed the export target. Latest foreign trade data released last week shows that India's merchandise exports for the last fiscal fell to $310.53 billion from $314.41 billion in 2013-14. For the month of March, the decline rate is a steep 21.06 percent, the worst in 67 months. It is not difficult to see that petroleum products played the spoilsport in this downfall, particularly in the month of March, but what is more heart-rendering is the poor performance by sectors like gems and jewellery, chemicals, engineering goods, electronic goods - sectors that earlier contributed the most to the country's total export basket.

This was the third consecutive month of export decline and not at all a sudden development. For the last few months concerns have been raised time and again about the demand slowdown in global markets and its possible impact on our exports. In addition, the WTO has already cut the global trade growth forecast for 2015, considering which it is very likely that coming months could be much tougher. In this situation, I think the Centre should make no further delay in coming up with some substantive measures to prevent the export downfall. Long-term policies, as evident in the recent FTP, are, of course, praiseworthy, but this does not mean that a blind eye can be lent to the immediate concerns.

Meanwhile, the World Economic Outlook published by the IMF and the World Bank forecasts that India's economy may rise to 7.5 percent in 2015 from 7.2 percent in the preceding year. This sounds good. In addition, the report adds that Euro zone, one of the most important markets of India, should do better in this fiscal; the Japanese economy may also get back some strength. But risks are also there - particularly geopolitical risks and exchange rate dynamics are high on the IMF's watch list. In addition, the slowdown in the Chinese economy may have spillover effects on the the Asia region, including India. So, even if the tide rises again for the global economy, we will not be a part of this rising tide, unless now we take care of our falling exports. Exports growth is very important for India to meet its high growth ambitions.

Besides the above developments, the government last week decided to rethink on the proposed new income-tax return form. This is a welcome move. The previous decision was surprising, as it was a clear deviant from the Modi government's ongoing effort to push the country's ranking in ease of doing business rank. I don't think that complicating the tax form will help prevent hoarding of black money. Instead, we should look for some better solutions that rely on intelligent use of technology to track people with large incomes and collect tax from them. We rank 158th in ease of paying tax and we need to make the process simpler instead of making it more complicated.

I invite your valuable opinions.
Please comment on this story:
Subject :
Message:

(Maximum 1500 characters) Characters left 1500
Your name:

Exports Must for Economic Growth.


Gianander Dua | Sat Apr 25 07:15:48 2015


Yes of course for any country Exports are must,but unfortunately are politicians don't understand the same. If the Policies are eased down from common man prospective and little education is must for small producers to enhance the business prospective.



Income tax


Srivathsan.R. | Wed Apr 22 16:31:17 2015


It is absolutely necessary to rethink on subject of Tax on Income ( income tax).This was the old concept of getting some funds for the gove3rnment for social projects. But things have changed we should think of Introducing Transaction tax at INR.7.50 per thousand and do away with income tax, TDS and other concessions,. This is common to all citizens irrespective of professional portfolio. Since there has been good move about financial inclusion a beginning must be started for digitized accounting. Make it mandatory for all transactions to be digitized.



Decline in exports


Gadepalli Subrahmanyam | Wed Apr 22 04:58:11 2015


I sincerely believe that our country has come of age and need not depend upon exports to balance our import need.Self sufficiency should be the watchword, rather than total dependence upon imports. Every manufacturer, anywhere in the world, including our country wants that dependence upon his product to be perennial for the customer, and when once we start imports, say a car, machine, equipment or any thing, it will be a non-ending cycle of dependence. We have a good climate, a very beneficial sun, and a fair enough land. If we put solar energy to work to create water, there will be no dearth of food production, which could lead to self-sufficiency in other spheres. So let us not worry about decline in exports.



Export Growth


P.S.Biradar | Wed Apr 22 04:22:52 2015


I have been reading your article without fail and found that we are far far away from "Make In India" process. Overall industrial sectors like Engineering and Electronic are facing tough competition in the overseas market. We cannot produce goods at competitive rates like China.All are thinking of survival. When this situation comes, there is no competition. So, Govt.should give facilities like enhanced finance, technical know how etc. Only talking "Make in India" will never be successful like this. So, Government should be serious about the same. Otherwise, We cannot achieve this "Make In India"process for another 20 years.


Customs Exchange Rates
Currency
Import
Export
US Dollar

66.20

64.50
UK Pound

87.50

84.65
Euro

78.25

75.65
Japanese Yen
58.85
56.85
As on 13 Aug, 2022
Daily Poll
COVID-19 has directly affected your business
| | |
| --- | --- |
| Commented Stories | |