---

Cloud computing - where SMEs stand

---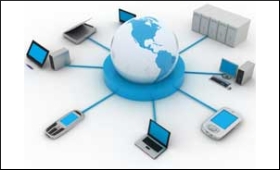 | | |
| --- | --- |
| Top Stories | |
Bikky Khosla | 08 Oct, 2013


Cloud computing is often touted as the future business model that is bringing paradigm change in the ICT adoption pattern of small and medium enterprises worldwide. With this technology, your data is stored on a remote server, and for applications and programs you use a shared network and pay as you use it. Due to sharing of resources, economies of scale is achieved by the service provider and, as a result, your small business can have the same quality software and IT services as much larger companies, but at very low costs.

Due to their small budget, SMEs often fail to make the best of the ICT technologies, and cloud computing clearly offers a solution to this -- a small business no longer requires to invest in servers, networking components, storage, software applications, etc. -- and neither is it required to worry about hiring new IT staff or paying more for power and maintenance. The programs still work the same way on your desktop, and they can be accessed across the Internet from wherever you choose, thereby further increasing the efficiency of your business.

All of this sounds impressive, but why then most of our small businesses are still hesitant about going the cloud? Recently, I have had discussion with a group of SME entrepreneurs, and to my surprise I found that most of them didn't understand cloud at all or understand it only 'somewhat', and almost all of them expressed their unwillingness to move to the cloud. Overall, the conversation made me think that our SMEs are probably lagging far behind than we imagine when it comes to cloud computing.

What is the reason behind this hesitancy? I think awareness is still very poor. In recent years, we have seen many vendors coming out with a plethora of cloud based applications, and recently our MSME Minister has also said that the government is working on 'Badal', a cloud computing platform for MSMEs. These are welcome steps, but I think this would not be enough to make small businesses move to cloud computing in droves unless we first educate them about the technology. Spreading awareness is the first thing we have to do.

Security concern is often cited as one of the biggest obstacles for small business cloud adoption while, in contrast, according to some others security is often not the major factor for this hesitancy as these concerns can be addressed to a significant level by taking services from large and reliable service providers. Some small business owners also raise their concern about limited bandwidth and quality of network. These opinions reflect the challenges -- both real and perceived -- that must be addressed first to help small businesses go the cloud.

I invite readers' feedback. Are you ready to venture into the cloud?
Please comment on this story:
Subject :
Message:

(Maximum 1500 characters) Characters left 1500
Your name:

cloud computing


Jimaf | Fri Oct 25 04:21:58 2013


Two things are of great concern to me here. first, security and then, since this technology is deployable only on the internet platform, is it possible to have a transnational linkage on the cloud platform? if yes, what are the implications for the international business man?



Cloud Computing and SMEs


Himanshu Kansara | Sat Oct 19 05:44:56 2013


The challenges SMEs are facing, how can it be beneficial to migrate to cloud and what are the most popular cloud business and social applications they can leverage for their business can be found online.




Cloud Offering from GoFrugal Technologies


P.N. Prasad | Thu Oct 17 07:19:54 2013


Cloud offering is best for SMB in India. The TCO is low and with the SaaS model they can test before they buy and the company can concentrate on core business rather than spending energy on creating and managing IT infrastructure.




How can I go to cloud comuting


Ramesh Trivedi | Mon Oct 14 16:08:25 2013


Hi: I read your editorial with interest and want to switch to Cloud Computing. Will you please let me have the link by which I can use Cloud Computing.I am sure there are many like me-Small Businesses do not know much about it. Your reply will be appreciated Ramesh Trivedi ramesht55@gmail.com



cloud computing


michael Kilroy | Thu Oct 10 15:21:52 2013


I am a sceptic as I believe there are solid reasons why SMEs are afraid to go to cloud. 1/ when on cloud and you are hooked you will pay through the nose for access or removal 2/ who is to say data warehouses will not go out of business or have a disaster hit like sunami or flooding or fire. I am scared stiff look what happened to facebook total collapse and this can happen to any system



CLOUD COMPUTING


AbiiTsige | Thu Oct 10 13:39:03 2013


Cloud computing promises huge efficiency and cost benefits to SMEs. As rightly highlighted in the Editor's Article, there are a number of challenges that need to be addressed. As it is true for any new technology, many future users, no doubt, see Cloud Computing (CC) with suspicion. They raise many questions including, what does CC do? How is it different from current services? will the service be under my control or do I have to relinquish control to the service provider? Are my data safe in the hands of the service provider? Most of these concerns can be addressed with a properly planned and executed awareness creation program. Demonstration of the services through government-led pilot projects can provide confidence to users.



Cloud Computing


Arun Kumar | Thu Oct 10 12:10:23 2013


This is certainly a good initiative on behalf of Govt.if they really provides this service to SMEs. All such ideas are good only if they are implemented and governed for quality services. Most of operators are generally interested in selling such services but no one guarantees the performance. In absence of reliability and outage of such service the SME is more likely to be hit badly. This is similar to the internet services provided by various operators. They do not deliver as per commitment but one goes on paying for poor or no services. Whenever complained they come and prove that problem is not because of them as they manipulate before visit. Protection from such things have to be provided before SME can make best use of such technological support for enhancement of working efficiency. Private operators are only interested in making best business out of all such initiatives. One has to be careful.



Cloud Computing Welcome step.


Sajid Shaikh | Thu Oct 10 07:45:34 2013


Dear Sir. First of all many thanks for your very interesting and informative articles, i am reading it with much interest and share with my friends. I think cloud computing will bring the revolution in our SME market, as we can compete with big companies in very professional manner, but proper advertisement and training required, about data safety. But sir there is a major problem in our country specially in district level and that is basic facilities from government, such as Electricity and Network connection to using this kind of Technology. Thanks again. Sajid Shaikh. callsajid@yahoo.com



Cloud computing - where SMEs stand


Mahesh Suryavanshi | Thu Oct 10 06:08:53 2013


Dear Sir, You have pretty much touched all sensitive aspects. Network & bandwidth are real issues. Though it may sound economic initially, set-up and yearly charges of service providers over a longer period come to same or more. Also, the fear is the last veto in case of dispute, will be with service provider. Like it happens in all other services, they can stop services for reasons justifiable to them.



Security is the big problem


Kamlesh Bhalodi | Thu Oct 10 05:13:52 2013


Most of the contents on the internet is available everywhere and at-least everything is accessible to the host of the cloud. So I don't feel its safe to use cloud for the important document.



Cloud Computing


Sanjeev | Thu Oct 10 04:16:32 2013


Dear Sir, Subject article help everybody about new technology. Thank you for guiding. Will you please give link enable to all concern to get detail idea about service providers their charges and plans etc.? Regards. Sanjeev



Cloud - Future is coming !!


Laxminarayanan S | Wed Oct 9 23:49:11 2013


Cloud computing has much more to do than just impacting the IT landscape. This will have a tremendous impact on the business in the upcoming days. Applications on the Cloud is going to get cheaper with variety of benefits which cannot be derived if one is offline. I urge, security is utmost and well maintained in the cloud than in the local set up. Extremely useful insights of data analysis and taking the business to where the user is possible with cloud. One can imagine the benefits of living in a community when one is in Cloud. If any one is interested in knowing / implementing more on the cloud platform, I would surely love to help them. I am reachable at REACHLAXMI@gmail.com.



Reluctant to use cloud


Jim Simpson | Wed Oct 9 13:27:19 2013


Every "Agreement" that I "Agree" with for online services when dealing with security-storage-communications basically states the same things- 1. NOTHING that they do are they accountable fore- be it direct or consequential. 2.My data WILL be used in some way by them, whether anonymous or not.. Simply put,they want my data that , like voting, will predict trends. Given recent revealing exposure of government data collection, there is really no security in terms of my data being used- period. I do not consider this a bad thing- except that is supports my reluctance to use the cloud if my choice is NOT to "VOTE" by not participating. In General, we just have to realize that we are always sharing communications, overt, or covert, just as we share DNA. The results of this sharing causes angels and monsters to evolve. Communications are accelerating exponentially with consequences evolving that cause change. Truth comes from a point of view. Not all will be happy when we "mow down the fire-prone grass to expose the lion".






shrenik | Wed Oct 9 05:36:45 2013


Also the Cost involved in using the Bandwidth across the sectors full time. The cost in India is relatively high.



Cloud Computing


Milind Mundlik | Wed Oct 9 05:02:26 2013


Could you explain "Badal" Project of Govt of India for MSMEs?


Re: Cloud Computing


Sameer | Wed Oct 9 05:30:40 2013


Govt announces cloud computing project 'Baadal' for MSMEs - See more at: http://www.smetimes.in/smetimes/news/top-stories/2013/Jul/25/govt-announces-project-baadal-for-msme-sector6278120.html


Lack of internet speed in rural areas


Teja | Wed Oct 9 04:59:24 2013


In some rural or sub-urban areas where most of SMEs and MSMEs are located, there is no proper internet connection and secondly, low bandwidth are the problems. I believe Google's internet cloud project would help address this issue.


Customs Exchange Rates
Currency
Import
Export
US Dollar

66.20

64.50
UK Pound

87.50

84.65
Euro

78.25

75.65
Japanese Yen
58.85
56.85
As on 26 Sep, 2021
Daily Poll
COVID-19 has directly affected your business
| | |
| --- | --- |
| Commented Stories | |