---

The festive flavour of Deepavali

---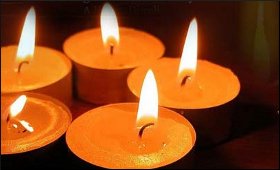 | | |
| --- | --- |
| Top Stories | |
Bikky Khosla | 16 Nov, 2012


Deepavali is over now, but the festive flavour still lingers in our minds. With hopes and blessings, gifts and sweets, lights and firecrackers, this auspicious ceremony lights up our souls and fills up our heart with bliss. Every year, in every corner of India, from Kanyakumari to Kashmir this "festival of light" is celebrated with great enthusiasm, regardless of race and religion, reflecting the spirit of united India, and leaving everyone of us with a sense of fulfillment and positivity. This time again it's no different.

Celebrated since time unknown, Deepavali, Diwali or Divali, which symbolizes victory of righteousness over evil, has remained one of most popular festivals in the Hindu calendar. There are a number of mythical stories behind the origin of this tradition. According to some beliefs, the tradition can be traced back to the story of Lord Rama, the legendary king of Ayodhya who is also the seventh avatar of the god Vishnu Rama. His subjects celebrated their beloved king's homecoming as he was returning after spending a period of fourteen years in exile -- an exemplary move and of perfect adherence to 'dharma' taken for the sake of his father's honour. They celebrated Lord Rama's return to Ayodhya lighting up their houses with earthen lamps and burst crackers -- in the same way as we celebrate today on a Diwali day. According to another popular story, on this very Diwali day the Goddess of wealth, Lakshmi rose up from the ocean during 'Samudra Manthan', the churning of the ocean of milk by both Devas (gods) and Asuras (demons). According to the Bhagavata Purana, the tradition of celebrating Diwali started in memory of the event of Lord Vishnu's killing of Narakasura, an evil demon king. There are many other popular beliefs that refer to other stories narrated in different sacred Hindu texts as the origin of this tradition.

And not only in Hinduism, in some other India religious traditions also, such as Jainism and Sikhism Diwali holds great significance. For Jains, the 24th Tirthankar attained liberation or Nirvana on a Diwali day. Similarly, for Sikhs Diwali was the day when the foundation stone of the Golden Temple at Amritsar was laid in 1577. Again, it was on a Diwali day when Guru Hargobind Ji, along with 52 other rajas, was freed from imprisonment. Intolerant and oppressive Mughal Emperor Jahengir had imprisoned the Guru fearing the latter's wide popularity but later the Emperor had to order release of the Guru facing wide public outrage. On the other hand, some others believe that the tradition started much before - during the days of the third Sikh Guru Amar Das Ji who started the tradition of holding large Sikh gatherings on Diwali and the tradition of celebrating the festival has continued till today.

The five-day Diwali festival begins with Dhanteras, a day set aside to worship Goddesses Lakshmi; on the second day Kali, the goddess of Strength, is worshiped. The third day is the most important that sees colours of firecrackers, lighting of lamps. Lakshmi Puja is performed on this day. On the fourth day, Vishkarma puja is observed while on the fifth day of the festival, Bali, a benevolent and righteous Asura King is recalled. However, due to diversity of Indian culture, there are many manifestations of the Diwali festival. For example, in Haryana, Govardhan Puja forms an important part of Diwali celebration while in Maharashtra the day is celebrated as Bali Prativpada. In Haryana, Gujarat, it is celebrated as New Year, as Vikram Samvatthe, the calendar established by Indian emperor Vikramaditya, a legendary 1st century BC emperor, starts on this day.

Thus, the story of Diwali is as colourful as the festival itself and even more, and the tradition is passed down through the generations. We all Indians - regardless of religion, race, ethnicity and culture - celebrate this festival across India and abroad. Symbolically, this festival is about enlightenment of soul and burning all our bad times. It is about dispelling the darkness of ignorance. I wish that all of you and your family prosper gloriously in the coming days. May you all attain full spiritual wealth, and also prosper gloriously in the material universe.
Please comment on this story:
Subject :
Message:

(Maximum 1500 characters) Characters left 1500
Your name:

Diwali Story


Sudha | Sun Nov 18 00:58:40 2012


Thanks with my little knowledge, Krishna Avatar comes after Rama avatar, Diwali is celebrated on killing of rakshasa is only from krishna avatar. So in all probablities, there is no diwali during Rama avatar. Diwali is born only in Krishna Avatar. Forgive me if i am wrong.



Excellent article


AJAY K. SRIVASTAVA | Sat Nov 17 10:38:10 2012


Can also note the following:- 4th day is also celebrated as Goverdhan Puja & fifth day as bhai Duj in North India



Diwali


Shyam Bazari | Sat Nov 17 09:56:49 2012


Every time we defeat our inner evil,we resist the wrong & do the right, It is Diwali- homecoming of our consciousness.


Customs Exchange Rates
Currency
Import
Export
US Dollar

66.20

64.50
UK Pound

87.50

84.65
Euro

78.25

75.65
Japanese Yen
58.85
56.85
As on 28 May, 2018
Daily Poll
Is counterfeiting a major threat to SMEs?
| | |
| --- | --- |
| Commented Stories | |