---

Wholesale price inflation eases in Sep to 2.6 pc

---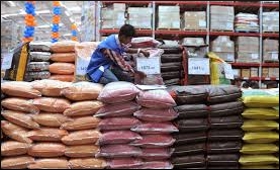 | | |
| --- | --- |
| Top Stories | |
SME Times News Bureau | 16 Oct, 2017


Cooling of food prices helped ease India's annual rate of inflation based on the wholesale price index (WPI) in September to 2.6 percent, official data showed on Monday, even as industry welcomed the numbers saying it had opened room for the RBI to cut interest rates.

According to data released here by the Commerce Ministry, the WPI, with the revised base year of 2011-12, eased from 3.24 percent in August. The wholesale inflation rate was at 1.36 percent during September 2016.

"The rate of inflation based on WPI Food Index consisting of 'Food Articles' from Primary Articles group, and 'Food Product' from Manufactured Products group decreased from 4.41 percent in August to 1.99 percent in September," the statement said.

"Index of 'Food Articles' group declined by 4 percent for the previous month due to lower price of fruits and vegetables (15 percent), betel leaves (6 percent), ragi (4 percent), bajra (3 percent), pork, maize and tea (2 percent each) and poultry chicken (1 percent)," it added.

Onion prices, however, continued to remain high with a 79.78 percent increase in September. The eggs, meat and fish category saw a price rise of 5.47 percent.

Wholesale prices had risen in July to 1.88 percent from June's 0.90 percent hike and an increase of 2.26 percent reported for May.

On a segment-wise basis, expenses on primary articles, which constitute 22.62 percent of the WPI's total weightage, declined during the month in consideration by 3 percent, from an increase of 2.26 percent in August.

The index for 'Non-Food Articles' declined marginally by 0.2 percent in September, as compared to the previous month.

Instead, prices of the other major group under the WPI -- manufactured products -- which comprise nearly 64.23 percent of the index, rose marginally by 0.4 percent.

Also, the fuel and power price index's inflation accelerated in September by 1.7 percent over the previous month while, under this category, 'mineral oils' rose by 3.3 percent.

Product-wise, the price of high-speed diesel rose by 2 percent during September, while that for petrol climbed by 3 percent, and for LPG by 10 percent.

Data last week showed retail inflation remained static in September at 3.28 percent as compared to August, with a marginal drop in the food prices

On a sequential basis, the country's Consumer Food Price Index (CFPI) dropped to 1.25 percent during the month under review when compared to 1.52 percent in August 2017.

Earlier this month, the Reserve Bank of India (RBI) maintained its hawkish stand, keeping its key interest rate unchanged at 6 percent in view of rising inflationary pressures and concerns over "fiscal slippage".

Commenting on the WPI data, Confederation of Indian Industry (CII) Director General Chandrajit Banerjee said in a statement: "When taken together with the CPI (consumer price indexed) inflation number, which has remained unchanged during the month, the data would help boost sentiments."

"Given the moderation in both CPI and WPI inflation, the RBI should resume the rate easing cycle in its next monetary policy announcement to give a fillip to demand."

Industry body Assocham said the September rise in WPI, as compared to the same month last year, is in line with expectations based on marginal rise in demand, increase in crude and commodity prices, as well as improved macro-economic parameters of global growth.

"Rise in WPI numbers may have corresponding upward impact on CPI, which may limit the possibility of rate cut by RBI, which has already shown concern for increase in inflation in the future," Assocham said in a statement.

"It is clear from the recent global economic policy announcements that interest rates are going to increase in future.

"The chamber advises the policy makers to take corrective action to address the situation of rising interest rates coupled with the situation of twin balance sheet problems in India, limited capacity of private sector to invest and existing unutilised capacity of industries to produce," it added.
Please comment on this story:
Subject :
Message:

(Maximum 1500 characters) Characters left 1500
Your name:
Customs Exchange Rates
Currency
Import
Export
US Dollar

66.20

64.50
UK Pound

87.50

84.65
Euro

78.25

75.65
Japanese Yen
58.85
56.85
As on 14 Dec, 2018
Daily Poll
Is counterfeiting a major threat to SMEs?
| | |
| --- | --- |
| Commented Stories | |