---

Govt keen to implement Strategic Partnership model

---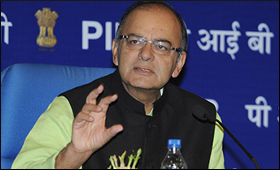 | | |
| --- | --- |
| Top Stories | |
SME Times News Bureau | 25 May, 2017


The Union Cabinet on Wednesday "took note" of the Defence Ministry's proposed Strategic Partnership model for encouraging indigenous manufacturing in the field of defence, and the government would like to implement it "as fast as we can", Union Minister Arun Jaitley said.

Jaitley, who holds both the Finance and Defence portfolios, briefing journalists after a meet of the Union Cabinet said there has been an opinion for a long time that domestic manufacturing in defence should be pushed.

"Cabinet took note of this proposal which deals with encouraging Make in India in relation to defence manufacturing," Jaitley said.

"It took note because it becomes a part of the procedure of Defence Procurement Policy. It is an important issue, so reporting to the Cabinet was necessary," he said.

Explaining the model, the Minister said: "Since there will be a need for technology transfer at a large scale, the strategic partner will be an Indian firm and the Original Equipment Manufacturer will be a global company with which there will be a tie-up... As per the capacity and price bid, in every sector, strategic partners will be selected."

The Minister said the government would like to implement it "as fast as we can" and the model will "coexist" with the Defence Public Sector Units (DPSUs).

"Under the policy, the capacity of Defence PSUs will also be taken into account, how much work they can do, and capacity building in private sector in the field of defence in the country should start," he said.

Jaitley said capacity building in private sector was necessary as India is spending majorly on defence equipment import, and this cost was only to rise in future.

"Defence is a sector where equipment in large numbers are bought from abroad and seeing the size of the Indian economy, there was this opinion that manufacturing should start within the country."

"...Defence preparedness itself necessitates that you procure and manufacture domestically. These are sectors in which I anticipate in years to come government spending to also increase...," the Minister said.

As per the latest report of Stockholm International Peace Research Institute (SIPRI), India is the world's largest arms importing country, accounting for 13 per cent of global arms imports between 2012 to 2016.

Jaitley also said that assurance that the government will be the buyer is needed for capacity building of private sector.

"...You must bear in mind that this is one sector where domestically government is the only buyer. It is only when they acquire large capacities and build up large experience that they get an international order booking. Substantially, it is the government which is the buyer," he said.

"The reasonable expectation of government doing business with a particular party incentivises setting up of a manufacturing facility. You don't set up a manufacturing facility if you do not have a hope of getting an order. And that is the rationale behind the strategic partnership model."

The Minister said that it is not necessary that the tie up with a global company is only through the FDI route and it can also be just technology transfer.

"In round one we opened up FDI, it is not necessary that in every tie-up must be FDI based, it can be technology based also," he added.

The Defence Ministry finalised the Strategic Partnership model at a meeting of the Defence Acquisition Council (DAC) on May 20.

The policy envisages the establishment of long-term strategic partnerships with qualified Indian industry majors, wherein the Indian industry partners would tie up with global original equipment manufacturers, to seek technology transfer and manufacturing know-how to set up domestic manufacturing infrastructure and supply chains in defence manufacturing.

Jaitley said four sectors have been finalised for the model at present - fighter aircraft, helicopters, submarines and armoured fighting vehicles and main battle tanks.

"These platforms will be manufactured in India, and a model for bidding has been formulated under which in every field, for every platform, one private sector will be chosen," Jaitley said.
Please comment on this story:
Subject :
Message:

(Maximum 1500 characters) Characters left 1500
Your name:
Customs Exchange Rates
Currency
Import
Export
US Dollar

66.20

64.50
UK Pound

87.50

84.65
Euro

78.25

75.65
Japanese Yen
58.85
56.85
As on 23 May, 2019
Daily Poll
Is counterfeiting a major threat to SMEs?
| | |
| --- | --- |
| Commented Stories | |