---

PM's I-Day speech: Govt eases way for small businesses

---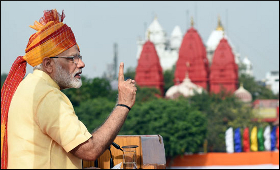 | | |
| --- | --- |
| Top Stories | |
Saurabh Gupta | 16 Aug, 2017


As part of efforts to improve the ease of doing business in the country, Prime Minister Narendra Modi on Tuesday said that his government has reduced the number of forms for small businesses to just 5-6 from 50-60 forms earlier.

In his Independence Day address from the ramparts of the historic Red Fort in New Delhi, Modi said, "In the labour sector alone, even a small businessman had to fill up to 50-60 forms, but we have now made it more convenient by reducing it to just 5-6 forms."

"I can provide many such instances of Good Governance, simplifying the process of Governance. By reiterating this we have enforced faster decision making. And that is why 125 crore countrymen have been able to repose faith in our governance," he added.

The government has relaxed the procedures for setting up companies by introducing an integrated electronic application form.

Speaking more about the micro, small and medium enterprises, he said, "Loans worth more than Rs 8 crore have been sanctioned without guarantee to the youth for self-employment. The interest on bank loans have been lowered."

"The times have changed. The government is determined to do all it says, like doing away with the interview process," he added.

PM calls all states to come together in the direction of ease of doing business. He said, "Whether it is GST or Smart City Project, whether it is Swachh Bharat Abhiyan, or construction of toilets, or ease of doing business, all these are being accomplished by working together shoulder to shoulder with the States."

"We have taken several steps and I am sure that post GST, it will increase further and bring in transparency," he added.

On infrastructure he said, "We have laid emphasis on infrastructure. We have invested lot of funds for building the infrastructure – from modernization of the railway station in a small town, to build an Airport, to expand water-ways or roadways, to form a gas-grid or a water-grid or to lay down an optical fibre network. We are emphasising on all types of modern infrastructure."

"In order to build a prosperous India, we need a strong economy, balanced development and next generation infrastructure. Only then, we can realise the India of our dreams," PM said.
Please comment on this story:
Subject :
Message:

(Maximum 1500 characters) Characters left 1500
Your name:

Infra Structure in Villeges


rajendra satla | Thu Aug 17 12:16:15 2017


Mr Mody & team had already implemented - what is been said in election manifesto .The concrete roads right inside small villages in my villege near Badlapur is alrady 90 % completed .We are now awaiting - water -electricity -employment generation & market for our produce -we have 100 % confident -this will also be implemented soon in our villege - Great Work - which we had seen after 70 years of Independence



loan under CGTSME


duraisamy | Thu Aug 17 09:54:06 2017


every where same issus






SID | Thu Aug 17 09:27:49 2017


Speaking same thing since 3 years and fact at ground is all industries have been collapsed and no bank is ready make loan without collateral security, PM say 8 cr, who is getting benefit, let BJP workers shall find it... PM KI BAAAT ACCHE HAI, PARANTU KUCH BI NAHI HO RAHA HAI,,.



SME Financing


Sanjay Arora | Thu Aug 17 08:25:04 2017


All the schemes of loans to MMSME only exists on paper. i have been trying to get a loan under CGTSME for last 3 years. No bank is ready to oblige, they are all asking for some collateral


Re: SME Financing


C.M.Ganeshram | Thu Aug 17 13:54:50 2017


I disagree with you. Way back in 2008 I was given a MSME loan by Axis bank based on the Past performance and Renewed the loan The Amount Sanctioned was Rs 10 lacs as MTL and % lacs as OCC. As i did not default and paid in excess of EMI fixed i was ahead of Schedule and while renewing for next year The OCC was increased to rs 10.00 Lacs. I closed the loan as i generated enough Cash for sustenance. The bank very very reluctantly allowed me to foreclose. It was not any Govt bank but AXIS bank -a private sector Bank. If all the documents they ask is provided, Iam sure the loasn will be sanctioned. I never offered any collateral but Machineries and Raw materials were Hypothecated. Kindly ensure all papers asked for are submitted. Now i run my business with the cash generated. Wish you all the best


GST filing


Imran Hanwari | Thu Aug 17 03:04:46 2017


With due respect to the PM, GST filing for small businesses has become more cumbersome. As a small exporter, my CA is going to charge me Rs 4000 every month for just filing returns, even if there are zero returns. All this adds up to the cost of doing business and we have to raise our prices. This may lead to micro exporters being uncompetitive in the export markets.


Customs Exchange Rates
Currency
Import
Export
US Dollar

66.20

64.50
UK Pound

87.50

84.65
Euro

78.25

75.65
Japanese Yen
58.85
56.85
As on 18 Jun, 2018
Daily Poll
Is counterfeiting a major threat to SMEs?
| | |
| --- | --- |
| Commented Stories | |