---

General election 2014 in April-May, vote count May 16

---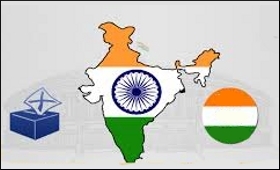 | | |
| --- | --- |
| Top Stories | |
SME Times News Bureau | 05 Mar, 2014


The Lok Sabha election will be spread over nine days starting April 7 and ending May 12 and the vote count will take place across India May 16, the Election Commission announced Wednesday.

Chief Election Commissioner V.S. Sampath said the polling dates would be April 7, 9, 10, 12, 17, 24 and 30 and May 7 and 12. "Model code of conduct from Wednesday," said Sampath.


State wise Loksabha Election date 2014
State Name
Election date 2014
Andhra Pradesh
30th April, 7 May
Arunachal Pradesh
9th April
Assam
17,20, 24th April
Bihar
10,17,24,30,7th, 12 May
Chhattisgarh
10TH May
Goa
17Th April
Gujarat
30th April
Haryana
20th April 2014
Himachal Pradesh
7th May 2014
Jammu and Kashmir
10,17,24,30 April, 7th May 2014
Jharkhand
10, 17, 24 April
Karnataka
17th April
Kerala
10th April
Madhya Pradesh
10, 17, 24th April
Maharashtra
10th , 17, 24 April
Manipur
9th , 17th April
Meghalaya
9th April
Mizoram
9th April
Nagaland
9th April
Odisha (Orissa)
10, 17th April
Punjab
30th April
Rajasthan
17thm 24th April
Sikkim
12th April
Tamil Nadu
24th April
Tripura
7th and 20th April
Uttar Pradesh
10, 17,24,30 April 2014 , 7, 12th May
Uttarakhand
7th May
West Bengal
17, 24, 30 April 2014 7, 12May 2014
A & N Islands
10 April
Chandigarh
10 April
Dadra & Nagar Haveli
30 April
Daman & Diu
30 April
Lakshadweep
10 April
NCT of Delhi
10 April
Puducherry
24 April


Simultaneous assembly elections would be held in Sikkim, Odisha and Andhra Pradesh, he added.

The number of Indian voters has shot up from 176 million in the first general election held in 1952 to some 814 million in 2014, Sampath said.

Sampath told the media that the increase in the number of voters since the last Lok Sabha polls of 2009 was about 100 million.

Please comment on this story:
Subject :
Message:

(Maximum 1500 characters) Characters left 1500
Your name:
Customs Exchange Rates
Currency
Import
Export
US Dollar

67.55

65.90
UK Pound

83.45

80.70
Euro

74.50

72.00
Japanese Yen
65.55
63.35
As on 26 Oct, 2016
Daily Poll
GST will benefit small and medium enterprises (SMEs)
| | |
| --- | --- |
| Commented Stories | |