---

Banks need to speed up MSME loans under PMEGP: Govt

---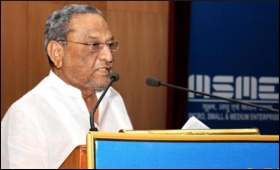 Minister of MSME, Dinsha J. Patel addressing a National Workshop on PMEGP in New Delhi on 4th August.
| | |
| --- | --- |
| Top Stories | |
Saurabh Gupta | 05 Aug, 2010


Minister of State for Micro, Small and Medium Enterprises (MSME) urged banks to speed up loans disbursement to MSMEs under the Prime Minister's Employment Generation Programme (PMEGP) to meet the target of 59,714 projects in current fiscal.

Speaking at the National Workshop on PMEGP, held in New Delhi on Wednesday Minister of State for MSME, Dinsha Patel said, "I request all the CMDs of banks to issue policy circulars to the financing branches to ensure fulfillment of the targets allocated".

The workshop was held to review the critical areas of the flagship scheme of KVIC and improve its implementation.

The minister informed that the target fixed for the current year i.e. 2010-11 is 59,714 projects with Margin Money assistance of Rs. 836.00 crore to create employment opportunities to 5.97 lakh persons.

He, however, said so far the disbursements only amount to 10 percent of the target for this financial year. The need of the hour is for the Khadi and Village Industries Commission (KVIC) to reach every village, he said.

Under the scheme, out of the total loans sanctioned by banks, 15 percent is meant for scheduled castes, while 7.5 percent would be for scheduled tribes, 27 percent for other backward classes, 5 percent for minorities and 30 percent for women.

The minister said that During the last two years about one lakh projects have been sanctioned by creating employment opportunities to about 10 lakh persons in the country.

He further said that scheme would provide continuous and sustainable employment opportunities in the country, through this powerful tool for industrialization.

During the year 2009-10, against the Margin Money target of Rs. 559.70 crore, the utilization of M.M. is Rs. 742.76 crore, which is 133% achievement over the said target.

Through the continuous persuasion at various levels by the Ministry of MSME, Reserve Bank of India has issued 'Notification' for collateral free loans upto Rs. 10.00 lakh, which was earlier upto Rs. 5.00 lakh only.

"Hence, any beneficiary who wants to set up PMEGP project upto Rs. 10.00 lakh, need not provide collateral security to the bank for the loan," Patel said.

"Further, loans above Rs. 10.00 lakh are also eligible to be covered under 'Credit Guarantee Scheme', which provides insurance for the loans to the bank and encourages the banker to provide loan without any risk and hesitation."

The Minister appealed to all the bankers to implement this 'Credit Guarantee Scheme' with letter and spirit by giving wide publicity for the benefit of the beneficiaries under the scheme.

While speaking on the same, the Secretary (MSME), Dinesh Rai also said that it is a very efficient tool for creating a strong entrepreneurial base in the country.

"During the last two years, Khadi and Village Industries Commission (KVIC) along with other implementing agencies of the programme i.e. State Khadi and Village Industries Boards (KVIBs) and District Industries Centres (DICs) has been able to provide assistance for setting up about 65000 micro enterprises."

"Thereby providing employment opportunities to around 6.5 lakh persons in the country. Enhanced disbursal of Credit during 2009-10 as compared to the previous year is indicative of growing popularity and involvement of agencies and banks in the programme," Rai added.

Please comment on this story:
Subject :
Message:

(Maximum 1500 characters) Characters left 1500
Your name:
PMEGP loan
Mr. Pandit Hiwale. Mob.9049333390 | Mon May 20 09:04:19 2013
Ratnakar Bank, Aurangabad is asking for property mortgage of Rs. 33 lak for PMEGP loan of Rs. 23 lakh. Kindly help.


pmegp 24.9 lackh not released by sbi gaddeulia-7021under rcpc baripada .orissa


pradeep kumar pradhan | Fri Mar 11 08:32:57 2011


i closed two nos personal loan & one busines loan to private financer.i closed loan after received offer letter from them.but rcpc baripada not acceted loan closed for that loan not sectioned.please see matter & advice me what to do



Creation of a strong entrepreneurial base


Vidyut | Tue Mar 1 15:42:51 2011


Without a base we are not addressing any viable concerns



no land


ahtasham | Mon Feb 28 14:13:49 2011


i dont have a space of my own and cannot afford to rent the same before the loan gets sanctioned please help me i want to start a waste cloth recycling project



REGARDING PMEGP


Manash Dutta | Mon Feb 28 10:59:00 2011


Dear Sir. We are Engineering Manufacturing Calcutta base Company.We are supplying our material as per Order in different Govt. Smi-Govt & Reputed Privet Organisation last 15 years. But due working Capital we can not cotinue our Business.Please kindly arrange our Working capital & oblige us.




pmegp


Hari | Fri Feb 18 08:16:53 2011


sir, c.g.s loans canot given banks.



Funds for computer Instiute


Kamal | Mon Jan 17 10:50:03 2011


Sir, I want To open Computer Institute. But I have no money. I need 15 lac rupees. Somebody help me



new small industrt loan


rakesh pancholi | Mon Jan 3 04:58:44 2011


i want start a export bussinis gems&jewellery in jaipur so i need 25 lace rs so please help mee



working capital loan


GAURANG PATEL | Thu Dec 2 13:51:27 2010


dear sir: i want to start a export business and i need to rs:15 lacs but i have no money,so please help me to doing business.


Re: working capital loan


rakesh pancholi | Sun Dec 26 08:20:21 2010


dear sir i want to start a export busniss gems&jewellery and i need 25 lacs but i have no money. so please help me doing business thanks compney-meenakshi enterprises tin no,0854165150 iec no,1310011036 addres shop no.81 indera market chaksu jaipur pin cod no.303901 (raj)


loan price how much


ramadoss | Sun Sep 26 16:27:46 2010


please this ans


Re: loan price how much


Anil Paudel | Tue Feb 22 15:46:25 2011


5 lac

Customs Exchange Rates
Currency
Import
Export
US Dollar

66.20

64.50
UK Pound

87.50

84.65
Euro

78.25

75.65
Japanese Yen
58.85
56.85
As on 20 Jan, 2019
Daily Poll
Is counterfeiting a major threat to SMEs?
| | |
| --- | --- |
| Commented Stories | |