---

'Education of kids of artisans to be linked with industry participation'

---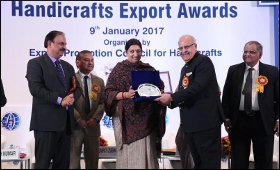 | | |
| --- | --- |
| Top Stories | |
Saurabh Gupta | 10 Jan, 2017


Union Minister of Textiles, Smriti Zubin Irani Monday said that open school education for the kids of artisans to be linked with industry participation.

Addressing an award ceremony, organized by Export Promotion Council for Handicrafts (EPCH), she said that education of the children of the craftspersons should be fully sponsored through the industry participation.

Rakesh Kumar, ED - EPCH said that it agreed to the same and about 10,000 children of the craftspersons are being targeted by EPCH to be educated in the first phase as a social welfare measure.

Union Minister has distributed export awards for excellence in exports to Handicrafts exporters for the year 2013-14 and 2014-15 in a colourful ceremony in New Delhi on Monday.

Addl. Secretary, Ministry of Textiles, Pushpa Subramaniyam, besides other luminaries from the trade and industry, officials of the Government, Industry association and press and media were also present during export award ceremony.

The Export Awards for outstanding performance of handicrafts exports to total 134 exporters i.e. 66 awards for 2013-14 and 68 awards for 2014-15 were distributed during the august ceremony.

Out 134 Awards, 53 trophies [including hat-tricks] & 81 merit certificate were given under each product category such as Artmetelware, EPNS Handicrafts, Woodwares, Zari Handicrafts, Lace, Laces & Embroidery, India Items, Textiles based handicrafts, fashion jewellery, marble alabaster & crafted stone, papiermachie, iron crafts, jute handicrafts, glass, artware, ceramic artwares, aluminium artwares, aggarbatties as handicrafts, handicrafts of handmade paper products, handicrafts of leather, handicrafts of Eco friendly, shawls as artwares, handicrafts of smoking accessories and misc. crafts.

The Minister of Textiles during award function urged the exporting community to come forward for the education of the children of the craftspersons through open school or otherwise.

The minister asked the EPCH to begin award for entrepreneurs who are in innovation and packaging, physically challenged entrepreneurs and best award for tribal handicrafts.

Rakesh Kumar, ED – EPCH said that there will be additional new categories of awards to be started by EPCH in next year.

The Minister congratulated all award winners for their excellent work being done by them and advised to keep the momentum intact and do much better in future. She posed her confidence for those exporters who could not receive awards and hoped that they would make efforts to become recipient of award in future.

Rakesh Kumar, Executive Director – EPCH while presenting glimpse of EPCH and welcoming the distinguished guests shared major achievements of EPCH during 30 years such as reaching membership over 10,000, setting up of India Expo Centre & Mart, National Centre for Design & Product Development, Common Facilities Centre in different craft cluster, setting up of Artisans Welfare Trust and entering IHGF-Delhi Fair in Lima Book of world records as the 'World largest congregation of handicrafts exhibitors under one roof' and coming out of latest hurdle put up Convention of International Trade in Endangered species of wild fauna and flora by placing sheesham wood in appendix II of CITES.

Rakesh Kumar informed that instant action taken by Ministry of Environment and Ministry of Textiles, Vriksh has been accepted in lieu of permit of cites for exporting product made out of sheesham and rose wood.

The export target for the year 2016-17 has been fixed as Rs. 23,560 crores [USD 3600 million].

During the eight months of current financial year export amounting to Rs. 16,047.32 crore [USD 2395.43 million] has already been achieved witnessing growth of 8.14 percent in dollars terms and 12.20 percent in rupee terms informed Dinesh Kumar, Chairman- EPCH.
Please comment on this story:
Subject :
Message:

(Maximum 1500 characters) Characters left 1500
Your name:
Customs Exchange Rates
Currency
Import
Export
US Dollar

66.20

64.50
UK Pound

87.50

84.65
Euro

78.25

75.65
Japanese Yen
58.85
56.85
As on 28 May, 2018
Daily Poll
Is counterfeiting a major threat to SMEs?
| | |
| --- | --- |
| Commented Stories | |