---

Farm exports jump by 88 pc to Rs 82,000 cr

---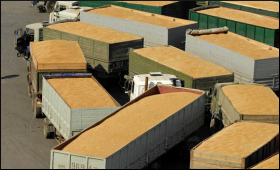 | | |
| --- | --- |
| Top Stories | |
SME Times News Bureau | 04 Aug, 2012


The export of agricultural items rose by 88 percent to about Rs 82,000 crore in the last fiscal, reports media.

According to the report, the growth was achieved on the back of increased export of processed foods, basmati, non-basmati rice, guar (gum and seed), buffalo meat and groundnut.

India's agri exports under Agricultural and Processed Food Products Export Development Authority (APEDA) stood at Rs 43,626.88 crore in the 2010-11 financial year.

"Our farm export earnings have jumped to around Rs 82,000 crore in 2011-12 fiscal helped by rise in exports of processed food, basmati and non-basmati rice, guar, buffalo meat and ground nut," APEDA Chairman Asit Tripathy told agency.

Shipments of processed food from the country are increasing, which is a good sign.

Also the country reaped huge benefits from the global spurt in demand for guar seed and gum due to rise in shale gas explorations in the US, he added.

"With the opening of export of non-basmati rice last year, we have made good progress in its shipments. There was good demand for groundnuts and buffalo meat, of which India is a major exporter, in the overseas markets," Tripathy said.

The export earnings from processed food, which includes processed fruits and vegetables, meat and poultry products, etc., rose to Rs 38,950 crore in the 2011-12 fiscal from around Rs 15,816 crore in the year-ago period.

Similarly, earnings from shipment of buffalo meat rose to around Rs 14,000 crore in 2011-12 compared to Rs 8,412.68 crore in 2010-11 fiscal.

Likewise, guar gum and seed exports fetched the country a whopping Rs 12,000 crore against just Rs 2,811.94 crore in the reviewed period.

The earnings from shipment for the premium aromatic rice variety, basmati, rose to around Rs 13,000 crore in 2011-12 from Rs 10,578.68 crore in 2010-11, while non-basmati rice export rose to Rs 11,000 crore from Rs 222.21 crore in the same period.

Groundnut export earnings rose to about Rs 12,000 crore from Rs 2,094.06 crore in the period under review.

The prospect of rise in export earnings of farm products is favourable, Tripathy said adding that: "We expect India's agri-export earnings to raise by 15-20 percent this fiscal."

APEDA monitors exports of over 14 farm product categories that include floriculture, fruits and vegetables, meat and meat products, processed foods, cereals, cereal products, herbal and medicinal plants, guar gum and so on.

India exports around 1.4 percent of the total global shipments of farm items and imports about 1.2 percent.

It exports farm products to Europe, the US and import items from Canada, Brazil, Argentina, Indonesia, Malaysia, etc.

The top farm trade players globally are European Union, the US, Brazil, Canada and China.
Please comment on this story:
Subject :
Message:

(Maximum 1500 characters) Characters left 1500
Your name:
Customs Exchange Rates
Currency
Import
Export
US Dollar

55.30

54.35
UK Pound

84.50

82.50
Euro

71.80

70.00
Japanese Yen
54.40
53.00
As on 23 May, 2013
Daily Poll
Do you think banks will lower lending rates after recent RBI rate cut?
| | |
| --- | --- |
| Commented Stories | |