---

DISHA: A mission to strengthen ethical sourcing for apparel trade in India

---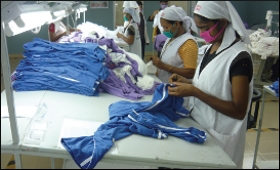 | | |
| --- | --- |
| Top Stories | |
Sameer Pushp | 03 May, 2012


Recognizing the important linkages between ethical trade and economic growth, the Ministry of Textiles Government of India, asked Apparel Export Promotion Council (AEPC) to work on the compliance code for ethical sourcing for the Apparel Exports from India. The Project is called- Driving Industry towards Sustainable Human capital Advancement (DISHA). This project is an attempt to educate apparel exporters on a ''code of ethics'' covering all critical areas of social and environmental concerns.

Under the project DISHA, Rs 2 lakhs would be spent per unit, while participants would be required to contribute Rs 25,000 each. The Textiles Ministry has allocated about Rs 6 crore for the first year (2011-12) of the programme. In the first year, the scheme would cover 400 units in different parts of the country based on a cluster approach.

India's USD 14-billion apparel export sector is critical in terms of revenue and employment. Therefore, an initiative to help manufacturers focus on good work practices and prevention of child and trafficked/forced labour was the need of the hour. The move comes in the backdrop of the concerns raised by a few western countries like the US regarding usage of child labor in production of garments by some domestic units. The US and the European Union together account for 80 per cent of India's total apparel exports.

With DISHA in progress India is well placed to emerge as one of the most compliant sourcing destinations amongst the developing nations and this can be built upon as our biggest value proposition. Under the programme, the units would be encouraged to adopt improved production systems and worker's productivity. The important focus of DISHA is issue of certification. Dr. A Sakthivel, Chairman AEPC said, "We want to involve all certifying agencies. They should all recognize DISHA as a certifying agency. The certification will ensure global acceptance of the certified units." To take the process forward AEPC organized a round table for the 'formation of stakeholders forum'.

The aim for the formation of 'stakeholders' forum' is to integrate perspectives, voices and concerns as well as seek assistance and contributions of various stakeholders of the apparel industry towards developing strategies to improve India's image as an ethical sourcing destination. The stakeholders' forum addressed the challenges of apparel exporters and provide time-honored, focused and need based solution/ assistance. This consultation included participants from International Organizations, NGOs, Trade Unions, Third party accreditation agencies, multi stakeholder institutions, Brands, Retailers and Buying Houses. All of them gave relevant inputs during discussion.

The stakeholders' round table was chaired by Mr V Srinivas, Jt Secretary, Ministry of Textiles. Chairman AEPC, Dr. A Sakthivel addressed the stakeholders. Addressing the meeting Shri Sakthivel said, "DISHA is an advisory body to help small scale exporters as they need a lot of guidance and help to grow. I am happy that so many people and bodies have responded positively to it. It will help in building a quality consensus and everyone will benefit from it." The programme includes issues pertaining child labor, freedom of association, proper wages, capacity building and much more.

Addressing to the stakeholders Shri V Srinivas, JS in the Ministry of Textiles said, "I am deeply touched & moved by this initiative. We are a trade promotion ministry and our mandate is trade promotion. AEPC is the leading export promotion council and we get lot of export revenue from their efforts. Answering to the demand on issues of child labour by the stakeholders, Shri Srinivas said, "6.5 million Inspections of factories have been done in the past. We are in touch with the Labor & Employment Ministry and conviction rates against forced child labor are coming down."

Representatives from ICRIER, STR, Ethical Trading Initiative, TUV Rhineland, WRAP, FLO-CERT, SGS, GIZ, ILO,etc participated in the consultations. As a matter of fact, till date (16th April 2012) 134 units have enrolled for DISHA certification, the letter of Intent received from 68 Units. Self Assessment Tool (SAT) workshops have been conducted for the 51 units. Around 40 Qualitative Assessment Questionnaire (QAQ) filled after one on one interaction with unit representatives. 48 SAT's have been received so far (16th April 12) from the enrolled units out of which 31 have been uploaded and 17are under process of completion.

The vision of DISHA is to embrace best of the standards and practices suggested through the feedback of stakeholders' so that, India's apparel trade is on a path of rapid and sustained growth.

* The author is Senior Public Relation officer at AEPC.
* The views expressed by the author in this feature are entirely his own and do not necessarily reflect the views of SME Times.


Please comment on this story:
Subject :
Message:

(Maximum 1500 characters) Characters left 1500
Your name:

Child Labour Economics


Saurabh Singh | Thu May 3 06:30:02 2012


I appreciate the efforts of Ministry of Textile. BY breaking the backbone of child labor economy we can eliminate child labor. In past famous NGOs like Bachpan Bachao Andolan have undertaken various campaigns to break the backbone of child labor economy which have yielded very good results.


Customs Exchange Rates
Currency
Import
Export
US Dollar

55.30

54.35
UK Pound

84.50

82.50
Euro

71.80

70.00
Japanese Yen
54.40
53.00
As on 23 May, 2013
Daily Poll
Do you think banks will lower lending rates after recent RBI rate cut?