---

Digital media is a necessity now: Co-Founder, Bee Online

---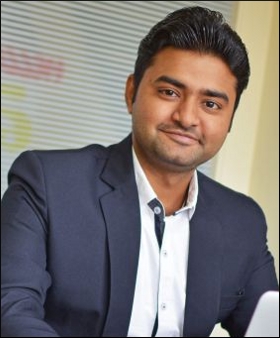 | | |
| --- | --- |
| Top Stories | |
Saurabh Gupta | 17 Oct, 2017


Today, digital media is finally being perceived as a necessity and isn't optional anymore, said Hiren Joshi, Co-Founder, Bee Online.

"'Digital India Movement' is one step that will help Indian businesses witness unparalleled success, the credit for which goes to none other than our government. I will forever be grateful to the government for bringing forth the Digital India Mission. It is only because of this mission, that Indian businesses became aware of the underlying potential of digital media," Shah told SME Times in an exclusive interview.


Excerpts of the interview...



What is Bee Online? What is a 'Full-Service Digital Agency'?
Hiren Joshi: Bee online is essentially a digital agency, but not your regular agency. We do not believe in simply offering one-time solutions. In fact, we function as the trusted marketing partner and collaborator for all our clients. We aim at creating result-oriented digital strategies and consistently evaluate the same until optimal outcomes are achieved.
For what it's worth, we like to be known as a Full-Service Digital Agency. Why? Well, we plan, design, & develop commendable websites from start to finish. We offer end to end digital marketing solutions including market research, search marketing, social media strategy, and creatives. We also build customized Mobile Apps across all the leading platforms including Android, iOS, Windows, and Blackberry.

Please tell us more about your products and how cost efficient your services are?
Hiren Joshi: As far as our offerings are concerned, our clients can depend on us for -

Search Engine Optimization Service
Social Media Marketing
Search Engine Marketing
Online Reputation Management
Graphics Designing
Blogger Outreach
Custom Web Development
Custom Web Designing
Mobile App Development
Our services are increasingly cost-efficient, thanks to the new costing model that we've adopted. With certain clients where we see a potential, we operate on a revenue sharing model. This model ensures that our clients enjoy the best of services, as they only need to pay us if we meet certain key performance objectives. Moreover, it is an ideal way for our firm to generate additional income, along with the monthly retainer format.

There are too many players in this area and even some MNCs. How do you see the market prospects in this sector? Who are your prospective clients?
Hiren Joshi: Yes. That is true and to a large extent great as well! I say so because I order for a marketplace to be competent in its prices as well as services, it should have more than just a few players. This helps the consumer make an informed choice.

As a business, sometimes the competition can prove to be tough. However, we believe in our capabilities as an agency and we are confident in our abilities to get all our client's requirements aligned as per their precise requirements. By initiating a revenue-based model which will bring us income only if certain results are achieved, we wish to demonstrate a growing confidence in our team to achieve the desired results.

As far as our list of clients goes, we are proud of serving reputable organisations such Candere by Kalyan Jewellers, IBJA Gold, Godrej, Lokmat, Balaji Wafers, Priyagold, SPJIMR, J M Financial, Sun Capital, to name a few. When it comes to prospective clients, we have our eyes on any small, medium or large scale organisation who is willing to take a plunge in the area of digital marketing.

What makes you different from others?
Hiren Joshi: The USP of Bee Online lies in our resources, intelligence, and servicing. Our humble yet notable success story is nothing but the result of good servicing which helped us scale the company to remarkable levels. What's worth mentioning here, is that we haven't invested a much in marketing & it's growing quite organically.

What do you think are the major challenges in your sector?
Hiren Joshi: As is the case with almost all businesses, our challenge lies in getting ahead of the curve. Given that there are innumerable small and big players in the arena of digital marketing, it can be a daunting task to establish one's identity, especially in new geographies. However, we believe that an organisation's reputation precedes it and hence consistently work towards building an unmatched identity. Again, our new revenue-sharing model has helped us go a long way in meeting this end.

How do you see the government's 'Digital India' move? Do you agree that what government doing is enough for the betterment of this sector?
Hiren Joshi: When the Prime Minister Narendra Modi's 'Digital India Mission' was initiated, we, the Directors of Bee Online (I, Abhishek Shah, Hiren Joshi and Himanshu Verma) took it as our onus to support the mission. Inspired to the very core, we were determined to make digital marketing accessible and affordable for all business segments.

Would you like to say something on this to the government?
Hiren Joshi: I will forever be grateful to the government for bringing forth the Digital India Mission. It is only because of this mission, that Indian businesses became aware of the underlying potential of digital media. Today, digital media is finally being perceived as a necessity and isn't optional anymore. This is one step that will help Indian businesses witness unparalleled success, the credit for which goes to none other than our government.

After Digital India Movement - everyone (small or very small company) wants to be digital. Any message to those beginners from your side.
Hiren Joshi: Well, a large number of people are lured by the very idea of digital media/digital marketing. However, most of these enter the industry without having any specific objective to achieve. I would like to advise them to first learn all that there is to about this seemingly vast field. Then, focus on what they want to achieve and only then begin with your digital media initiative. Otherwise, it will all be a waste of your invaluable resources.

What are your future plans?
Hiren Joshi: At Bee Online, our vision is to be the most trusted digital agency by 2022. We plan to expand overseas to Thailand after a succesful launch at Dubai. The ROI in these geographies is commendable.

In India, we now want to place our major focus on FMCG as food start-ups form a major part of the pie. We are also looking forward to supporting organizations such as PETA and Naam Foundation.
Please comment on this story:
Subject :
Message:

(Maximum 1500 characters) Characters left 1500
Your name:
Customs Exchange Rates
Currency
Import
Export
US Dollar

66.20

64.50
UK Pound

87.50

84.65
Euro

78.25

75.65
Japanese Yen
58.85
56.85
As on 14 Dec, 2018
Daily Poll
Is counterfeiting a major threat to SMEs?
| | |
| --- | --- |
| Commented Stories | |