---

Price war: SMEs must act smart

---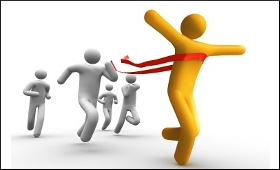 | | |
| --- | --- |
| Top Stories | |
Bikky Khosla | 19 Jun, 2012


A price war can wreck havoc in any industry. For small enterprises the effects can even be more catastrophic, and therefore it should be avoided like the plague. Of course, you may have some hard times when some of your competitors show an extreme addiction to discounting, but that shouldn't make you jump into the trap of a price war. It does good to none, and once started it may spread like wildfire and keep getting longer and longer, making things worse for everyone. It is better to consider some smart alternatives.

First of all, I think a small business -- when facing such pressure -- should try competing on quality and differentiation. So, if a competitor is playing the low-price game, don't lower your product prices but try to offer your customers more value. For example, if someone is selling chocolates at a lower price, you may start selling toy-shaped chocolates at your original price. Form, features, performance quality, durability, reliability, or style -- you can base your differentiation on many a factor.

But there is a problem . . . . Most small and medium enterprises (SMEs), with their small budget, usually find it difficult to tweak the tangible features of their products. Similarly, neither is it easy at all to push product quality without allowing your costs to rise. I think these difficulties can be overcome to a good extent by enhancing the intangible features, for example, like superior service, good relationships, reward points programs, etc. If your proposition is already differentiated, just focus on communicating the benefits and value you are already offering.

In addition, some other non-price options, such as forming strategic partnerships to offer exclusive offers to customers can help small firms a lot. So, if your competitor is offering water pumps at a lower price than that of you, try a special deal with a major distributor or an insurance provider to offer exclusive combo offers for any new product purchased from you.

As far as addressing the customers is concerned, try to communicate to your buyers the inherent risk in buying a low-priced, low-quality product. Also communicate the message that in the long-term, they will be the losers too as a long-fought price war forces small firms to exit, after which the big players may hike prices to even a level higher than before.

Nevertheless, in some circumstances you may feel there is no non-price option out but to cut prices. In such situations too, it is better to try smart alternatives rather than a retaliatory price cut. For example, indirect pricing tactics such as bundling, loyalty pricing and other such methods can be deployed to address perceived value. In addition, small firms can also limit the war by cutting prices for some specific channels, sectors or markets, or by introducing less expensive products in addition to the higher-priced one instead of responding with an all-out price cut.

Overall, I think -- the more a price war is avoided, the better it is. And when it comes to small and medium enterprises, it is never a good option to start or engage in one. This, however, doesn't necessarily mean that one should stand on the sideline of the battlefield. In contrast, ignoring such moves can lead to negative consequences, and that's why it's important to act . . . but act smart.
Please comment on this story:
Subject :
Message:

(Maximum 1500 characters) Characters left 1500
Your name:

Low price of the competitor


Gagandeep | Fri Jun 29 08:51:35 2012


I just want to know that if our competitor introduces our product at a bit low price from us and most of all that competitor is a shopkeeper itself. In that case what should we do and if we don't sought out this problem firstly it will lead us to in a big problem



Price Wars: SMEs must act smart


Makau Mwanza - MD, Avena Technologies. | Wed Jun 27 08:28:21 2012


Price will always be an issue for SMEs no matter how much they avoid this inevitable battle. It is also a challenge for large companies such as the tele companies. For SMEs, predicting an upcoming price war and putting measures to deal with it is best way out. If the suppliers of a less differentiated you offer are constantly increasing, it is time to identify ways of cutting input costs or seek alternatives. This way, the price war will find you wearing the right amour.



Very Useful


Rajesh Daga, Jodhpur | Wed Jun 27 07:04:09 2012


This article is very useful. India is price sensitive market and everyone know prices impacts. Use different channel to sell your product which has less distribution and mktg expenses. Like online, loyalty based sell, reference generated sell, etc; But never ever compromise with quality you deliver. Selling price in the market will more or less same of every one, only our expenses or medium of selling can bring in margins.



Inventory a problem for SME


Bhagwan Ajwani | Wed Jun 27 00:26:27 2012


To sustain business the SME sector has to keep stock of inventory of products.With times changing the product becomes outdated.This becomes dead stock and SMEs cannot come out while big companies keep zero stock commanding SMEs for supply.This problem effects cash flow and sickness in SMEs.



Big brothers behind SME price war


Krishna Aghoram | Thu Jun 21 06:51:55 2012


Sir: It most often happens that an SME is supplying a component or part of a product to a large Company. It is very rare that an SME is manufacturing a whole product of its own and marketing it to the consumer. Hence a price war is more often created by the customer (a large Company in this case). The customer pits one against the other and creates an unhealthy competition. Also these organizations discourage cartels among vendors, and the SME fears this for loss of business. But as you rightly put, it is better if one indulges in value added services than cut prices, as we have always done. Warm regards Krishna Aghoram



Form SME cartel


Amit Sinha | Thu Jun 21 06:51:36 2012


What can we do if Large Scale Enterprises try to root out SMEs. I think the SME must group themselves and form a cartel. This will help fight large scale and medium scale firms & also help maintain parity amongst Small Scale Enterprises for survival & collective growth.



Time to wake up for MSMEs


Sanjay | Thu Jun 21 04:33:23 2012


A good and inspiring article. Your regular updates are well appreciated. Yes it is time that our Elected wake up for MSME. Majority have either Closed or on the last oxygen. Apart from the finances, inspector raj, taxation, marketing support unlike china are still the biggest challenge. Your Regular Write ups are once again requested. Thanks.



We want to publish this editorial: Jiangsu Chamber of Commerce for Import & Export Firms


Zhang Bochun | Wed Jun 20 21:47:07 2012


Hi, I am Mr. Zhang Bochun, from Jiangsu Chamber of Commerce for Import & Export Firms. My email is wm@jccief.org.cn This article is very good and useful for China SME. I want publish on our magazine. Thanks



Smes must act smart


tcamukund@hotmail.com | Wed Jun 20 15:53:11 2012


I think smaller units have a larger advantage than a bigger unit due to overheads, and if smaller units can work intelligently can maker more profits than larger units.



A good sensible article


John Theron | Wed Jun 20 08:11:38 2012


A good sensible editorial well-written. We call the independent store owners "Mamas & Papas" meaning mothers & fathers and they offer a value vastly different to the cold, calculating mega stores. I am all for their survival and mine. Thank you.



Good article


Anand S. | Wed Jun 20 05:39:41 2012


Yes you are right. lot of people do unhealthy competition, hope they will realize it only after some time or when the fall into real problem. Thanks any case its a good write-up.


Price wars - how the internet has impacted
Mark Teran / Maqunaria Chicago | Wed Jun 20 03:59:47 2012
Is it not safe to say the adjustment we are seeing in "price wars" can be directly related to the simplicity in buying on the net?

| | |
| --- | --- |
| Commented Stories | |
Customs Exchange Rates
Currency
Import
Export
US Dollar

55.30

54.35
UK Pound

84.50

82.50
Euro

71.80

70.00
Japanese Yen
54.40
53.00
As on 20 May, 2013
Daily Poll
Do you think banks will lower lending rates after recent RBI rate cut?