---

Never forget marketing

---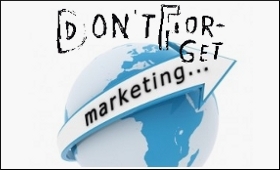 | | |
| --- | --- |
| Top Stories | |
Bikky Khosla | 31 Jul, 2012


Marketing is the lifeblood of any business -- none knows this better than a small business owner like you. When you started your small enterprise, you did a lot of it. You spared no effort to check the industry, match competition, and find the right pricing. You advertised wherever possible, sent press releases, exhibited at trade shows . . . did everything to set your sales on fire. And finally, your firm got past a lucrative revenue target.

Here after this point a surprising thing happens with many small businesses. They get busy with selling, but start ignoring all other aspects of marketing, and as a result, gradually over time their marketing becomes dull, boring and irrelevant. This is a big mistake, and unfortunately a common one among small and medium enterprises. Only a handful of small firms make a constant effort to keep their marketing afresh and alive.

When you started your business, you did focus so much on marketing because it was a matter of survival. Now you have come a long way, now you have a strong customer base and a strong brand, so why do you need to bother much about marketing? I'll tell you why -- it's because marketing shouldn't be viewed as a matter of survival. Neither marketing is something you need to take care of only when something goes wrong with your business. Marketing needs regular and sustained nourishment.

Taking customers for granted is a big mistake. Also, today you may have a lots of happy customers, but this is not the end of the journey. This is the beginning. At every step you take from this point on, marketing will be your constant companion. Ongoing marketing not only secures your company's future but also helps you shape and synchronize your existing customers' perception about who you are and what you do while your company is constantly improving.

Marketing is not something you start today and forget tomorrow, but a continuous process. As long as your business exists, you have to evaluate your target customers, adjust your messages, and refresh your marketing accordingly. In the world of business, it's dangerous to think that you have achieved 'just enough'. Successful companies never stop marketing -- they plant seeds now to reap harvest next season.
Please comment on this story:
Subject :
Message:

(Maximum 1500 characters) Characters left 1500
Your name:

Essential topic touched by you


Uma Shankar Khatri | Wed Aug 8 03:57:47 2012


Sir, very essential topic touched by you.Keep us motivating & reminding us again & again so that we may act in right direction. Thanks.



MARKETING GUIDE


PRADEEP SHARMA | Fri Aug 3 14:13:32 2012


IT IS NEVER-ENDING RELATIONSHIP BUILDING EXERCISE NOT ONLY WITH YOUR CURRENT CUSTOMERS BUT ALSO FOR YOUR FUTURE CUSTOMERS. IT IS ONE OF THE WAYS TO KEEP THE BRAND NEW & FRESH IN THE MIND OF CUSTOMER . . . IT IS ONE OF THE TOOLS TO GUIDE THE SHIP (ORGANISATION) IN CERTAIN DIRECTION WHICH WILL MAKE THE ORGANISATION HAPPENING ORGANISATION..........PEOPLE FORGET THAT EVERY TIME WHEN THEY TALK TO SOMEONE IN A WAY OR THE OTHER THEY ARE MARKETING .....TO THEMSELVES........SO WHY NOT MARKET THE COMPANY WHICH IS BREAD BUTTER FOR YOUR FAMILY & ALSO NO OF PEOPLE WHO DEPENDS UPON YOUR ORGANISATION. ALL THE BEST



You always remind us


B ROUT | Thu Aug 2 08:39:17 2012


Dear sir, you always remind us some basics where we small entrepreneurs generally make mistakes.



How to do marketing


Shailesh Bhuva | Thu Aug 2 04:55:05 2012


Respected sir, we agree with your topic but let me know how to do marketing?? and how to find out the market?? we are just starting our business and not too much familiar with market and also people whose are working in this category.. we need a much more help about that... Thnx and Regards Shailesh Bhuva 919726132810 mahesh_texfeb2002@yahoo.com


Re: How to do marketing


Deepak Idnani | Wed Aug 8 12:06:01 2012


Dear Shalesh, With 18 years of experiece of working with leading ndian ,Multnational Brands with small & big Budgets, there are some insights which I would like to share with you to grow business via marketing. Kindly let me know the product/service category you are in, call on 9811772627 to know more.Deepak Idnani, deepakin1969@rediffmail.com


SME marketing


Christopher Michael | Thu Aug 2 04:02:04 2012


Sadly many SME's think that marketing is of no use. When you breach the topic they just cut you down by saying "We are doing well" why try to fix the wheel if its not broken



Never forget marketing.


Shrinivas Moghe | Wed Aug 1 13:31:11 2012


Dear Khoslaji, I always wonder, how do you know the psyche of an entrepreneur, always so well? You are definitely not one of us, I mean you are not an entrepreneur, I suppose! Any way Sir, you have once again hit the bull's eye. Thanks! Garnering customers is much easier than keeping them with you. However good your product and services are, a customer is always look out on a new and additional vendor. As a buyer, we too always do the same, isn't it? So an entrepreneur needs to set targets with respect to Sales turnover, & number of clients. Every year both must show an upward graph. But like quality of your products and services, the quality of Sales Turn Over and Customers must be watched and assessed properly. Bad payers, and dubious customers must be replaced by quality customers. And this is a continuous process. The crux is, always set targets for everything in business, lest you are out. Thanks once again Khoslaji!



Real & Excellant


Rajendra Gandhi | Wed Aug 1 12:12:45 2012


Real & Excellant



Important note


DM Sherekar | Wed Aug 1 10:20:40 2012


IT is very important note one should never forget.



" Never Forget Marketing "


(Mr) A Rashid | Wed Aug 1 08:48:52 2012


Dear Sir Namste and Greetings. Allow me to inform you that I am one regular readers of your articles, especially about Small Business. Your articles are really enlightening besides the advices given by you to Small Business persons like myself. I hope you will continue with your good work, and for which I wish you all the best. Warm regards. A Rashid - General Manager (Former CEO, National Bank of Yemen, Aden Second largest Bank in Yemen) Rizmet General Services (Estb. 1950) Bldg. No. 56, Rizmet, Front Bay, Seera P.O. Box 4876, Crater Aden - Republic of Yemen Tel. No.009672 255973 - Fax No. 009672 258854 E Mail Adrs: arar@y.net.ye E Mail Adrs: abdulrashid22@yahoo.com Mobile 00967 733763251



Really nice


Suhas | Wed Aug 1 04:37:42 2012


This is really a nice feedback to established business.



Marketing


Ajaykumar Khanna, Chief Technology Officer NextGen Technologies Pvt Ltd., Vadodara | Wed Aug 1 04:05:59 2012


Dear Sir I think this is a great article and could be highly beneficial for several SME's. In fact Marketing is not just survival but also a good tool for developing strong relationship which could lead to,life long customer satisfaction and trust building. When you really keep customer well-informed about your growing capabilities and share with them they start believing your company as transparent and knowledge-based company, and start considering you as ethical associates for long term business association. With best regards.



Customs Exchange Rates
Currency
Import
Export
US Dollar

55.30

54.35
UK Pound

84.50

82.50
Euro

71.80

70.00
Japanese Yen
54.40
53.00
As on 22 May, 2013
Daily Poll
Do you think banks will lower lending rates after recent RBI rate cut?
| | |
| --- | --- |
| Commented Stories | |